Why Ronald From Big Sky Looks So Familiar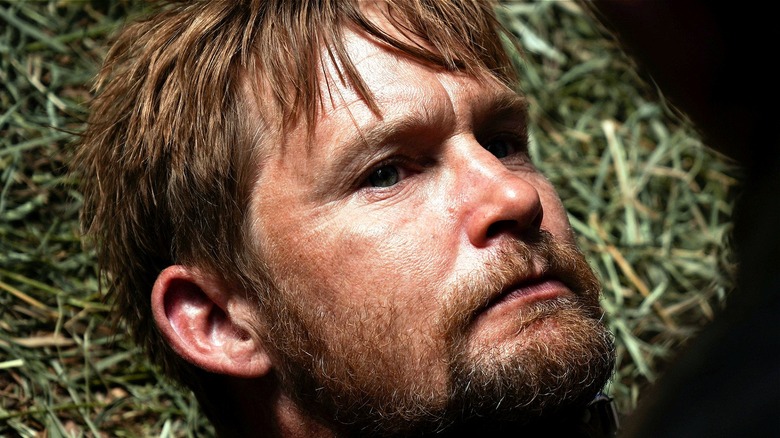 Michael Moriatis/ABC
In the popular ABC crime series "Big Sky," created by David E. Kelley — the mind behind other hits like "Big Little Lies," "Nine Perfect Strangers," and many more — a small town is rocked by the kidnapping of two teenage girls. The show stars Katheryn Winnick and Kylie Bunbury as Jenny and Cassie, respectively, a former cop and private detective who are brought together by their romantic connections with the same man, Cody (Ryan Phillippe). After Cody goes missing, the two join forces to further investigate the missing girls, discovering a far-encompassing smuggling system led by influential individuals in town and nearby. 
One of the main antagonists of "Big Sky" is a man named Ronald Pergman, played by Brian Geraghty, a long-haul truck driver who is the first main suspect for the disappearances. At first glance, Ronald seems like a responsible, everyman sort of guy. But as Season 1 goes on, the show reveals an extremely dark side to the man, who is working closely with someone arguably even worse, state trooper Rick Legarski (John Carroll Lynch). For some "Big Sky" viewers, Ronald likely looks a little familiar, as Geraghty has had many prominent roles over the course of his long acting career. Here's where you might've seen him before.
Brian Geraghty started in major movies like The Hurt Locker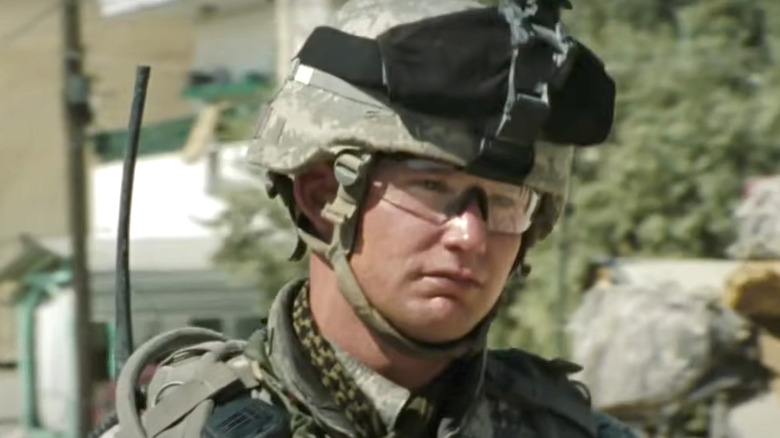 Summit Entertainment
When Brian Geraghty first started acting in the early 2000s, he quickly nabbed some impressive supporting roles. He played Fergus O'Donnell in the war film "Jarhead," Bobby in the classic horror film "When A Stranger Calls," Jimmy in the historical drama "Bobby," and Billy Hodge in the action drama "The Guardian," which all came out within a two year period. But it was a role that came in 2008, in the Academy Award-winning film "The Hurt Locker," that really made an impression on viewers. Directed by Kathryn Bigelow, the film stars Jeremy Renner as Staff Sergeant William James in the Explosive Ordnance Disposal team, also known as the bomb squad, during the Iraq War. 
As they risk their lives to prevent the deaths of many more everyday, James and his team are specifically targeted by enemies. The movie is known for being a gritty, realistic thriller that focuses on the emotional and psychological effects of war on soldiers. In "The Hurt Locker," Geraghty plays a character named Specialist Owen Eldridge, a soldier who has a particularly difficult time dealing with the danger and death surrounding him while serving. Even though some try to get him to open up about the experience, Eldridge simply can't deal with it, which leads others to help him get out of there.
Geraghty quickly moved into prestige TV like True Blood and Boardwalk Empire
After "The Hurt Locker," Geraghty continued to star in various films until the rise of prestige TV in the early 2010s. His first major television show was playing the character Brian Eller in a few episodes of "True Blood," before joining the HBO period drama "Boardwalk Empire" for its fourth season. The Emmy-winning series, which stars Steve Buscemi, Kelly Macdonald, Michael Shannon, Shea Whigham, Michael Kenneth Williams, and more major names, takes place in the 1920s and follows the crime and corruption that ran rampant in Atlantic City around the time of Prohibition.
Geraghty's character is FBI Agent James "Jim" Tolliver, who is sent to Atlantic City in 1924 for a mission, hoping to weed out corrupted government officials there. In fact, his boss is none other than J. Edgar Hoover, played by Eric Ladin. Taking it another step further, Jim poses as a Prohibition agent named William Knox, working under officers who don't even try to hide their corrupt dealings with bootleggers and other criminals. While he has good intentions, Jim is in way over his head, and it's safe to say that it doesn't end well for him. In 2014, Geraghty also had a supporting part in the crime drama "Ray Donovan," and would play a key supporting role in another period drama, "The Alienist," in 2018. 
He played Sean Roman in Chicago P.D. for years
In Season 2 of "Chicago P.D.", the first series in Fox's ever-expanding "One Chicago" TV universe, Geraghty joins the crew as Officer Sean Roman, the new partner to Officer Kim Burgess (Marina Squerciati). Unfortunately, their partnership doesn't get off to a great start, as Roman apparently doesn't like female cops due to a failed past relationship. He transfers in from another precinct and clearly has a bit of trauma to deal with, both from work and personal relationships. Despite the rocky beginning, Roman and Burgess slowly grow to trust and care for one another.
Throughout Season 3 of the series, Roman and Burgess start a romantic relationship. Everything goes well for a while, until Roman is shot one day while they are on patrol. The injury leaves him with nerve damage, so he cannot return to active duty in Chicago. In order to avoid working behind a desk, Roman decides to move, and while he asks Burgess to come with him, they eventually decide that it's best to split. Roman returns for a short appearance in Season 7 in a storyline involving the tragic death of his sister. After her death, Roman tries to get revenge on the person he sees as responsible. Throughout his run in the "One Chicago" universe, Geraghty also appears in a handful of episodes of both "Chicago Med" and "Chicago Fire." 
In 2020, Geraghty had two big roles before nabbing Big Sky
Playing Ronald in "Big Sky" is definitely a major highlight of Geraghty's career so far, but he's actually had a couple of other big roles in crime dramas in 2019 and 2020. While "Boardwalk Empire" features Geraghty looking to catch the corrupt cops, "Briarpatch" has the actor playing a corrupt cop himself. He portrays the character Captain Gene Colder, a seemingly honest man with good intentions. But as Season 1 goes on, Colder pulls a 180 and reveals that there is someone more sinister hiding just under the surface. While "Briarpatch," which stars the likes of Rosario Dawson and Edi Gathegi, got a positive 79% from critics on Rotten Tomatoes, the show was likely a casualty of COVID-19, getting cancelled after the first season.
Thankfully, it wasn't long before Geraghty returned to the screen in the television adaptation of "The Fugitive." Based on the 1993 movie and the 1960s TV series of the same name, the 2020 version of "The Fugitive" updates the story to modern society with new characters. The show stars Boyd Holbrook as Mike Ferro, a man framed as the culprit behind a bombing in Los Angeles, who is forced on the run to prove his innocence. The series also stars Kiefer Sutherland and Genesis Rodriguez as detectives Clay Bryce and Sloan Womack, who are working on the case. Geraghty is part of the main supporting cast of "The Fugitive" as Colin Murphy, a man whose story slowly unravels over the course of Season 1 to make him the real prime suspect in the bombing.