Why Christopher McQuarrie Had To Direct Some Of Mission: Impossible 7 From Home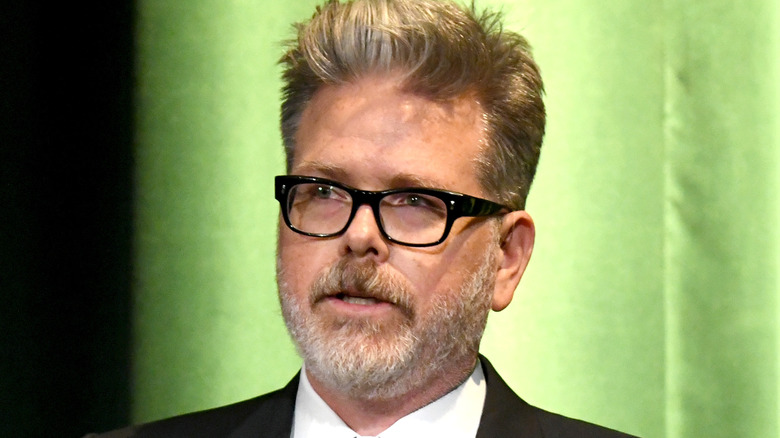 Michael Kovac/Getty Images
One of the biggest action franchises right now is the "Mission: Impossible" franchise. Adapted from the TV series of the same name, which ran from 1966 to 1973, the feature film series stars Tom Cruise as Ethan Hunt, an elite operative and member of the secretive IMF agency who is tasked with dealing with criminal masterminds before their devious plans can come to fruition.
After a revolving door of directors that included J.J. Abrams and Brad Bird, the franchise saw helmer Christopher McQuarrie come aboard for the fifth installment, "Mission: Impossible – Rogue Nation." He's since become a permanent fixture in the director's chai and is currently helming the seventh entry, aptly titled (for now) "Mission: Impossible 7." Along with Cruise, the film's cast will see Henry Czerny, Rebecca Ferguson, Ving Rhames, Simon Pegg, and Vanessa Kirby return from previous entries. They will be joined by newcomers Hayley Atwell, Pom Klementieff, Rob Delaney, and Cary Elwes.
In a recent interview, Elwes spoke about the upcoming "Mission: Impossible" film and revealed something surprising about McQuarrie's approach to directing the new franchise chapter.
McQuarrie had to work from home as a precaution
In an interview with The Hollywood Reporter, Cary Elwes spoke about the difficulty of shooting "Mission: Impossible 7." The franchise newcomer revealed director Christopher McQuarrie was forced to work from home for a period of time, due to having possibly come in contact with someone who since tested positive for COVID-19. 
After acknowledging the production difficulties faced by the "Mission: Impossible 7" team, Elwes explained, "Chris McQuarrie had to direct from his computer at home because he had been contact-traced. And that is a testament to how brilliant he is, that he was able to do it. He said, 'Look, I never want to do it again' — but he managed it. We got it done."
Despite these issues, shooting on the film ultimately wrapped in September 2021, and McQuarrie being willing to do such a difficult job from home to keep the production going is a testament to his dedication. Despite a number of delays and shifts to the release date, "Mission: Impossible 7" is set to hit theaters in 2022.