Mission: Impossible 7 Just Shut Down Production. Here's Why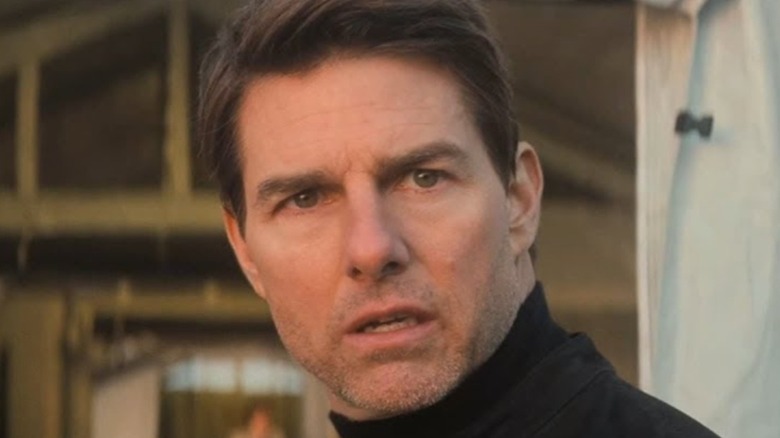 Paramount Pictures
The "Mission: Impossible" series is right up there with "Top Gun" and "Jerry Maguire" as one of Tom Cruise's most recognizable cinematic efforts. Following the release of the very first installment back in 1996, five highly successful sequels have made their way to the big screen, the most recent being 2018's "Mission: Impossible – Fallout." One would imagine that there aren't many stories left for Ethan Hunt (Cruise) to tell, but they'd be mistaken since both "Mission: Impossible 7" and "Mission: Impossible 8" are on their way to becoming a reality.
While the eighth movie is still in the early stages of development, the seventh is knee-deep in filming. Although, it hasn't been an easy road to get the project shot, seeing as the COVID-19 pandemic halted all work on it back in early 2020, forcing it to wait until September of that year to get the ball rolling. It has been an absolute roller coaster ever since, with Tom Cruise himself caught verbally lambasting on-set personnel for not following proper heath guidelines, and the ever-changing COVID restrictions making it quite a hassle to finish principal photography.
With vaccination numbers climbing and health and safety measures starting to ease up, it seemed as though "Mission: Impossible 7" was finally on the right track...that is, until production was shut down yet again on June 3, 2021. Here's why. 
COVID-19 cases continue to plague Mission: Impossible 7's production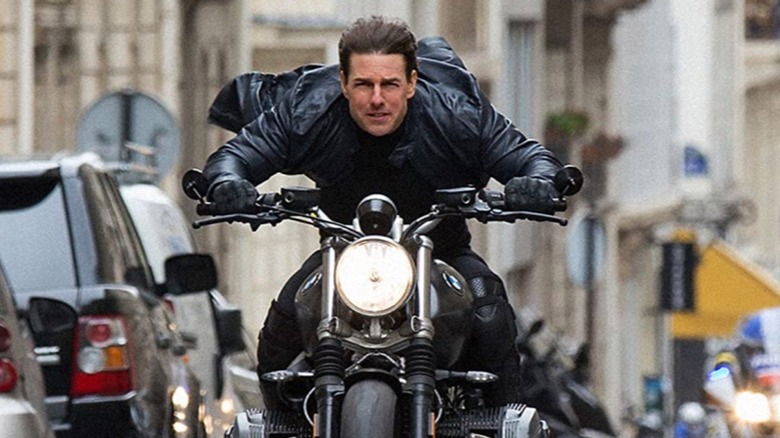 Paramount Pictures
"We have temporarily halted production on 'Mission: Impossible 7' until June 14th, due to positive coronavirus test results during routine testing. We are following all safety protocols and will continue to monitor the situation," a spokesperson for Paramount told Deadline, who notes that those affected are currently going through a self-isolation period. As one would imagine, the internet has some thoughts to share on the matter and certainly didn't hold back when it came to poking fun at Tom Cruise and his aforementioned 2020 outburst.
Twitter's @AlishaGrauso provided users with a "Live look at Tom Cruise," including a clip of a very angry and flaming Hades (James Woods) from Disney's "Hercules." @cesar_the_lion tweeted out something similar, writing "Tom Cruise is about to self destruct lmao" over a screenshot of the headline concerning the shutdown of "Mission: Impossible 7." "Tom Cruise mission might be... Impossible, after all," posted @ReekJr, and considering the obstacles the latest action flick has had to overcome, it's sure beginning to look that way.
@cordialwombat chimed in with a genuinely kind remark, before tossing in yet another joke, commenting "I hope they finish the shoot and everyone involved comes out the other side alive and well. On the other hand, I also hope it goes on for so long that Tom Cruise visibly ages from scene to scene." Meanwhile, @Logan_Mitts made the entirely plausible assumption that "Somewhere Tom Cruise is yelling at someone....," which would make sense after Cruise defended his tirade to Empire Magazine in May of 2021 (via USA Today). 
There's no denying that "Mission: Impossible 7" will be an explosive, adrenaline-fueled thrill ride worth checking out on its opening night, but at this rate, the story of its rocky production may have the plot beat by a mile.