This Is Where You Can Watch The Matrix Resurrections At Home
Warner Bros.' "The Matrix" franchise is set to return in a big way this December with the long-awaited fourth installment, "The Matrix Resurrections." While exact plot details remain mostly under wraps, it is known that "Resurrections" takes place more approximately 20 years after 2003's "The Matrix Revolutions" and features Keanu Reeves' Neo, who is, inexplicably, alive. However, he seemingly has no memory of his past life until he meets a younger-looking Morpheus (Yahya Abdul-Mateen II), who once again opens him up to the real world. It's an intriguing concept and, while the trailer for "The Matrix Resurrections" does reveal most of this, it's more than likely that the finished product will provide audiences with many more twists and turns. 
Either way, fans will have an opportunity to see for themselves when the latest "Matrix" film hits theaters. But is there a way for fans who are still avoiding a return to public spaces, including movie theaters, to watch "The Matrix Resurrections" at home? Luckily for those viewers, there is a way to do so.
The Matrix Resurrections can be seen at home on HBO Max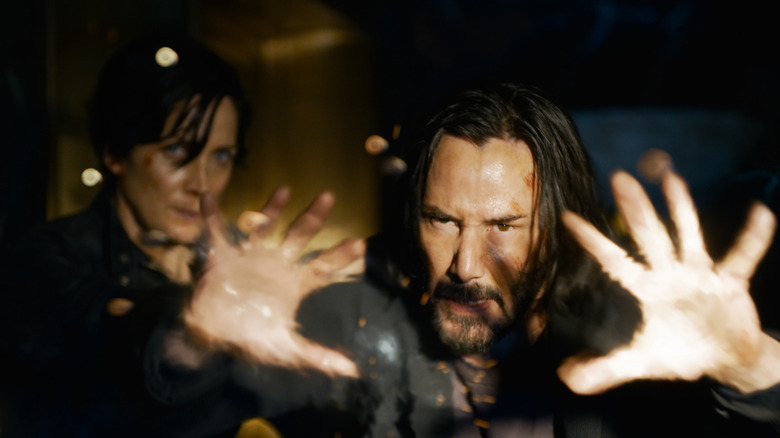 Courtesy of Warner Bros. Pictures
As is the case with every major Warner Bros. release in 2021, "The Matrix Resurrections" will debut in theaters and on HBO Max simultaneously on Wednesday, December 22 (per Variety). It will be the final film to be released under this day-and-date strategy, as the studio will return to a theatrical-only release model in 2022. As for what time "The Matrix Resurrections" will release on HBO Max, well, there is one clear answer. If it follows the path of most other films released via this method by Warner Bros., the fourth movie in "The Matrix" franchise will likely debut at 3 a.m. ET/12 a.m. PT.
However, "Dune" was released the night before its theatrical debut because of early theatrical screenings in some larger markets. Could the same decision be made for "Resurrections?" There's no easy answer. The Lana Wachowski-directed pic is one of the biggest releases of the year for Warner Bros. Then again, it's releasing on a Wednesday instead of the traditional Friday due to the long holiday weekend. With that in mind, it would make sense for HBO Max to debut the movie in the same 6 p.m. ET/3 p.m. PT time slot that they reserved for the early streaming debut of "Dune."
Whether that early release happens remains to be seen. For now, fans should make the safe bet that "The Matrix Resurrections" will be released on HBO Max early on Wednesday, December 22.