Is There A New Episode Of Chicago Fire Tonight? (December 15, 2021)
While temperatures in the Windy City may plunge during the holidays, the action and emotions on NBC's hit "Chicago Fire" keep the heat on regardless of the season. As the original franchise in producer Dick Wolf's massively popular "One Chicago" universe of network shows, "Chicago Fire" immerses viewers in the harrowing on-duty peril and intimate private lives of the firefighters and paramedics of Firehouse 51 as they face death on a daily basis protecting the citizens of Chicago.
In a primetime TV environment with no shortage of action-oriented procedurals, "Chicago Fire" took this venerable genre in a thrilling new direction when it debuted in October of 2012. Quickly establishing itself as a fan favorite for its riveting stories of adrenaline-fueled heroics and relatable, ongoing character narratives, the series has racked up a stunning 200 episodes and counting. 
That being said, recent scheduling changes by the network have left the series' millions-strong fanbase anxiously wondering if the show will turn up in its expected Wednesday evening slot. Unfortunately, we're going to pour cold water on "Chicago Fire" fans' hopes, as it looks like the show will be taking the night off.
Sorry, Firehouse 51 buffs – there's no new episode of Chicago Fire on December 15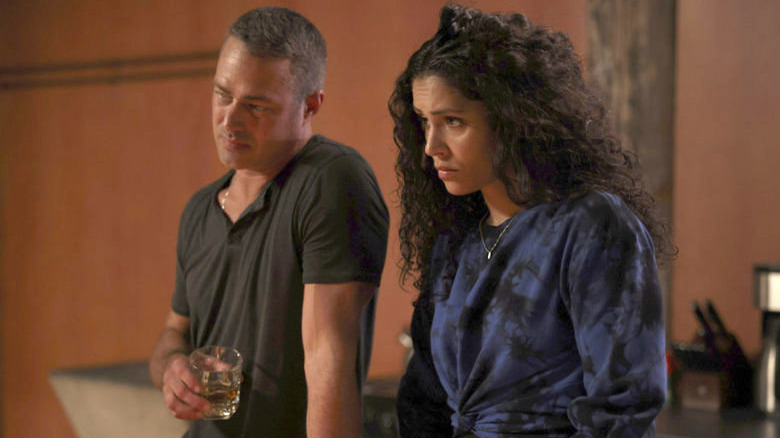 NBC
"Chicago Fire" will not have a new episode on December 15 (per One Chicago Center). The absence of a new "Chicago Fire" outing tonight is certainly a disappointment for loyal viewers, but it's not all that unusual for a network series. The fact is, a show going on hiatus at this time of year is a fairly common occurrence due to holiday programming or other seasonally related schedule shifts in a network's lineup.
All of this, of course, is cold comfort for "Chicago Fire" enthusiasts dealing with the cliffhangers unloaded in the most recent episode, "Winterfest." For example, fans are definitely on high alert after the surprise, and somewhat tense, return of Stella Kidd (Miranda Rae Mayo) and what that means for fans shipping hard on her and Kelly Severide (Taylor Kinney). 
Also weighing on viewers' minds is how Kidd will react to Jason Pelham (Brett Dalton) being promoted to the Truck 81 lieutenant position that she was also in line for. That being said, though it's true that there won't be a new "Chicago Fire" episode on tonight, the series will return with a fresh episode on January 5, 2022. If that's not sufficient for die-hard "One Chicago" fans, they can always watch reruns of Season 10 on Hulu or re-live the entire series on Peacock.