Euphoria Fans Just Got The Best News And A Brand New Trailer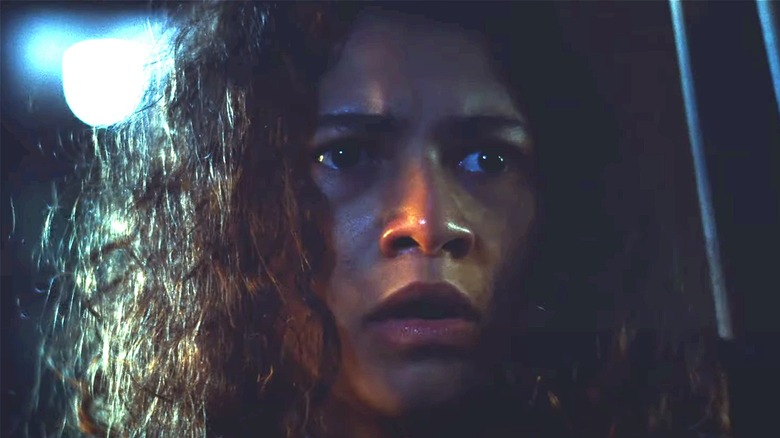 HBO
When Sam Levinson's "Euphoria" first arrived on HBO in 2019 (based on an Israeli series by the same name), it followed in a long line of teen television dramas which racked up awards despite their often taboo subject matter, and hooked its target demographic. Levinson had previously been most widely known for his 2018 film, "Assassination Nation," a similarly hyperbolic dramedy about the lives of teenage girls, next to which "Euphoria" feels comparatively tame.
Casting has long been Levinson's strong suit, and giving Zendaya the lead was a stroke of genius. Her character, Rue, has been praised by critics and fans as the highlight of the show (per IndieWire), and is the de-facto protagonist of the storyline. A troubled teen, Rue dabbles in drugs but ultimately wants nothing more than to hang out with her friends cracking jokes."
It's been a long wait for "Euphoria" fans, having seen Season 2 delayed as a result of the pandemic, but at long last, a trailer has been released. We've even got a confirmed release date!
Euphoria Season 2 is dropping early next year
Zendaya is back and getting her dance on as Rue in the brand new "Euphoria" Season 2 trailer. The official teaser opens on Rue lying in bed, using a pillow as a dance partner. She waltzes across her bedroom (Easter egg: based on one of her posters, Rue is a Young M.A fan) and then across her house to the tune of Sinatra's "Call Me Irresponsible." Just as you've got a smile spreading across your face (because it's very hard not to smile when watching Zendaya do literally anything), the music shifts to a club-heavy beat with an 808 bassline and we remember that this is "Euphoria" and it's not about happy dancing, it's about drinking and drug addiction, sex, and clinical depression.
"When you're young, everything feels so permanent," Rue tells us in voiceover as we move from a house party to blurry shots of speeding cars. There are lots of guns, and at one point it seems like Rue gets kidnapped. Wait, is that a SWAT team? Whatever showrunner Sam Levinson is cooking up for us this season, it's sure to be even more over-the-top than last season, and that's a high bar to clear. Rue's dancing is interrupted by Gia (Storm Reid) asking whether she's high. Rue throws up her hands. "I mean..." No point denying it, I suppose. 
The teaser also gives us a release date of January 9, 2022, so whatever is making Rue so happy, aside from drugs, we'll be sure to find out then.
If you or anyone you know is struggling with addiction issues, help is available. Visit the Substance Abuse and Mental Health Services Administration website or contact SAMHSA's National Helpline at 1-800-662-HELP (4357).