Is There A New Episode Of CSI: Vegas Tonight? (November 24, 2021)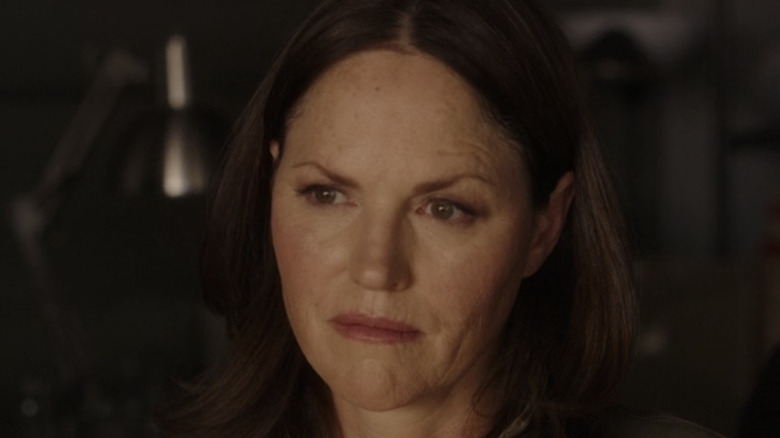 CBS
All things considered, it hasn't been terribly long since the original "CSI: Crime Scene Investigation" ended. As noted by CinemaBlend, the series kicked off the "CSI" craze and introduced fan-favorite characters Gil Grissom (William Petersen) and Sara Sidle (Jorja Fox). While "CSI: Crime Scene Investigation" ended in 2015 per IMDb, it was in a sense rebooted this year when "CSI: Vegas" premiered — this time, with Sara and Gil as a married couple (via Showbiz CheatSheet). However, some things never change, such as their dedication to science and honoring the justice system.
Sara and Gil are not the only ones to return. Crime lab tech David Hodges (Wallace Langham) is the center of the current season-long case in "CSI: Vegas." Hodges has left the lab and become Nevada's star witness, but not everything is as it appears. Very quickly into the season, Hodges has been suspected of evidence tampering. The show left off on Episode 7 titled "In the Blood." Gil and Sara have come to the conclusion that Hodges is being framed for evidence tampering by Anson Wix (Jamie McShane). But their true trial will continue as they try to find a way to prove it in a court of law.
A new episode is airing on November 24
Fans of "CSI: Vegas" can expect a new episode on November 24th. This will be Episode 8 of Season 1 entitled "The Pipe Cleaner." Gil and Sara continue their attempt to prove that Hodges is innocent of witness tampering as his trial is about to begin (via TVMaze). The couple aim to get close to Anson Wix's star witness to exonerate Hodges. 
Meanwhile, Sara and fellow forensic investigators Allie Rajan (Mandeep Dhillon) and Josh Folsom (Matt Lauria) are on their weekly case. In a CBS sneak peek, the victim is revealed to be a convention center owner who was melted in acid and poured down the drain. The investigators struggle to preserve the evidence left in the pipes. Allie and Josh decide a preferable job is to speak to the victim's ex as opposed to handling sloppy remains. Paula Newsome and Robert Curtis Brown will also appear in the episode.
Viewers can catch the next episode of "CSI: Vegas" when it airs on CBS at 10 p.m. EST.