Why Garrett Randall From Yellowstone Looks So Familiar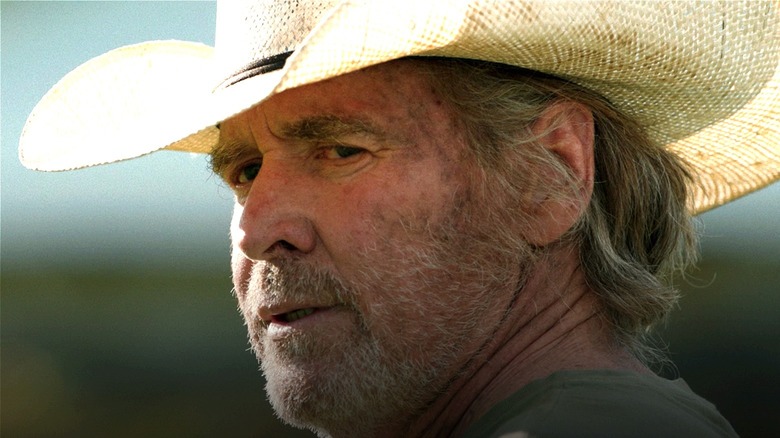 Paramount Network
Looks like "Yellowstone" may have found a new big bad guy.
Fans of the Paramount Network's hit neo-Western have finally been given a clue about who might have ordered the attack on John (Kevin Costner), Kayce (Luke Grimes), and Beth (Kelly Reilly) Dutton in the finale of Season 3, and the answer it's pointing to isn't a big money developer, or prodigal Dutton son Jamie (Wes Bentley). Instead, it's Jamie's long-lost biological father, Garrett Randall. Randall was once a cellmate of the man credited with orchestrating the attacks, and he's been giving Jamie some tough love advice about his adopted family since reconnecting with his son in Season 3.
If you're going to hire an actor to go up against Kevin Costner, you could do a lot worse than getting Will Patton. Patton's career has intersected with Costner's multiple times already, with the two going toe-to-toe in political thrillers and post-apocalyptic morality plays. But Patton's done a lot more than serve as Costner's go-to baddie. Here are some other films and television shows you might recognize him from. 
Will Patton would stop at nothing in No Way Out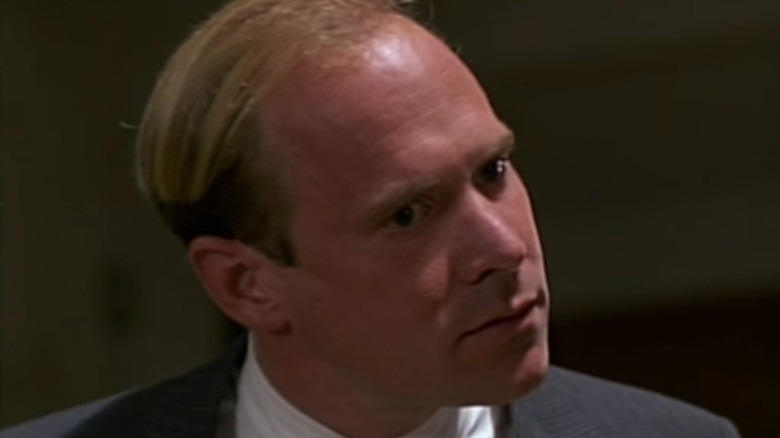 Orion Pictures
The first of those collaborations with Costner came when Patton was cast as a friend-turned-enemy of Costner's Tom Farrell in 1987's "No Way Out."
Patton had already broken out with a small part in Martin Scorsese's "After Hours" and a villainous role in 1985's "Desperately Seeking Susan," but "No Way Out" saw him holding his own on screen not only with Costner but also Gene Hackman, doing much of the dirty work for Hackman's Defense Secretary David Brice as the pair try to cover-up the murder of Susan Atwell (Sean Young) and uncover a KGB spy operating in Washington. Pritchard is eventually thrown under the bus by Brice, and commits suicide.
But before his character's death, Patton left a lasting impression on Hollywood — one that might have had a detrimental effect on his career, he explained to Parade in 2018. "For a while there, I was caught where nobody would give me anything that was heroic, because from 'No Way Out,' I was pegged as a dark, dark figure," Patton said. "I had to fight that, because if somebody had said, 'What's the character that's the least like Will in the world, let's find it,' it would be the character in 'No Way Out.'"
Will Patton played a fascist would-be warlord in The Postman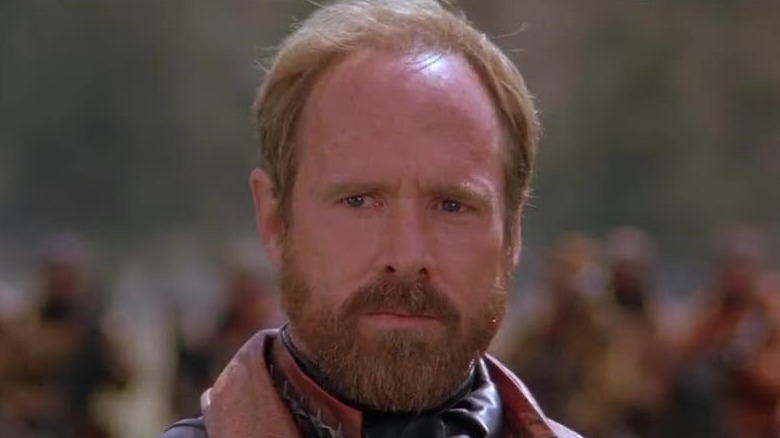 Warner Bros.
Ten years after "No Way Out," Patton reunited with Costner to play another villain, the megalomaniac General Bethlehem in Costner's infamous 1997 post-apocalyptic flop, "The Postman."
Years after a vague apocalypse caused the collapse of society in the country, Bethlehem has dreams of leading his fascist militia, the Holnists, in conquest over what's left of the United States of America. His efforts are thwarted by an unlikely interloper, The Postman (Costner), who begins the film as little more than an itinerant actor and con artist who stumbles across an old postal uniform and uses it to tell a story about a restored United States government. His lie inspires the isolated residents of small Western communities to look beyond themselves and reestablish some small portion of a broader society. Along the way, the Postman also defeats General Bethlehem in hand-to-hand combat ... because it's that kind of movie.
The film, directed by Costner as well, was a legendary box office bomb, making back less than a quarter of its budget at the box office according to Box Office Mojo, and winning Golden Raspberry awards for Worst Picture, Worst Screenplay, Worst Actor, and Worst Director. Nonetheless, it didn't slow down Patton's career: the actor would go on to play Bruce Willis' second-in-command Chick in 1998's "Armageddon" and Atley in 2000's "Gone in 60 Seconds."
Will Patton made sure they would Remember the Titans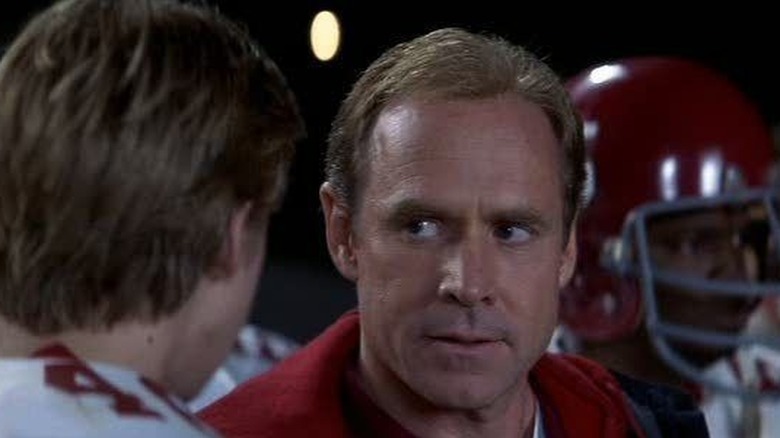 Buena Vista Pictures
Patton's string of successes continued into the new millennium when he starred alongside Denzel Washington in the 2000 high school football family classic, "Remember the Titans."
Patton's Bill Yoast begins the film as the head coach of T.C. Williams High School's football team but accepts a demotion when the negotiations around the school's integration lead Herman Boone (Washington) to be offered the top job. Yoast is convinced to stay on as defensive coordinator, and the two men form an uneasy truce that grows into a bond of mutual respect, much as the team's players end up doing over the course of their undefeated football season.
In addition to wrangling a star-studded young cast that included the likes of Wood Harris, Donald Faison, and Ryan Gosling, the nature of Patton's part meant that he'd be spending a significant portion of the film trading motivational speeches with Washington. Even if they were working for the same team, that's no easy task for an actor to pull off without getting overshadowed, but Patton holds his own. He even gets to deliver one of the film's showstopper efforts — "I want them to remember, forever, the night they played the Titans" — during the state semifinal.
Will Patton fought back in Falling Skies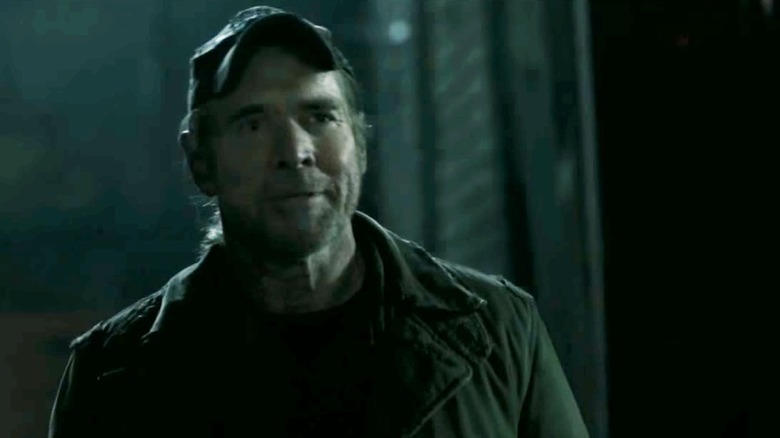 Ken Woroner/TNT
In 2011, Patton joined up for a different kind of post-apocalypse when he took a main role on the TNT's extraterrestrial invasion drama "Falling Skies."
Patton played Dan Weaver, the commander of the show's 2nd Mass militia, which series protagonist Tom Mason (Noah Wyle) serves as the second-in-command of. The series finds the 2nd Mass fighting back against an invasion by the alien Espheni and their armies, with Weaver and Mason leading one portion of the surviving human population's resistance to their conquests. Weaver is initially reluctant to lead a force consisting of so many civilians, but with Tom's help grows to understand the demands of the new conflict and how to be successful in it over the course of the series' five seasons.
For Patton, the prospect of working on another project set in the aftermath of the fall of normal civilization was an exciting thematic opportunity. "It's a great metaphor for what's happening in the world today," Patton told The Hollywood Reporter in 2012. "Everyone feels slightly in jeopardy, which is what interests me about the show."
Will Patton leant a hand in Minari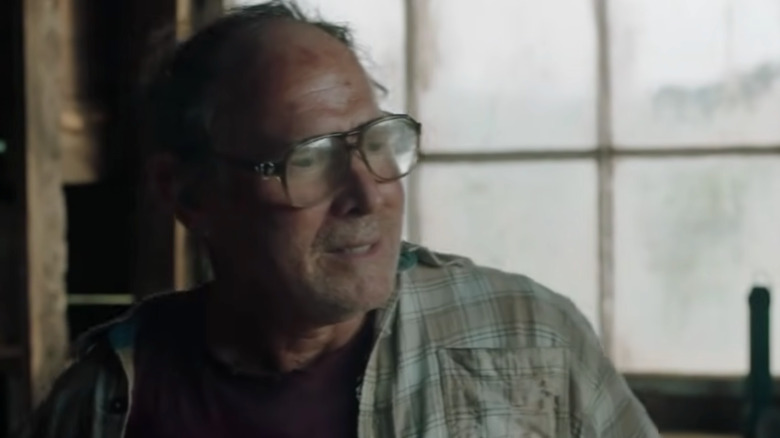 A24
In 2020, Patton played a supporting role in the acclaimed Oscar-nominee "Minari," where he played Paul, an oddball local and Korean War veteran, with a pushy insistence on helping Jacob (former "Walking Dead" star Steven Yeun) with his new farm.
Patton had worked with "Minari" director Lee Isaac Chung on the director's 2012 film "Abigail Harm," and told Collider that part of the appeal of coming onboard Minari was the chance to reunite with him. "Every time he and I would sit down to talk, we were like birds of a feather. We were thinking about similar things and interested in similar things," Patton said.
But the script, when it arrived, still managed to floor him. "I just remember when [Lee] Isaac [Chung] sent it to me, nobody had quite grabbed it yet," the actor said in his interview with Collider. "I just felt, 'The minute somebody sees this, they're gonna wanna do it because it's one of the most beautiful things I've ever read in my life.' That was my first reaction. I loved it."