Yellowstone Fans Think They Finally Know Who Tried To Kill The Duttons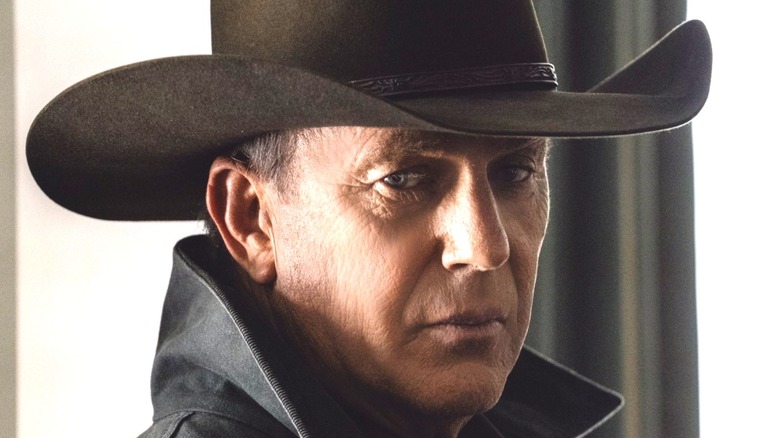 Paramount Network
May contain spoilers for "Yellowstone" Season 4
Ever since "Yellowstone" Season 4 returned to the Paramount Network in November 2021, one question has been at the forefront of fans' minds. Namely, audiences remain largely stumped regarding the identity of the person who ordered the hit on several members of the Dutton family. The Season 3 finale showed a massive attempt on their lives, with John (Kevin Costner) being in the worst shape of them all. Fortunately, fans didn't have to say goodbye to anyone as the whole clan managed to make it out alive. 
However, the question remains who wanted the Duttons dead in the first place. The family has certainly made its fair share of enemies over the years, and there could be any number of culprits who ordered the attacks. The show has yet to reveal the true identity behind the main adversary at this point in the season, but based on the few episodes we've gotten so far, some believe they've figured it out. 
Fans suspect Garrett Randle of ordering the hits
A significant source of contention within the Dutton family involves Jamie (Wes Bentley) discovering that he's not actually a Dutton. He was adopted, and in fact, his biological father is a man by the name of Garrett Randle (Will Patton). Jamie was put up for adoption after Garrett went to prison for the murder of his biological mother, so he's certainly not afraid of getting a little blood on his hands. 
Garrett's back in the mix in Season 4 after the Episode 4 reveal that he was the cellmate of the man who ordered the hit on the Duttons. It's not difficult to put two and two together and link Garrett with being the true mastermind behind it all. That wasn't lost on fans, such as Redditor u/Sempreh, who wrote, "So lookin like Jamie's dad ordered the hit? Seems too obvious, thought they'd throw us for a loop with this one."
It seems cut and dry, but some viewers aren't convinced, especially seeing how the so-called "reveal" came so early in the new season. Redditor u/entropylSdeadly stated, "I think it's likely a red herring and the cell mate was used to frame Jaimie as the fall guy." There's a lot we still don't know, so keep tuning in to new episodes of "Yellowstone" as they air to see what really went down in Season 3.