The Emotional Reunion Ewan McGregor And Hayden Christensen Had On The Set Of Obi-Wan Kenobi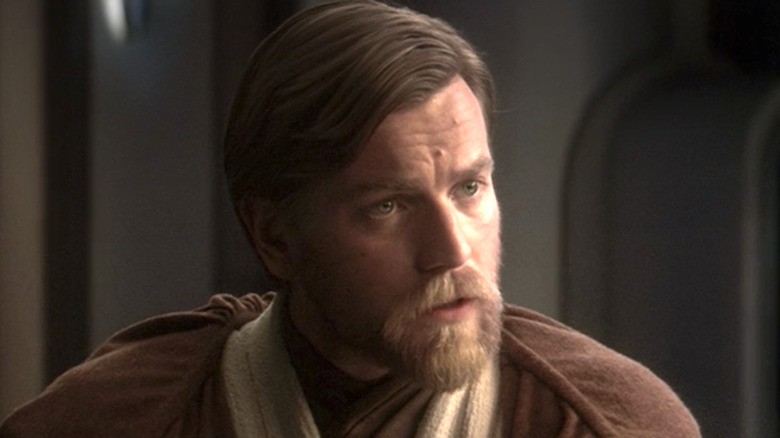 Lucasfilm/Twentieth Century Fox
Fans may not always agree on which movies in the "Star Wars" Skywalker saga are good movies, but it's hard to deny that there are some very good characters. This is especially true for some of the characters in the prequel, like Obi-Wan Kenobi and Darth Vader. Both characters are set to return in the Disney+ "Star Wars" show "Obi-Wan Kenobi," the one-season original focused on Ewan McGregor's quip-loving Jedi Master. With filming on "Obi-Wan Kenobi" officially wrapped, fans are ready to know more about this new "Star Wars" show.
Seeing McGregor re-don his old Jedi duds will likely strike a chord with fans, as will the return of Hayden Christensen's Anakin Skywalker, who will likely be dressed fully to the cybernetic nines as Vader). It's not entirely clear how much involvement Vader will have in Obi-Wan's new story, which focuses on the disgraced Jedi after "Star Wars: Episode III – Revenge of the Sith." However, Disney has confirmed that Christensen's Vader will be present, which means we could see Vader cross paths (or lightsabers) with Obi-Wan once again.
Needless to say, such a reunion would be framed as an intensely emotional moment for the characters and the story. These characters have been in the lives of "Star Wars" fans for more than 20 years, as have the actors who play them. As it turns out, it was also somewhat of an emotional reunion for McGregor and Christensen on set, too.
Kathleen Kennedy says Christensen and McGregor's Star Wars reunion was 'exciting'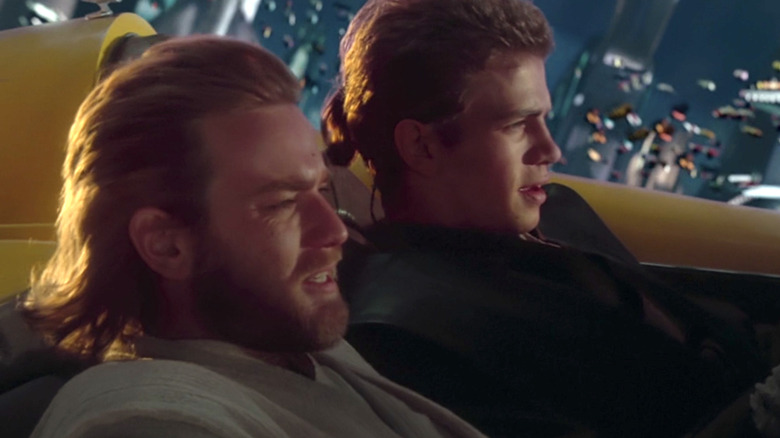 Lucasfilm/Twentieth Century Fox
Speaking to Empire, Lucasfilm head Kathleen Kennedy revealed that Ewan McGregor and Hayden Christensen were more than happy to see each other on set and step back into the shoes of these iconic characters. Kennedy shared that the most exciting thing about being on the set of the upcoming "Obi-Wan Kenobi" Disney+ show was seeing the "Star Wars" alums get so excited. She went on to say, "They hadn't seen one another in a long time. I was surprised at just how incredibly emotional it was for each of them to find themselves back in these roles, just realizing how important 'Star Wars' was to each of them. It was the beginning of their careers."
It's not too surprising that both actors would feel something upon returning to (arguably) their most famous characters. However, the fact that the two have been working together on set might cause fans to get emotional, too. In the current "Star Wars" canon timeline, Obi-Wan and Darth Vader don't meet in person between their encounter on Mustafar in "Revenge of the Sith" and their final duel in "Star Wars: Episode I – A New Hope." If "Obi-Wan Kenobi" changes that, it could mean something very big for these characters.
At the very least, there's a potential reason for fans to get excited just seeing these actors work together again. This is especially true if they get to "have another swing at each other," as McGregor teased in the Disney+ Day preview of the "Star Wars" show. Lightsaber duels are always a spectacle; this one would be no different.