The Star Wars Cast Honors Carrie Fisher In Vanity Fair Profile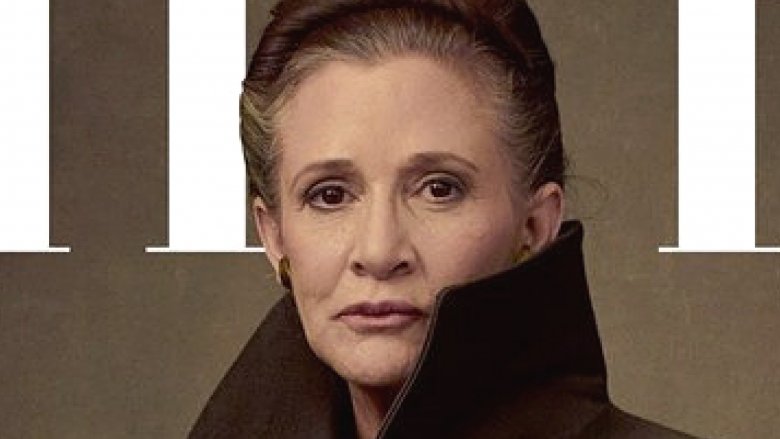 Carrie Fisher's loss was deeply felt by her Star Wars co-stars. In a recent interview with Vanity Fair, her The Last Jedi cast mates, along with director Rian Johnson, talked about their relationships with the late actress and how much she will be missed. 
For new cast members John Boyega and Daisy Ridley, entering the Star Wars universe was a terrifying experience, but Fisher helped them get through it. Boyega, who experienced backlash over the idea of a black Stormtrooper after the first teaser for The Force Awakens was released, says that Fisher helped him calm down. "Ah, boohoo, who f***in' cares? You just do you," Boyega says Fisher told him. "Words like that give you strength," he added.
Ridley and Fisher also had a special relationship as the female lead, with Ridley, who says she felt much more pressure on the second film than she did on the first, crediting Fisher with helping her stay herself throughout the experience. "Carrie lived her life the way she wanted to, never apologizing for anything, which is something I'm still learning," Ridley said. "'Embarrassed' is the wrong word, but there were times through it all when I felt like I was... shrinking. And she told me never to shrink away from it— that it should be enjoyed." 
Johnson, who also wrote the screenplay for the film, says that he often called on Fisher for help, sitting down with her in her home while he was re-writing his drafts. "Sitting with her on her bed, in her insane bedroom with all this crazy modern art around us, TCM on the TV, a constant stream of Coca-Cola, and Gary the dog slobbering at her feet," he described. "Out of everyone, Carrie was the one I really became friends with and expected to have in my life for years and years."
Fisher's death was the hardest, though, for her original trilogy co-star Hamill, who says that the two had a sibling relationship just like their characters on screen. According to Hamill, he and Fisher were "really attracted to each other" when they first met on set, but they realized that, if they really pursued a romantic relationship, "everything would fundamentally change." Going from there, they developed a strong friendship, which continued on to the Force Awakens and Last Jedi sets.
"We got to talking about one of our favorite scenes in The Adventures of Tom Sawyer, which is when Tom and Huck go to their own funeral, and they're up in the balcony, hearing their own eulogies," Hamill said of one day on the Force Awakens set. "So then I said, 'Look, if I go first, just promise me you'll heckle my funeral.' And she went, 'Absolutely, if you'll do the same for me.'"
Leia was supposed to be a big part of Episode IX, something which Lucasfilm head Kathleen Kennedy says Fisher started begging for pretty much immediately. "Because Harrison [Ford] was front and center on VII, and Mark is front and center on VIII," Kennedy said. "She thought IX would be her movie. And it would have been." Leia won't be digitally recreated for the film, though, Kennedy says, and the writers will instead find a new way to honor the character without Fisher present.
Fisher will appear in Star Wars: The Last Jedi, due out Dec. 15. For now, read up on the untold truth of Princess Leia.