What Carrie From The Original Carrie Movie Looks Like Today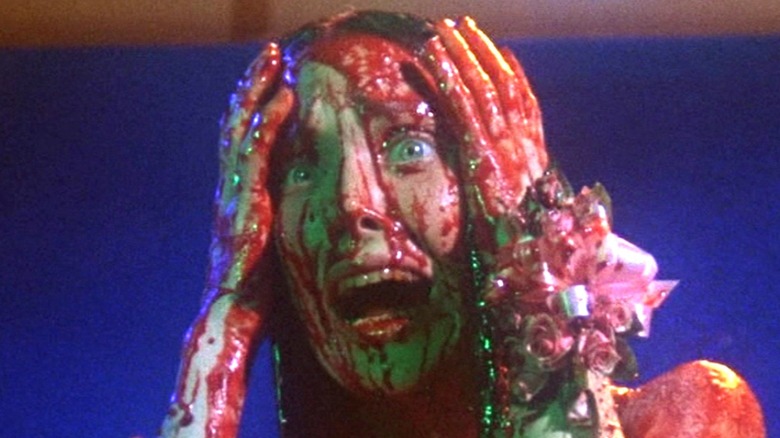 Red Bank Films/United Artists
With over 60 acting credits and 42 entertainment awards, Sissy Spacek has been an indisputable icon of the American film industry for almost half a century. In 1973, she began gaining recognition from critics as Holly in Terrence Malick's hauntingly beautiful neo-noir "Badlands." Three years later, Spacek made her shockingly indelible mark on Hollywood in the spine-chilling classic "Carrie."
Director Brian De Palma brought Stephen King's first novel to big screens across the United States on November 16, 1976, per IMDb. "Carrie" featured Sissy Spacek as the shy and bullied main character while fellow '70s rising stars John Travolta, Nancy Allen, and Amy Irving played her high school peers. It's nearly impossible to forget Spacek as the equally horrified and horrifying Carrie White getting revenge on her cruel classmates during the gory prom scene. "Carrie" would forever unite pig's blood and prom queens in the minds of horror fans.
Spacek's performance in "Carrie" was so convincing that she was nominated for an Academy Award in 1977. She also won the Best Actress Oscar in 1981 for the Loretta Lynn biopic "Coal Miner's Daughter." Spacek then acted in several drama movies in the 1980s and earned three more Academy Award nominations for "Missing," "The River," and "Crimes of the Heart." After obtaining significant fame and acclaim in the '70s and '80s, what is the actress who originally played Carrie doing today?
Sissy Spacek went from the silver screen to streaming services
Throughout the 1990s, Spacek acted in an array of films, from Oliver Stone's controversial political epic "JFK" to the charming comedy "Blast from the Past," where she played the mother of Brendan Fraser's main character Adam. She started off the 21st century strong by starring in Todd Field's critically celebrated "In the Bedroom." For her part in the 2001 indie film, Spacek earned her fifth Oscar nomination for Best Actress in a Leading Role 15 years after being nominated for "Crimes of the Heart."
In the 2010s, the award-winning actress transitioned from primarily performing in movies to doing more TV work. She appeared in the HBO drama "Big Love" as Marilyn Densham in 2010. During the last decade, Spacek performed in original shows on three of the biggest streaming platforms. She played Sally, the matriarch of the wealthy and troubled Rayburn family, on Netflix's "Bloodline" from 2015 to 2017. 
In 2018, Spacek returned to her Stephen King roots on the Hulu series "Castle Rock." She plays Ruth Deaver, one of the many characters created or inspired by the horror master. Spacek's most recent TV role is as Ellen Bergman, the mother of Julia Roberts' Heidi on the Amazon Prime thriller "Homecoming."