The Bizarre Thing Sissy Spacek Did For Carrie's Prom Scene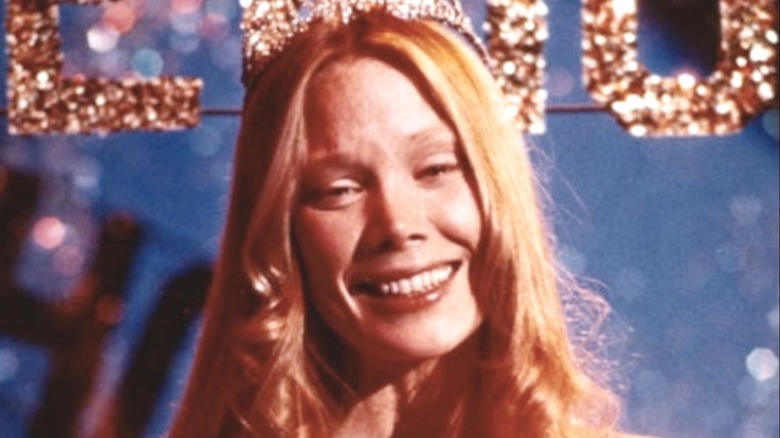 United Artists
"Carrie" is one of the most iconic horror films of all time. Even for those who haven't seen the film, the image of the prom queen covered in pig's blood is certainly recognizable. Exploring complex themes such as the effects of bullying and abusive parents, the movie has been in integral part of cinematic history and pop culture since its 1976 premiere, including a 2013 remake of the same name. The first of Stephen King's novels to be adapted for the big screen, "Carrie" is unforgettable, due in large part to Sissy Spacek's performance as the eponymous character.
Spacek shined in her role, but she wasn't director Brian de Palma's first choice. In an October 1979 interview with Rolling Stone, Spacek shared that director de Palma invited her to audition for "Carrie" only out of courtesy to her husband, Jack Fisk, who had been hired as the film's art director. However, her ability to embody the tortured high schooler wowed de Palma, who immediately offered Spacek the role. The actress' dedication to the character continued throughout filming — even if it was very uncomfortable. 
Sissy Spacek slept in her blood-covered clothes for days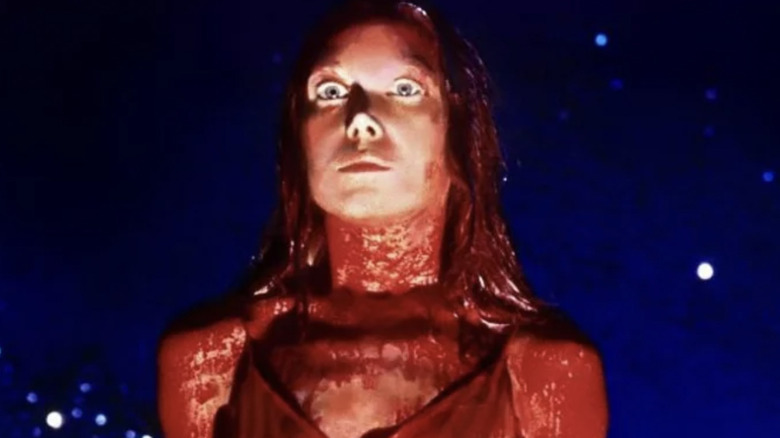 United Artists
The scene of pig's blood being dumped on newly crowned prom queen Carrie White is easily the most iconic of the film. It took days to complete, and rather than reapply the fake blood (made of corn syrup and food coloring), Sissy Spacek slept in the "bloody" clothes until the scene was in the can, in order to preserve continuity. 
However, Spacek revealed in a 2014 with Yahoo! Entertainment that getting the blood dumped on her wasn't that bad itself. "They warmed it up beforehand, and both times I remember it feeling like a warm blanket," she said. In fact, it was Spacek's husband Jack Fisk who poured the blood on her.
Such attention to detail and dedicated filmmaking is largely what makes "Carrie" so memorable, even nearly 50 years since its release. A lot has changed in the horror genre since then, but still few films are as haunting and devastating as "Carrie."