The Real Reason Alan Rickman Almost Turned Down The Role Of Snape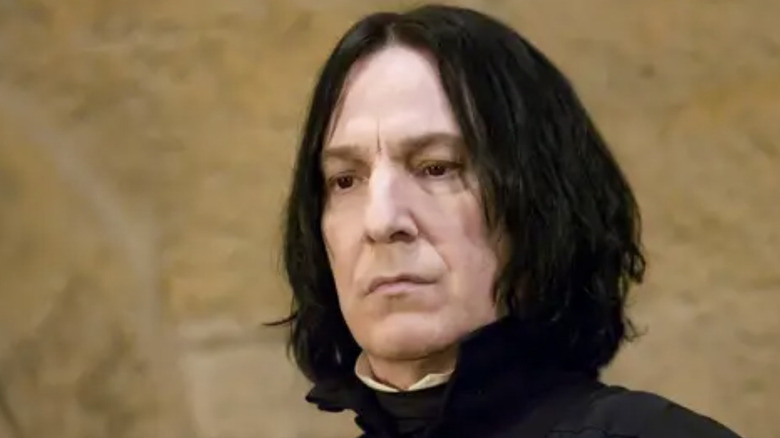 Warner Bros. Pictures
It's hard to believe, but "Harry Potter and the Sorcerer's Stone" first hit theaters 20 years ago. (Feeling old yet?) When the enormously popular book series made its way to the big screen, a massive franchise was born, and it's truly hard to imagine life now without the world of "Harry Potter" adding magic to our lives.
"Sorcerer's Stone" turned young newcomers Daniel Radcliffe, Rupert Grint, and Emma Watson into overnight superstars, capturing audiences' hearts with their take on the beloved trio of Harry, Ron, and Hermione. However, the talent of the film's veteran actors is what really made "Sorcerer's Stone" a cinematic success. Nearly every big-name British actor eventually joined the "Harry Potter" film franchise, yet one performer stands out most clearly in our minds.
The late, great Alan Rickman dazzled audiences as Professor Severus Snape, the seemingly evil Potions master who ultimately was revealed to be one of Harry's fiercest protectors. Rickman brought nuance, depth, and an absolutely menacing presence to the character, and his performance remains one of the highlights of our many "Potter" rewatches.
It was recently revealed, though, that Rickman almost turned down the role of Snape. But what exactly happened during the "Harry Potter" casting all those years ago?
Alan Rickman didn't want to be typecast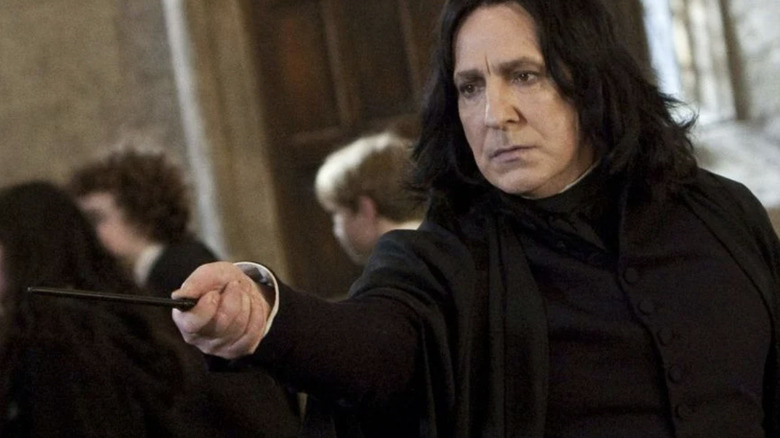 Warner Bros. Pictures
In a new interview with AV Club, "Sorcerer's Stone" director Chris Columbus opens up about how he and producer David Heyman found their cast for the film, revealing that Alan Rickman was much more difficult to cast than many of his co-stars. "He was reluctant because he didn't want to be typecast as a villain, particularly after 'Die Hard,' and I guess 'Robin Hood [Prince Of Thieves],'" Columbus revealed.
The filmmakers were ultimately able to convince him, but it was insight from author J.K. Rowling herself that influenced Rickman's portrayal of Snape. "[She] took him out to dinner and told him something about what was going to happen to Snape throughout the series and in the seventh book," Columbus shared. This, as any Potterhead knows, refers to the reveal that Snape was deeply in love with Lily Potter, Harry's mother, and had been protecting Harry ever since her death.
Rickman kept quiet about these twists though, allowing them only to be hinted at with "tiny little idiosyncrasies with his performance" (via AV Club). He didn't even share the secret plot details with Columbus, who only saw how "brilliant" his acting choices were once he read the final "Harry Potter" book.
Indeed, the "Harry Potter" films would never be what they are without the enormous talent of Rickman, and we'll always cherish his performance as Snape.