Why Chief Brian Irons From Resident Evil: Welcome To Raccoon City Looks So Familiar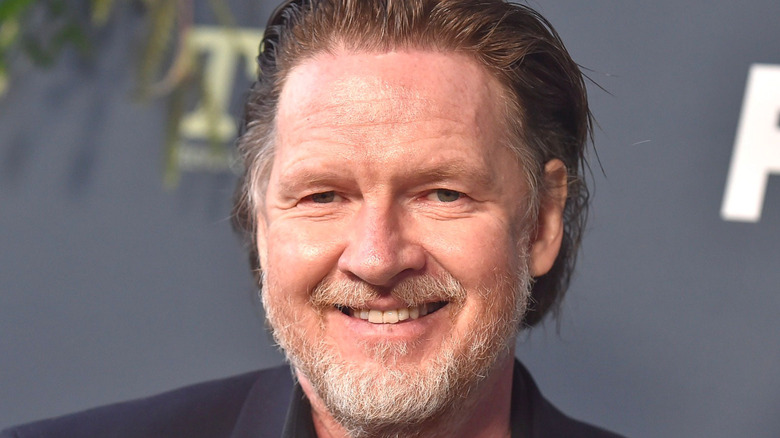 DFree/Shutterstock
This week, fans of a classic video game franchise are set to get their gore fix with the long-anticipated arrival of "Resident Evil: Welcome to Raccoon City." Leaning closer to the 25-year-old series of survival horror games than the Milla Jovovich iteration of films did, "Welcome to Raccoon City" is a blood-soaked fight to stay alive in a town that's been overrun by a parasitic nightmare. Directed by Johannes Roberts, the film sees fan-favorite heroes brought to life in the form of Kaya Scodelario as Claire Redfield, Hannah John-Kamen as Jill Valentine, Robbie Amell as Chris Redfield, and Avan Jogia as Leon S. Kennedy.
Now, of course, with this brave group of heroes wandering through the ravaged Raccoon City, there's got to be at least a few monsters in their midst. Well, as is the rule for just about any horror, some of the worst threats aren't even hungry for human flesh. One bad guy, in particular, comes in the form of Raccoon City's Chief of Police, Brian Irons, who, in the "Resident Evil" rankings, should be filed under "S" for scumbag. 
Appearing in the franchise's second game (which the film looks to be taking a considerable part from), Irons used his badge for nefarious and foul deeds even before the infamous T-virus broke out and turned the town into zombies. In the film, the corrupt cop is brought to life by Donal Logue, who himself is no stranger to playing a law enforcement officer elsewhere, too. Even before that though, he played some equally standout parts, with one, in particular, being another iconic horror monster.
An iconic encounter with Blade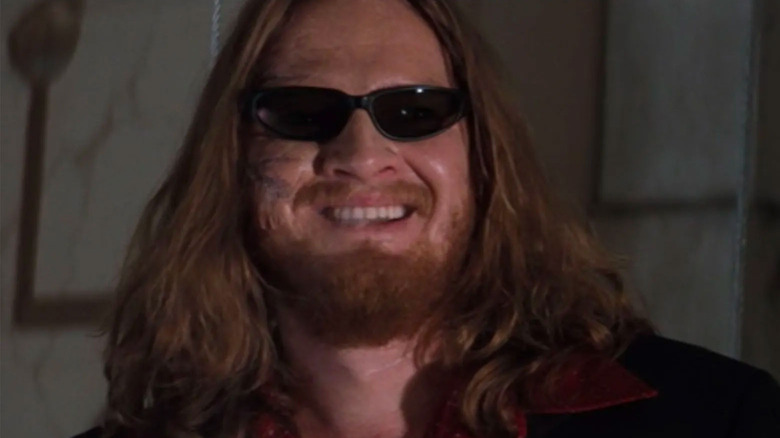 New Line Cinema
For many Donal Logue's most significant breakthrough part was in 1998, as the outmatched vampire Quinn, facing off against Wesley Snipes' titular character in "Blade." Torn limb from limb and burnt to a crisp in Stephen Norrington's classic action-horror movie, Logue's character was a welcome addition as a comedic punching bag that took a licking and kept on ticking through the film, up until his swift beheading in the film's finale.
Of all the colorful characters in Snipes' vamp-slicing action classic, Logue's loud-mouthed member of the undead stands out, mainly from the actor's own choice. Speaking in an interview with Movers and Shakers in 2020, Logue explained how the braids were his own idea and a key part in getting him the role. "I remember I rolled down there and there were these guys in the waiting room in Dockers and polo shirts and going over the lines, which is totally fine, and the director came out and I was just sitting there. And Steve Norrington, he goes 'that's what I'm looking for!' And I could just feel everyone else sort of deflate (laughs)."
From there, Logue went to be a supporting star in the likes of "The Patriot," "Runaway Bride," and "American Splendor" before having a lengthy stint on television. It was this shift that would lead him to some of the most significant roles of his career.
Logue headed to the E.R. and was Grounded for Life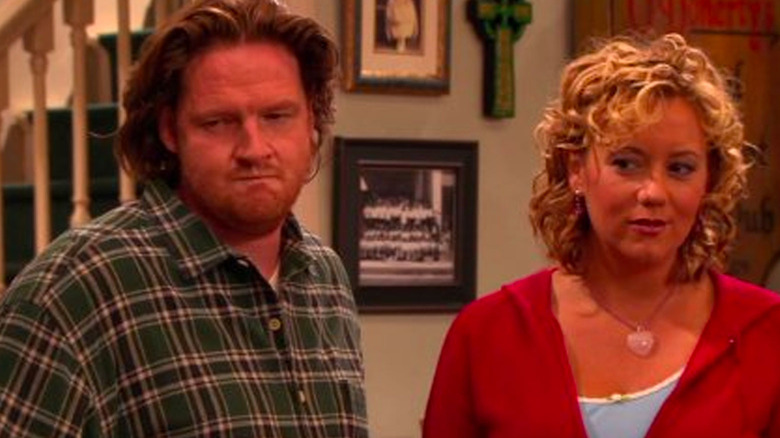 The WB
Around the early '00s, Logue had found himself appearing in the prime time slots for sitcoms and serious drama. In 2003, he appeared in 11 episodes of the critically acclaimed series "E.R." as Chuck Martin, the flight attendant that caught the eye of Dr. Susan Lewis when flying to Vegas. From there, the two got drunkenly married, annulled, and on-again, off-again for some time after.
During that time, Logue also appeared as the worn-down father of a frantic household in "Grounded for Life." Initially released on Fox in 2001, the show was canceled while just going into its third season, only to eventually be picked up by The WB where it ran for two more. The series saw Logue and his on-screen wife, played by Megyn Price, as a couple who got married at 18 for their firstborn and dealt with their growing family. Following the show's cancellation, he went on to appear in a few more supporting roles in films such as rom-com "Just Like Heaven," "Ghost Rider," and "Zodiac." He then headed back to primetime television, where he managed to land not one, not two, but three killer roles that would turn him into a fortified household name.
Logue starred in Sons of Anarchy and Vikings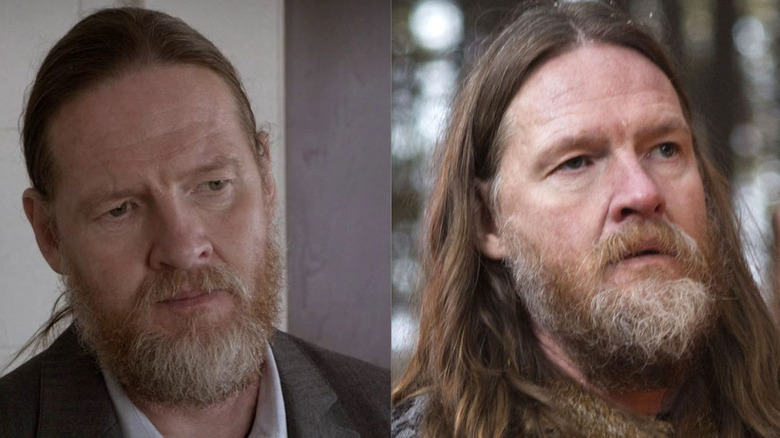 FX/History Channel
In 2012, Logue found himself on a TV hot streak, one that would see him go through three of the biggest shows on TV at the time. First, he appeared in Season 5 and 6 of "Sons of Anarchy" as the show's big bad, Lee Toric. A former U.S. Marshal that applied overly aggressive methods, Toric was an ongoing threat to the SAMCRO during his time on the show. Using methods of corruption and blackmail, he eventually met his demise in Season 6, but it was later revealed by series creator Kurt Sutter that wasn't the initial plan. 
Toric was set to stay until Season 7 but needed to be killed off sooner due to Logue's work commitments elsewhere, more specifically, his time opposite Travis Fimmel in "Vikings," where he became a series regular. Appearing at first as an ally and then enemy to Ragnar Lothbrok in the History Channel's critically-acclaimed show, Logue donned the crown of the real-life ruler, King Horik, in the first two seasons of the show before being killed off there, as well. Thankfully, it was his third major stint after his royal effort in "Vikings" that he'd find an even more iconic role.
Logue heads to Gotham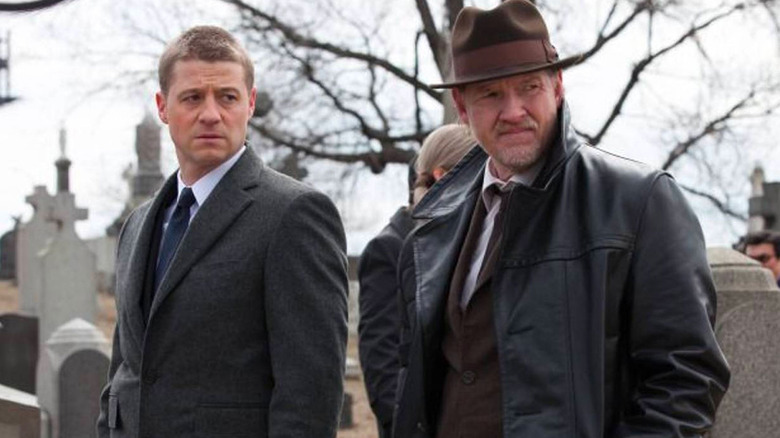 Fox
Spanning for an impressive five seasons, "Batman"-based prequel series "Gotham" had Logue don the hat and worn-down raincoat of bitter boy in blue Harvey Bullock. Corrupted by the crime that dominated the city long before a Bat came into play, Logue's lawman made a great pairing with Ben McKenzie's take on Commissioner-to-be, Jim Gordon, which stayed strong up until its finale in 2019.
While a clear effort was being made to expand on a world that would eventually become the Dark Knight's domain, Logue and McKenzie were the core focus of a detective show born from Detective Comics. Logue himself expressed his immense gratitude for the show, telling Showbiz Junkies, "I've seen shows and we all probably know of certain shows where that kind of stuff gets in and it really wrecks the dynamic of just showing up every day and doing your job," he said. "There was never an incident of that on Gotham, ever. I'm so appreciative. These are really beautiful human beings that we get to work with. There was no ego involved. It was such a pleasure to be a part of."