Ella Purnell Reveals What It Was Like Working With Dave Bautista On Army Of The Dead - Exclusive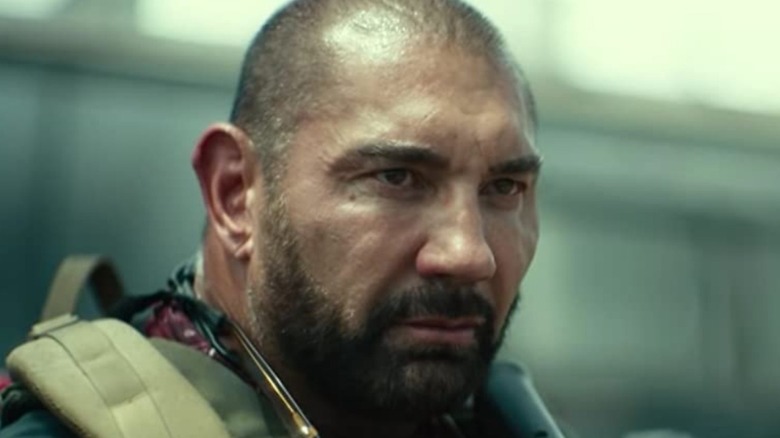 Netflix
Ella Purnell has been hard at work for the past year. Between her pivotal role as Kate Ward on Netflix's "Army of the Dead," her recent debut on the streaming site's animated series "Arcane," and her upcoming role on the "Army of the Dead" spinoff, it doesn't sound like Purnell has had a minute to sleep. Her role as Jinx in "Arcane" puts an animated spin on the "League of Legends" story video game fans know and love, allowing Purnell to go wild with her voice acting endeavor. Meanwhile, "Army of the Dead" gave her the opportunity to work with two icons: director Zack Snyder and actor Dave Bautista (Scott Ward). As Bautista's on-screen daughter, Purnell worked with him quite closely.
During an exclusive interview with Looper, Ella Purnell dished on what it was like working with Dave Bautista, what she can tell us about "Army of the Dead: Lost Vegas," and where she sees her voice acting career headed in the future.
Dave Bautista: The behind-the-scenes cheerleader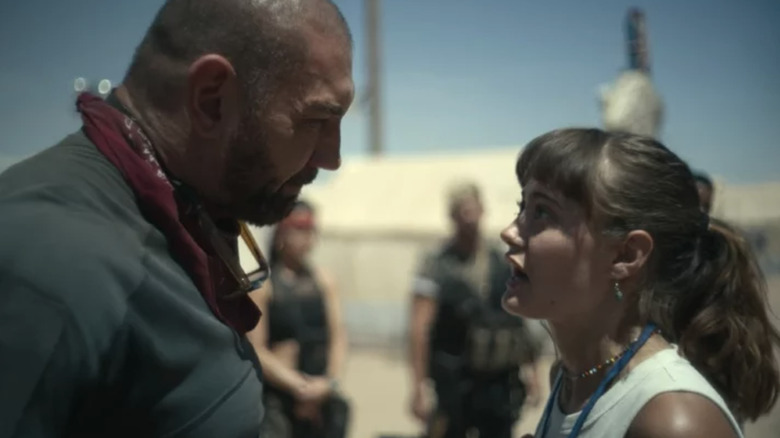 Netflix
Ella Purnell only had lovely things to say about "Army of the Dead" co-star Dave Bautista. She said, "Dave is great. Yeah. He's such a professional, and he is astoundingly emotional in his performance. Like his eyes just carry so much emotion." It wasn't just acting that he excelled at. According to Purnell, if you need someone to get a group of tired actors pumped up, Bautista is your guy. She added, "And he's a great team leader, which was perfect for the role, but you know, he really gathered the troops and on days where, it's a big cast, and on days where we were tired, or just energy was down, it was just hot, like a thousand degrees in Albuquerque. Yeah. He would just rally the troops and get us all jazzed."
Purnell's Netflix series "Arcane" was her first released voice acting role, but she has a number of them in the works — including "Army of the Dead: Lost Vegas." On whether she feels more prepared for that after "Arcane," she said, "Well, that one's already done, so I don't know how ... actually, let me think." 
She added, "I don't actually think I can say. What I can say is that voiceover acting, it's given me a new level of freedom that I've never had before as a screen actor and especially having done this and 'Star Trek,' which is my other animated show that comes out, tomorrow actually, it's helped me grow as an actor so much." She noted that her wild character in "Arcane" helped amp up her energy for "Lost Vegas." Purnell explained, "And I probably would not have been able to bring the same energy and experience into 'Army of the Dead' had I not done this as well."
A shiny voice acting career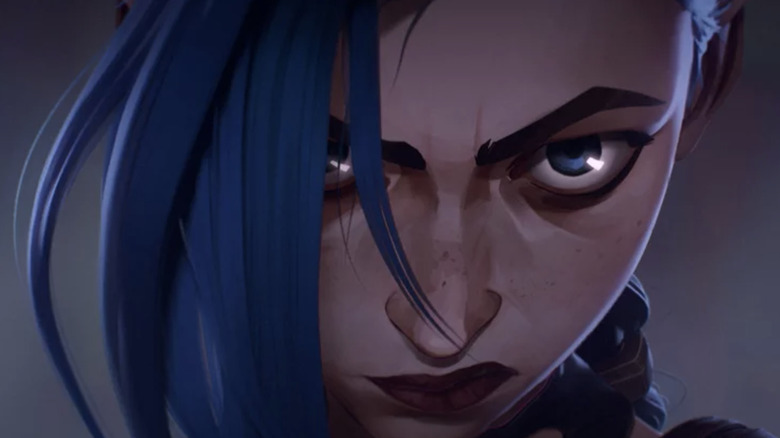 Netflix
When asked if voice acting is something that she's specifically looking forward to now, or if it happened organically, Purnell revealed, "I did specifically seek out a voiceover agent, and there was a certain point when I was like, 'I'm bored. What do I want to do next?' And I was like, 'Don't want to be a teacher. I don't want to be a race car driver. Why don't I try voiceover acting?' And found my brilliant, amazing, lovely agent, who I adore." 
She added, "But now, yeah, I don't ever really like manifest stuff, like actively pursue things. It's more just like when I bring someone onto my team, and I work with someone new, it's like, 'Okay, this is who I am.' And this is what I would like to do next. Like right now, I'm like, okay, I'd like to do comedy and then just keep an eye out. But yeah, it's a collab. Sometimes you just dry out for no reason." 
Acts 1 and 2 of "Arcane" are available to stream on Netflix now, with the third act releasing on November 20.