The Surprising Inspirations Behind Ella Purnell's Jinx In Arcane - Exclusive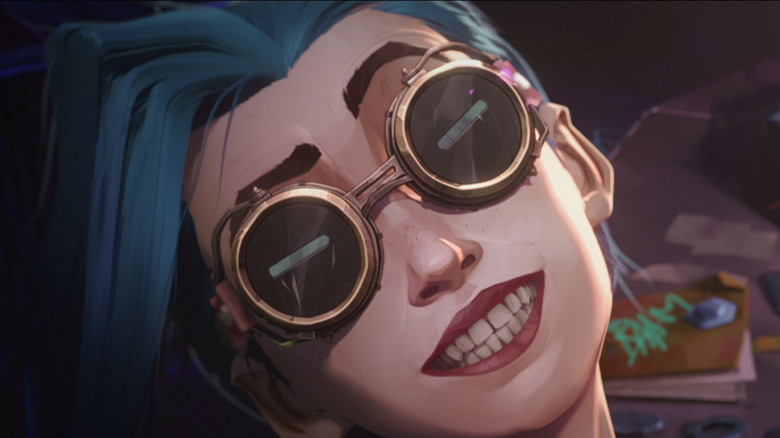 Netflix
When it comes to pop culture villains, fans just can't look away from characters like Harley Quinn and Bellatrix Lestrange — two of pop culture's most delightfully twisted badass women. Well, now, there's a new female baddie in town, and Ella Purnell is here to bring us vibes. Her "Arcane" character Jinx is an adaptation from the video game "League of Legends," and fans can finally check out Purnell's version of the beloved character, thanks to the series debut on Netflix this week.
Given the plethora of villains we see on-screen these days, Purnell had a vast catalog of the villainesses that we hate to love and love to hate. Even so, she still brings her own charm to the role of — effortlessly playing the jaded and unhinged counterpart to her on-screen sister, Hailee Steinfeld (Vi).
During an exclusive interview with Looper, Ella Purnell dished on the pop culture villains and actresses that inspired her performance as Jinx.
Pop culture's chaos queens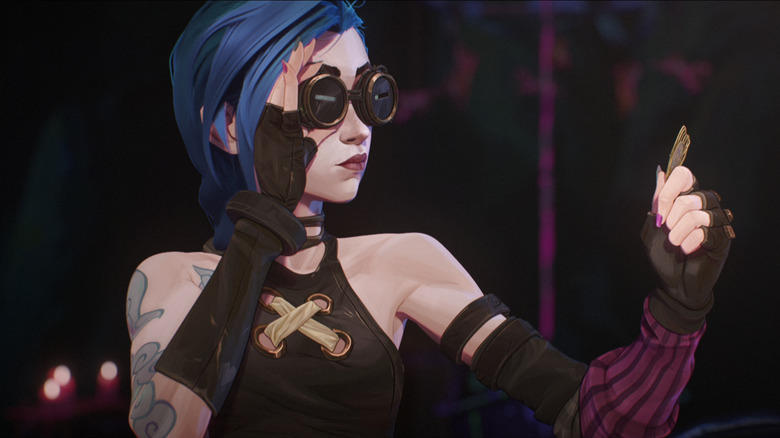 Netflix
While watching Jinx's most unhinged moments, you might get a bit of a Harley Quinn and Bellatrix Lestrange vibe. Well, that's not a coincidence, because the two characters made a significant impact on Purnell and Jinx. "I've always been a huge fan of Helena Bonham Carter, and I've always very keenly observed these hugely talented and very brave and ferocious character actresses," Purnell explained. "And it's always been something that I've wanted to do my whole life. Harley Quinn was definitely a great jumping-off point for that. Especially being pretty much the most famous female, violent villain."
Purnell had a slew of badass villainesses from which to choose. She noted, "Because there [are] female villains who are very seductive, or rich, or cunning. And I think what Harley Quinn has that I love is this just raw chaos. It's just like, she doesn't care. Nobody gets in her way."
It's no secret that Harley Quinn is the queen of chaos. Purnell said, "It's this like chaotic, violent anarchy energy. And we see that a lot with men, and we don't see that often with women. So knowing that that was the energy I was going for, she was obviously a great jumping-off point." And though she didn't intentionally channel Bellatrix or Carter, Purnell admits that the inspiration was always there under the surface: "And I didn't really think about Bellatrix Lestrange, but yeah, she, Helena Bonham Carter, has always been a huge influence for me. So maybe there [were] little vibes of that too. Subconscious."
Sisters and strangers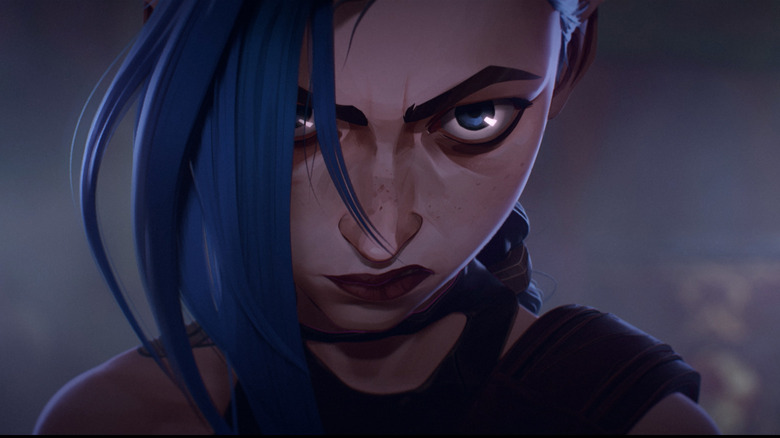 Netflix
The pandemic has drastically changed all aspects of Hollywood, even when it comes to voice acting. While voice acting may seem easy at first glance, not being able to express emotions through things like body language and interacting with sets makes it that much more difficult. Now imagine not even having your co-stars' audio and acting choices to bounce off of. Despite them playing sisters on "Arcane," Purnell never actually met or worked with Hailee Steinfeld for the series. However, she said, "We actually met at an event when we were like 11 or 12, like very young. I wonder if she would even remember me. I don't think so."
Purnell added, "It was a long time ago, but, no, we never worked in the booth together because, you know, we were both always just like traveling and working. And then yeah. And then COVID happened. So then we still weren't in the booth, and so I would, sometimes I would hear if she'd recorded her lines ahead of me, I would hear how she did it. But most of the time, no, I was just like cold reading against the director."
Steinfeld and Purnell didn't even have a chance to hop on a phone call to map out character choices. Purnell noted, "Nope. We just went right in there." That's pretty impressive given how cohesive and strong their arc is.
Act 1 of "Arcane" is now available to stream on Netflix, with Act 2 releasing on November 13.