Did Vincent D'Onofrio Just Tease Kingpin's Appearance In Hawkeye?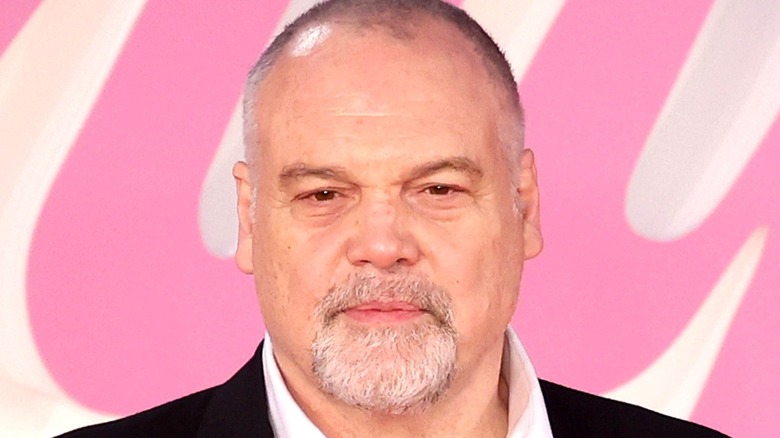 Franco Origlia/Getty
Before Disney+ streamed Marvel television shows like "Loki," "WandaVision," "The Falcon and the Winter Soldier," and the upcoming "Hawkeye" series, Netflix was home to a handful of shows about street-level heroes. The first of these shows was "Daredevil," which debuted on the streaming giant in 2015. The series, which ran for three seasons, stars Charlie Cox as Matt Murdock, aka Daredevil, a New York City lawyer by day and a vigilante by night. Daredevil faces off with notorious Marvel villain Wilson Fisk, aka Kingpin, throughout the Netflix show's run. Kingpin is played by former "Law & Order: Criminal Intent" star Vincent D'Onofrio.
"Daredevil" was incredibly well-received by fans and critics alike. Today, the Netflix series has a whopping 99% critics score and 92% audience score on Rotten Tomatoes for its first season. It held positive ratings for Season 2 and Season 3, with reviewers praising both D'Onofrio and Cox in the show's last season. The show was canceled in November 2018 (via The Hollywood Reporter), shortly after the platform cut "Iron Fist" and "Luke Cage" from its roster. 
Following the end of "Daredevil," D'Onofrio has discussed his interest in returning to his Kingpin character in the future. Fans have held out hope this would come true, and, on Wednesday, the actor may have indicated he could be back sooner than we think.
Vincent D'Onofrio's Hawkeye tweet is intriguing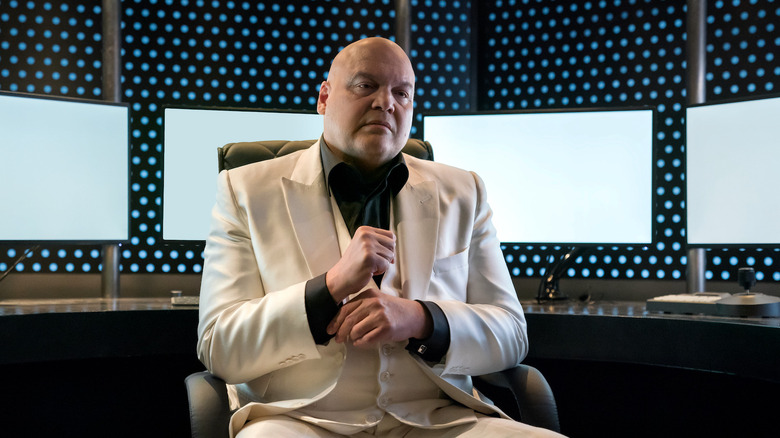 David Lee/Netflix
On Wednesday "Daredevil" alum Vincent D'Onofrio retweeted a Marvel Studios post about the upcoming "Hawkeye" Disney+ series. The caption for Marvel Studios' tweet states, "One week until we hit the mark! Marvel Studios' @HawkeyeOfficial starts streaming November 24 on @DisneyPlus." Attached to the tweet is a 20-second clip featuring stars Jeremy Renner and Hailee Steinfeld. 
D'Onofrio not only reshared the clip with his followers but included a caption of his own: "This is going to be fun. I love these @Marvel series." Other Twitter fans flooded the comments voicing their hope that he is in fact announcing his involvement. In response, @Michael293638 pleaded for the actor to be in the show, and @CultureCrave tweeted, "Is there something you're trying to tell us, Vincent?"
While it's a bit unusual for an actor who is supposedly not in a show to promote said new series on social media, it's entirely possible D'Onofrio is a genuine fan of Marvel Disney+ television and is looking forward to "Hawkeye." However, his comment that "Hawkeye" is "going to be fun" could be seen as an implication of involvement. It wouldn't be unusual for him to show up, given that the new show is a street-level Marvel project, like "Daredevil," and it will introduce Echo, Kingpin's adopted daughter with similar powers and abilities to Taskmaster. On Disney+ Day, Marvel announced the upcoming series "Echo," set in the MCU, so now would be a perfect time to bring Kingpin into the mix in addition to introducing Echo, played by Alaqua Cox.
Given Kingpin's ties to "Hawkeye," D'Onofrio's return in the Disney+ may not be all that unbelievable. "Hawkeye" debuts with its first two episodes on Wednesday, November 24, on Disney+.