When Will Hellbound Season 2 Hit Netflix?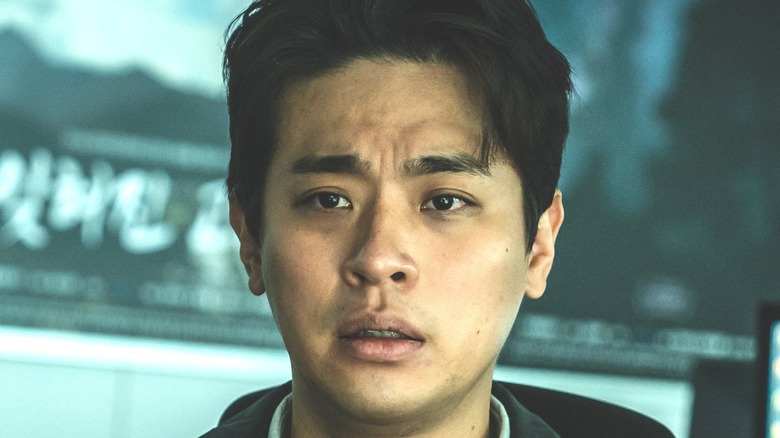 Jung Jaegu/Netflix
You might've heard already, but Netflix is on a bit of a roll with its international content of late. Among the streamer's latest hits are the Spanish-language "Money Heist," Norway-set fantasy series "Ragnarok," and the Korean dystopian drama "Squid Game." In mid-November, Netflix added a new name to that list of international hits: the original South Korean supernatural drama "Hellbound," which is currently making waves on the platform.
If you've yet to begin your "Hellbound" binge, the six-episode series is co-written and directed by "Train to Busan" mastermind Sang-ho Yeon. "Hellbound" is set in an alternate version of Earth where Hell is real, and when a sinner's time comes to make their way to the land of eternal flames, that person is told exactly when their descent will begin. Also, they're cast into damnation in hyper-violent fashion by horrifying beasts which appear precisely at the prophesied moment.
When the first season opens, that grisly phenomenon is just beginning to take hold of the world. By the end of the sixth episode, well, for the sake of keeping things spoiler-free, we'll just say many questions have been raised, some have been answered, and the series' final moments clearly tease there's more story to tell.
We're still waiting to find out if Hellbound Season 2 is happening
Now, just because there's more of the "Hellbound" story to tell doesn't mean we'll get a second season of the series. And as of this writing, Netflix has made no announcements regarding a potential second season of "Hellbound." If there were a series that seemed ticketed to receive such a boost, it's "Hellbound." That's largely due to the involvement of auteur-on-the-rise Sang-ho Yeon. Additionally, "Hellbound" has been deemed such a high-profile affair that it made its world premiere at the vaunted 2021 Toronto International Film Festival.
Even so, Netflix rarely renews a show before it makes its platform premiere. It's become standard operating procedure for Netflix brass to hold off on renewal announcements until a series has been streaming long enough to collect the requisite data to confirm it's worth investing in another season. Historically, that timeframe is about three months. Exceptions are frequently made to that rule, of course. This was the case with the renewal of "Squid Game" one month after its Season 1 debut and "You," which was renewed for Season 4 ahead of its Season 3 premiere. If "Hellbound" has the sort of debut the streamer is anticipating, it wouldn't be at all surprising if the Season 2 announcement is made close to its mid-November debut.
The timing of that announcement will obviously impact when a second season of "Hellbound" might arrive on Netflix. But, assuming Yeon and his "Hellbound" team are ready to roll on the new season, it likely wouldn't hit the platform until sometime in 2023. So, here's hoping that announcement comes sooner than later.
You can now stream "Hellbound" Season 1 on Netflix.