Fans Of You Just Got The Best Possible News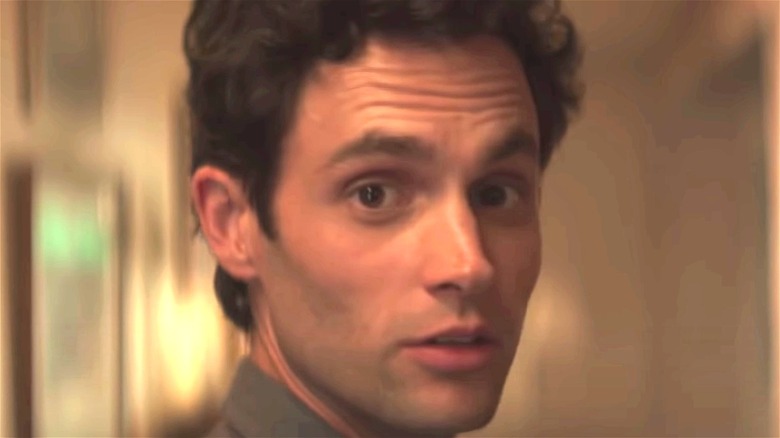 Netflix
A couple of days before the Season 3 premiere of the stylish psychological thriller "You," one of the darkest shows on Netflix, fans received an unexpected gift. A surprise trailer confirmed that once viewers had binged the ten episodes in Season 3, they would have more to look forward to, as "You" would be returning for a follow-up Season 4.
Fans can view the teaser on YouTube, which consists of a montage of some of the women pursued by the man known as Joe in Season 1 and Will in Season 2 (Penn Badgley), and hints at the terrible things that have befallen them. As Will provides a suitably unsettling voiceover, the monologue eventually starts to focus on the repetition of the phrase "for you," before finally flashing the words "You 4." In addition, the caption for the video reads, "'YOU' Season 4 is in the [body] bag."
It would be hard to imagine any news that could be more exciting for dedicated fans of the show, considering that "You" Season 3 is about premiere on October 15. While viewers likely still have plenty of surprises ahead of them in the next 10 episodes that go live, it's not hard for fans of the books to guess where the series might head after Season 3 is resolved. Here is what fans need to know about the recently confirmed Season 4 of "You."
Season 4 of You could be headed to the Pacific Northwest
As noted by fans on Reddit, there are plenty of differences between the source material and what ends up onscreen in "You," but the core story arcs have remained relatively faithful. Since Season 1, which premiered on Lifetime, was based on the first book by Caroline Kepnes, "You," while Seasons 2 and 3, which moved to Netflix, covered the second, "Hidden Bodies," it is a reasonable assumption that Season 4 will dive into the third novel, "You Love Me."
Without revealing too much of what might be coming in Season 3, if Season 4 utilizes the storyline introduced in "You Love Me," the show will see another location shift. As described by Penguin Random House, Joe will move from Los Angeles to the Pacific Northwest, trading the urban environments of the earlier seasons for a job at a library in a sleepy island town.
Netflix's confidence in the strength of Season 4 might even be based on the sales of "You Love Me." The third novel in the series quickly made it on The New York Times fiction bestsellers list after being published in April 2021. The TV adaptation has enjoyed strong critical acclaim, and currently holds a 90% on Rotten Tomatoes. Hopefully, fans and critics find just as much to love abut "You" in the upcoming Season 3 and eventual Season 4.