The Transformation Of David Tennant From Childhood To Doctor Who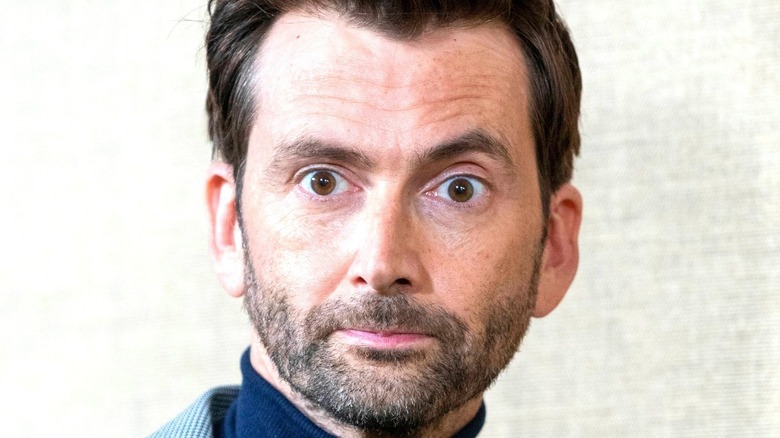 Shutterstock
Many kids have said that they wanted to be an astronaut or a firefighter when they grow up, but how many of them went on to successfully pursue those careers as adults? In the case of Scottish actor David Tennant, that is exactly what happened. At only three years old, Tennant, a huge fan of the sci-fi series "Doctor Who," told his parents that he wanted to be an actor and play the Doctor. Thirty years later, he did precisely that.
Tennant played the 10th incarnation of the Doctor for five years, and became a fan favorite for many Whovians. He made his "Doctor Who" debut in "The Parting of the Ways," and in the years that followed, the 10th Doctor quickly became one of the most beloved versions of the time-traveling adventurer. Fans watched eagerly as the Doctor battled monsters old and new, witnessed some of history's great moments, and suffered the heart-breaking loss of his companion, Rose Tyler (Billie Piper). Fans will never forget "The End of Time," which contains Tennant's devastating final line as the Doctor: "I don't want to go."
Tennant has gone on to play in many other successful series, including the British crime drama "Broadchurch," Netflix's "Jessica Jones," and the acclaimed Amazon mini-series, "Good Omens" — but it was his stint as the 10th Doctor that skyrocketed the actor to worldwide fame. How did a young man from a small suburb in Paisley, Scotland become the enigmatic Time Lord from Gallifrey? Let's take a look at the life and career of David Tennant.
David's career began in theater and small TV roles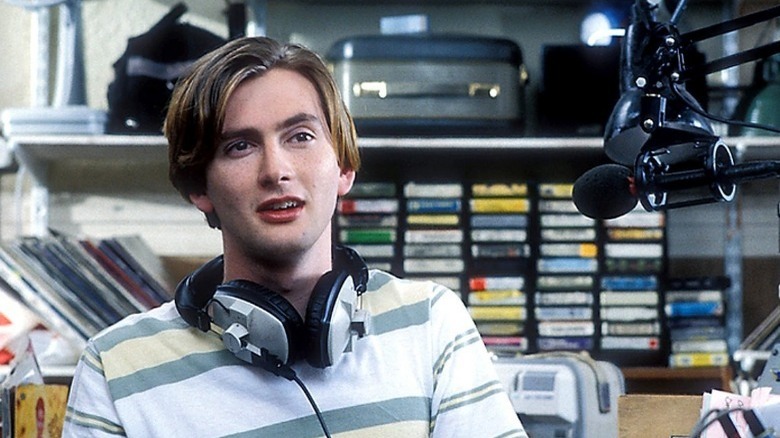 BBC Two
Born David John McDonald in 1971, David Tennant had always wanted to be an actor. He was an avid "Doctor Who" fan, and even met 4th Doctor Tom Baker when he was a child. Eager to pursue his dream career, Tennant studied drama at the Royal Conservatoire of Scotland as a teenager. His very first on-screen role was in an anti-smoking ad when he was 16, and he went on to feature in several other small television roles, including a period drama called "Strathblair," and a six-part BBC series, "Takin' Over the Asylum." Along with appearances on television through the 1990s and early 2000s, Tennant joined the Royal Shakespeare Company and acted in several plays by the Bard, including "As You Like It," "Romeo and Juliet," and "The Comedy of Errors." 
If you've ever wondered how David McDonald became David Tennant, it's a bit of a funny story. In a 2018 interview on "The Late Late Show with James Corden," Tennant admits that he stole the name from a magazine. Upon joining an actor's union, he discovered that another member already had the name David McDonald, and he was required to legally change his name due to union rules. "So I flicked through a music magazine," Tennant told Corden. "So I'm sort of named after Neil Tennant from the Pet Shop Boys."
From drunk undergraduate to world's greatest lover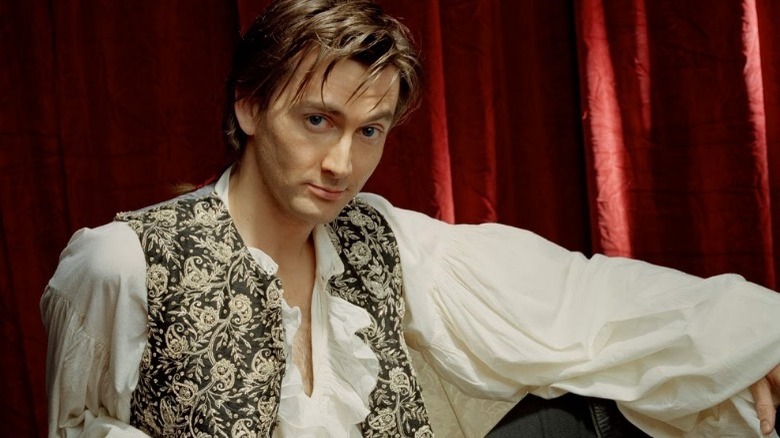 BBC Three
In an interesting turn of fate, one of David Tennant's earliest film roles had him acting in a scene alongside another "Doctor Who" star. The 1996 drama "Jude" starred Christopher Eccleston, who also played the ninth Doctor for one season in 2005. Tennant played a small part in the movie as well: a drunk student in a pub who challenges Jude (Eccleston) to perform a recitation in Latin. Tennant's other early film credits include "L.A. Without a Map," "The Last September," and "Bright Young Things."
One of Tennant's most interesting roles was in the 2004 mini-series, "Blackpool," a murder-mystery and jukebox musical. The series starred "The Walking Dead" actor David Morrissey, a casino owner who is accused of murder when a dead body is found in his establishment. Tennant plays Detective Inspector Carlisle, who not only is determined to prove Morrissey's character as the culprit, but also falls in love with the suspect's wife. Tennant, along with the rest of the cast, sang a number of musical numbers in the series — and his dancing's not half bad, either.
Shortly following "Blackpool," Tennant was cast in the period drama, "Casanova," taking on the starring role of one of history's greatest lovers. It was thanks to his performance in the BBC three-part mini-series that Tennant would go on to get the coveted role he had set his eyes on since childhood.
Becoming the Doctor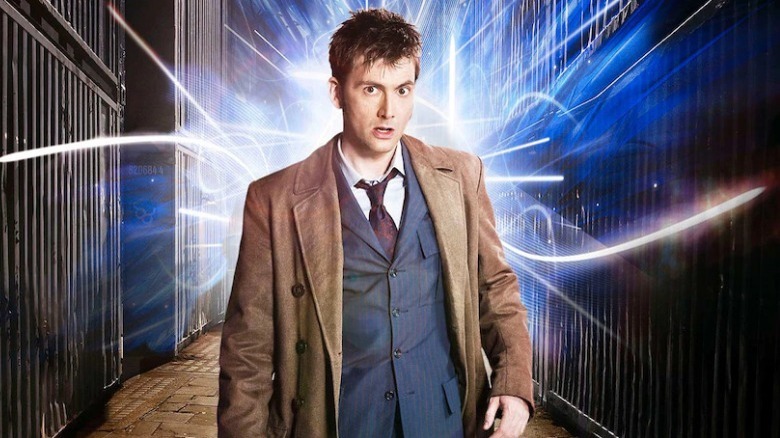 BBC
TV producer and writer Russell T. Davies was tagged to begin developing the new "Doctor Who" series in the early 2000s, along with executive producer Julie Gardner. At the same time they were working on the first episodes of "Doctor Who," Davies and Gardner were also shooting the "Casanova" mini-series, a drama based on the memoirs of the famed Italian author, Giacomo Casanova.
David Tennant played the starring role of young Casanova, and the producers were so impressed by his performance that they knew they had to cast him as the next Doctor. A video from a convention in 2016 has Tennant answering a fan's question about how he secured the role. "So 'Casanova' ended up being my kind of audition for 'Doctor Who,' though I was completely unaware of it at the time," Tennant said. "Russell asked me [to come to] his house in Manchester, which is where we'd been filming 'Casanova,' because he had a couple of rough cuts of the first series of 'Doctor Who' and he knew that I was a bit of a fan [. . .] and then they told me that they wanted me to take over." 
Tennant went on to play the Doctor from 2005 to 2010, and his life has never been the same since. In a 2019 interview, Tennant told the Guardian, "To certain people, you'll always be the Doctor, which is a wonderful, humbling thing but it does mean accepting an adjustment to your life. You have to be ready for that. It's a unique experience and there's a very small support group who know how that feels."