The Civil War Rifle That Cost American Pickers $2,250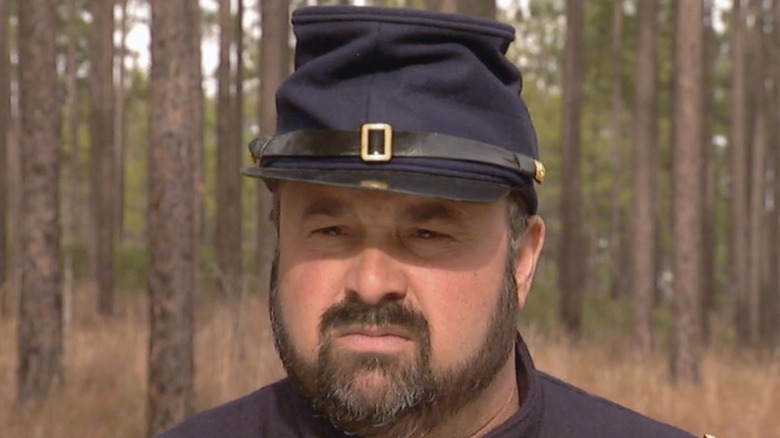 History/Hulu
Back in 2010, nobody could've anticipated that a show about scavenging through other people's garages would find any success on the air, and yet History Channel's "American Pickers" is still going strong to this day. Hosts Mike Wolfe, Frank Fritz, and Danielle Colby have spent an astounding 22 seasons (and counting) scouring the country for hidden gems buried in other people's trash, and over the years, they've gotten pretty darn good at it.
The Pickers have tracked down plenty of obscure antiques and memorabilia over the years, collecting everything from antique cars and motorcycles to vintage circus sideshow banners. They've become so renowned for their profession that even some celebrities are hiring them out to track down antiques for their collections, as seen when William Shatner enlisted the Pickers' help back in Season 3 to find a millstone for his garden. As if that wasn't enough, the Pickers have also received requests from museums willing to increase their collections. A lead from one of these museums even helped the Pickers track down one of the oldest antiques they've ever acquired: an authentic Civil War-era rifle.
The American Pickers hosts are wowed by this Civil War rifle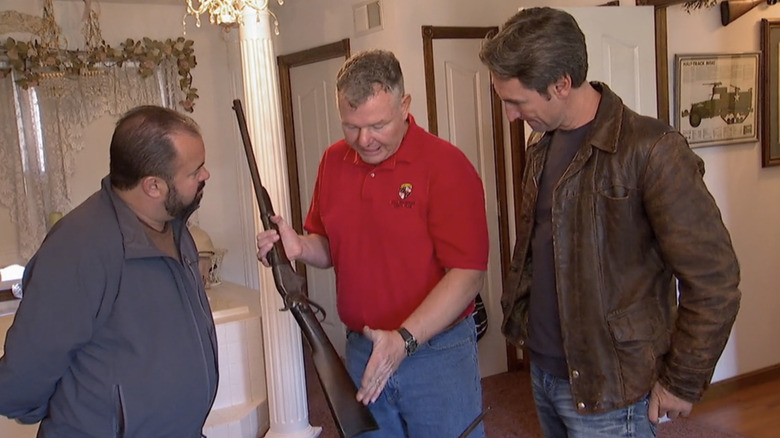 History/Hulu
In Season 4, Episode 1, titled "Civil War Pickings" (via IMDb), hosts Mike Wolfe and Frank Fritz are recruited by the Gettysburg Museum of History to find Civil War items for the museum's collection. They were actually given a list of specific items to be on the lookout for, with one such item being a Spencer carbine rifle.
Danielle Colby tracks down a former client of the museum, named J.W., who allegedly has the exact model of the Spencer carbine that the Pickers are searching for. Lo and behold, they track J.W. down and visit him at his home in the Maryland countryside, where he produces the exact rifle they want. Designed in 1860, the Spencer carbine rifle was approved by President Abraham Lincoln himself for its seven-cartridge design and was used by Union soldiers during the Civil War (via Britannica).
An item with that much history behind it is easily worth a large chunk of cash. When J.W. asked the Pickers for $2,200, they went even further by talking him up to $2,250 with the inclusion of a few smaller antiques. While $2,250 is certainly nothing to scoff at, it's incredible to see the rifle simply hiding away in someone's storage room. It just goes to show that one man's trash is another man's treasure — or, more accurately, another man's priceless Civil War artifact.
Seasons 3 and 4 of "American Pickers" are now available to stream on Hulu, and Seasons 5 through 18 are available on Peacock.