Alien: Covenant Defeats Guardians Of The Galaxy Vol. 2 At The Weekend Box Office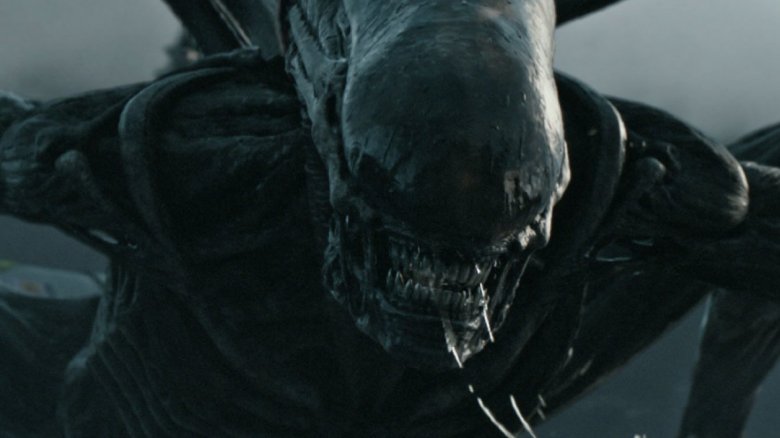 Alien: Covenant has (chest)burst onto the box office scene with $36 million, unseating Marvel's Guardians of the Galaxy Vol. 2 for the top spot. (via Box Office Mojo)
Covenant still underperformed, though, during a weak box office weekend marking the second of summer lulls. (Expect Pirates of the Caribbean: Dead Men Tell No Tales and Baywatch to buck that trend over Memorial Day weekend.) The film was projected to make around $45 million during its opening weekend, still solidly below prequel Prometheus at $51 million. While $36 million and the top spot are nothing to scoff at, filmmakers were likely looking for a slightly higher sum in the movie's first outing to help make up for its high budget. Still, there is hope for Covenant, as it made $42 million overseas.
Guardians took the second spot by a small margin, earning $35.3 million, only a 46 percent drop from its second weekend in theaters. This brings the movie's domestic total to over $300 million and its worldwide total to over $730 million, putting the movie well on track to reach the $1 billion mark before it leaves the big screen.
Third place went to Amandla Stenberg's Everything, Everything, which overperformed with $12 million. The romantic film stood out among the market of action-heavy blockbusters it was up against, leading to a mostly female, mostly under 25-years-old audience. Amy Schumer and Goldie Hawn's Snatched took fourth place with $7.6 million, while reboot Diary of a Wimpy Kid: The Long Haul fell slightly below expectations amid negative reviews, earning only $7.2 million in its first weekend in theaters.
Sixth place went to Guy Ritchie's King Arthur: Legend of the Sword, which continues to be a massive bomb, earning only $6.85 million in just its second weekend in theaters, a 55.4 percent drop from week one. Although the film's worldwide total is over $63 million, the movie is nowhere close to recouping its $175 million (plus marketing) production budget. The Fate of the Furious, The Boss Baby, Beauty and the Beast, and How to be a Latin Lover filled out the top ten. 
As summer blockbuster season begins to heat up, the box office should as well, so expect some excitement in seeing which high-profile films will win the top spot in the coming months.