The Real Reason Why Sylvester Stallone Almost Died Filming Rocky IV
Mark Reinstein/Shutterstock
There are few movies in history as universally adored as the 1976 boxing drama "Rocky." Written by and starring a then-unknown Sylvester Stallone, "Rocky" came out of nowhere upon release to become the year's box office champ (per The Numbers). It then went on to stun at the Academy Awards, too, winning three Oscars (including best picture) and earning a pair of nominations for Stallone. "Rocky" also made an overnight icon of its star, of course, who's been a major player on the Hollywood scene for more than four decades now.
Naturally, "Rocky" remains a big part of Stallone's big-screen legacy. It also became the action star's first major franchise, with the "Rocky" verse now a full eight films strong and counting. While that franchise has bounced back in a major way with the Michael B. Jordan-fronted "Creed" films, even series diehards might agree it was flagging a bit narratively by the time 1985's flag-waving "Rocky IV" hit theaters. Even still, that film was a hit at the box office (per Box Office Mojo) and remains a fan favorite in the series.
Like most "Rocky" flicks, the fourth film found the Italian Stallion taking major beatings, in this case at the hands of a giant Russian bruiser named Ivan Drago (Dolph Lundgren). While shooting one of those beat downs, Stallone himself claims he was severely injured and nearly died.
Ivan Drago actually sent Rocky to the emergency room in the real world too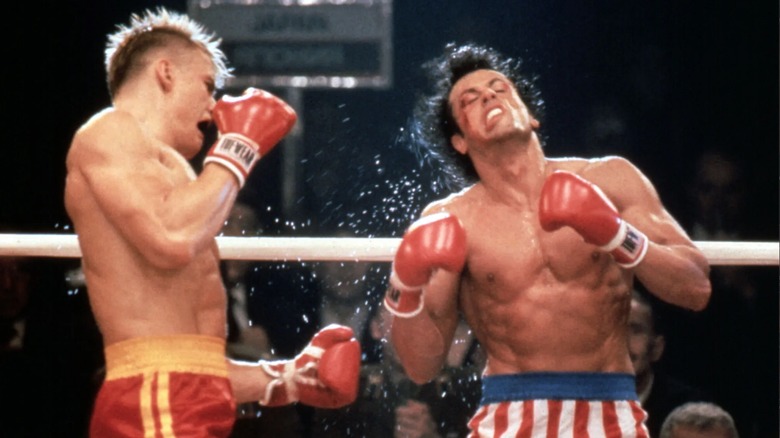 MGM/UA Entertainment Company
Sylvester Stallone, who also wrote and directed "Rocky IV," regaled fans with his near-death experience in a behind-the-scenes documentary posted to YouTube celebrating the just-released "Director's Cut" of the film. And per Stallone's account, the first scene he shot for the film (in which Drago punches Rocky in the chest) landed him in an Intensive Care Unit. "The first thing we shot [was] my entrance, [Lundgren's] entrance, and the introductions, and then I got really injured during the fight, and I had to be flown into intensive care to California from Canada."
The actor continued to detail the events that led to his ICU stint. "[Lundgren] pulverized me. And I didn't feel it in the moment, but later that night, my heart started to swell. My blood pressure went up to 260, and I was going to be talking to angels. Next thing I know, I'm on this emergency, low-altitude flight. I'm in intensive care surrounded by nuns...," he remembered. Tough guy that he is, Stallone soon returned to set to finish the film stating, "then after that, I had to go back and finish the fight."
Luckily, Stallone and the "Rocky IV" crew got through the rest of the shoot without another major incident. And as for the scene that almost cost Stallone his life, it did make it into the final cut of "Rocky IV." When asked why he left it in, Stallone candidly responded, "How could you take that out?"