Why Rocky 4's Theatrical Return Is Going To Look Very Different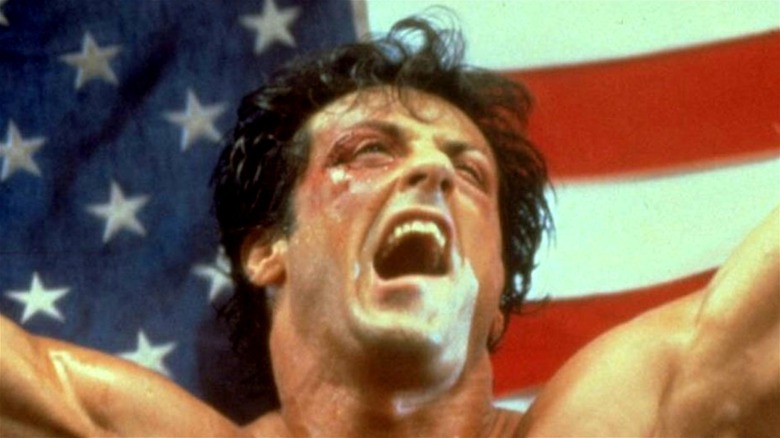 MGM/UA Entertainment Company
For one night only — November 11, 2021, to be exact — "Rocky IV" will be returning to theaters. MGM and Fathom Events are teaming up for the special presentation of the film, which is officially titled "Rocky V. Drago: The Ultimate Director's Cut." As that title suggests, this will be an extended version of the 1985 boxing classic, which was written and directed by Sylvester Stallone, who also played the lead role.
"Rocky IV" was made during the waning days of the Cold War. The story follows the Italian Stallion (Sylvester Stallone) as he trains his old nemesis-turned-friened Apollo Creed (Carl Weathers) for a showdown with the USSR's top boxer, Ivan Drago (Dolph Lundgren). After Drago kills Creed in the ring, Rocky challenges him to a rematch in Russia. "Rocky IV" was one of the biggest hits of 1985, grossing more than $30 million at the box office, and it's still considered one of the greatest sports movies of all time.
For "Rocky IV" fans, the fact that the movie is returning to theaters is great news, and there's going to be even more "Rocky IV" to enjoy. Here's what to expect from the director's cut.
Rocky IV will be longer, louder, and even more epic than it was the first time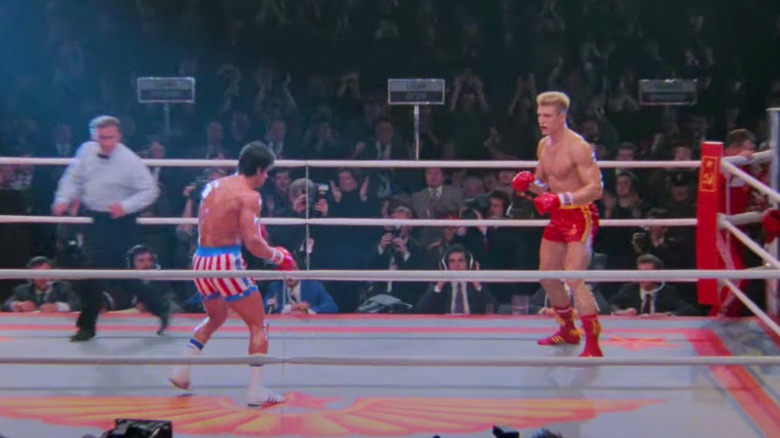 MGM/UA Entertainment Company
As reported by Variety, "Rocky V. Drago: The Ultimate Director's Cut" will include 40 minutes of never-before-seen footage that was originally left on the cutting room floor. That will include longer versions of scenes from the original cut, as well as brand new scenes entirely. Here's the official pitch from MGM: "The fight scenes are more intense, the music is more powerful and the drama is heightened as world heavyweight champion Rocky Balboa (Stallone) must defend his title once again, this time against his most formidable opponent: Ivan Drago."
While that description doesn't get very specific, we do know that one of the oddest moments from "Rocky IV" will be gone: Yes, the robot butler, Sico, is headed for the scrap heap. Rust in peace. The presentation will also include an introduction from Sylvester Stallone, a live Q&A with Stallone after the film, and a behind-the-scenes documentary about the making of the film. While the director's cut will only be available in theaters for one night, it will also be available to rent on-demand the following day, Friday November 12.
The film will be broadcast as select Fathom Events locations, and you can find more information as well as purchase tickets at their website, here. In the meantime, you can also check out the trailer for the director's cut here if you want to get your pulse pounding. If the director's cut is anything like the trailer, "Rocky IV" fans won't want to miss this.