The Glee Couple Who Couldn't Stand Each Other In Real Life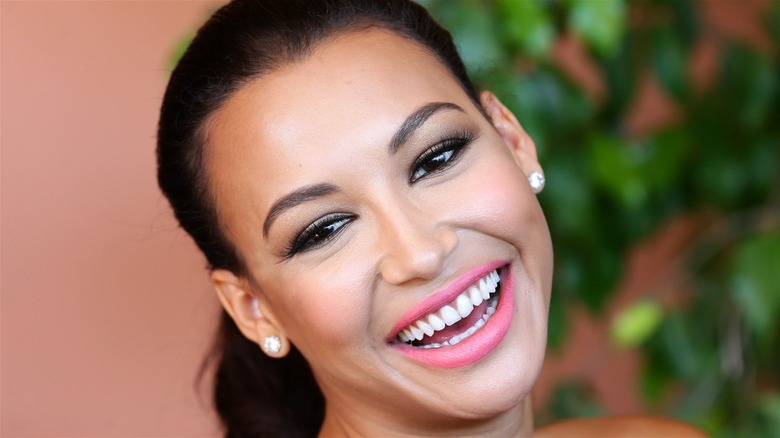 Vittorio Zunino Celotto/Getty
"Glee" has always been known for its on-screen drama as it followed the lives of William McKinley High's show choir students as they pursue a national championship and grow together. Mirroring elements of the real-life high school environment, much of the social focus is on who's dating who. "Glee" has had its run around of on-screen romances between the main cast, arguably none more famous than Finn Hudson (Cory Monteith) and Rachel Berry (Lea Michele), Santana Lopez (Naya Rivera) and Brittany Pierce (Heather Morris), and Kurt Hummel (Chris Colfer) and Blaine Anderson (Darren Criss). Those three arguably "main" couples went through plenty of on-again, off-again stints during the show's six seasons, with some characters, such as Santana, even having personal revelations about their own sexual orientation.
In the early seasons of the show, Santana often flirts with and couples up with Noah "Puck" Puckerman (Mark Salling) for a short period of time until she begins to come to terms with the feelings she has for Brittany. Interestingly enough, that on-screen flirtation between Salling and Rivera was, in fact, art imitating life, and according to Rivera herself, the two co-stars began dating soon after meeting in the pilot episode. However, it didn't seem to end on very good terms.
Rivera and Salling argued constantly
In her autobiography, "Sorry, Not Sorry: Dreams, Mistakes, and Growing Up," Rivera detailed the beginnings of her relationship with Salling in detail. She talked about noticing him on set in the pilot episode of "Glee" playing guitar and thinking that he was "so cute." Rivera said that afterward, she proceeded to try and get Salling's attention as much as possible until he finally asked her out on a date — which ended up working. The first date the two went on was Fright Night at Magic Mountain, as Rivera recalled it, and they had In-N-Out burgers in Salling's "piece-of-s*** car." It's unclear if Rivera was a fan of that date or not, but evidence suggests she did, as she kept dating Salling until many small arguments began.
Rivera didn't detail exactly what the arguments were about, but she was clear that they were frustrated with each other. She noted that they constantly fought and were "breaking up every other day." Allegedly, Salling was often using drugs and seeing other women on the side during his relationship with her. Despite all of that, Salling was the one who called it quits for good when Rivera said she was against the breakup and wanted to keep trying.
There was still bitterness during Salling's legal troubles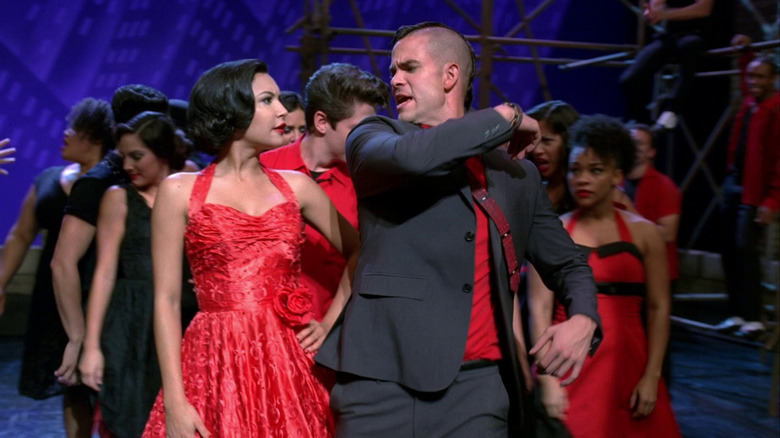 Fox
In 2015, long after his relationship with Naya Rivera ended, Mark Salling was arrested, and before he pleaded guilty in 2017, his ex noted her thoughts on the topic in her autobiography. Not only did she say that the relationship between her and Salling was "dysfunctional" looking back, but she had learned nothing until she saw the headlines about his arrest. Rivera recalled that she wasn't totally shocked, but it definitely served as a wake-up call for her, as cited by Cheat Sheet. She said that the breakup was the worst thing ever to her, but at that point, she couldn't possibly imagine lying in bed with Salling when the battering ram came through the door for his arrest.
It's clear that Rivera certainly had closure from the relationship side of things after learning of Salling's charges, but it must have been hard to hear that he died by suicide in early 2018. Although Rivera never really made comments about Salling's death, she vocally regretted the relationship in sections of her autobiography, proving that both "Glee" cast members really couldn't stand each other back then. Rivera tragically passed two years later in a riptide accident in the summer of 2020, although she was able to save her son from the deadly currents.