Law & Order: Organized Crime Fans Are Reeling After What Might Be The Best Episode Yet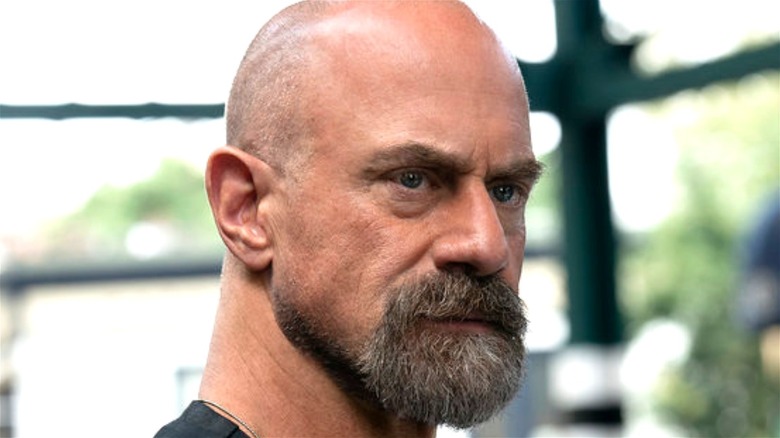 Virginia Sherwood/NBC
Detective Eliot Stabler (Christopher Meloni) is finally coming back into the light. How long will it take for his eyes to adjust?
The first half of "Law & Order: Organized Crime" Season 2 came to an explosive conclusion Thursday night when Stabler's undercover stint as Eddie "Ashes" Wagner in the Albanian mob reached its endpoint. With the noose tightening around them, the mobsters launched an attack on the police, but Stabler and his task force were able to win the day with the successful arrests of Jon Kosta (Michael Raymond-James), Albi Briscu (Vinnie Jones), and his wife Flutura (Lolita Davidovich). The Kosta Organization nearly got its revenge on the veteran detective when Agnes Bogdani (Caroline Lagerfelt), mother of gang member turned informant Reggie Bogdani (Dash Mihok) pulled a gun in a courtroom and tried to shoot Stabler.
Even as the Kosta Organization learned Stabler was a cop, they retained a grudging respect for him, except for the one who tried to shoot him. But even with the mobsters behind bars, Stabler's journey back to working a proper law enforcement job after dealing with the moral laxity of undercover work is just beginning. How long will it take him to let go of Ashes Wagner, and realize his time undercover may have buried his trauma for a time, but that it hasn't healed it?
Law & Order: Organized Crime fans loved the Kosta arc's conclusion
The latest "Law & Order: Organized Crime" Season 2 episode saw a lot of threads all being yanked together at once, and fans ate it up. "I clapped at the end of the episode, not gonna lie. That was movie good," @LeftenantCrunch wrote on Twitter. "This episode of Organized Crimes was [five consecutive fire emojis], " added @gucci_mali. "I'm kind of sad the operation is over, the Albanians definitely went out with a fight."
While the episode's fast pacing and exciting action drew praise, fans recognized that the real MVP of the installment was the series' star. "Christopher Meloni is at the top of his game and the best he's ever been," wrote u/LoretiTV on Reddit. However, Meloni's layered performance also has fans worried about what's to come for Stabler. @moneytalks09, for instance, noted that "Elliot was in too deep he came out the rabbit hole just in time [to take] down that whole Organization."
Others recognized the show's efforts to make sure it had villains that were worthy and complex adversaries for its hero, something that's a little harder to do in a show that uses a series of one-and-done criminals. "This is a reason why I love OC so much. You even get attached to the villains. Excellent character development," wrote u/gopack1217.
To that end, fans have something to look forward to in the second half of "Law & Order: Organized Crime" Season 2, which will see Season 1 villain Richard Wheatley (Dylan McDermott) return for what showrunner Ilene Chaiken promised TVLine will be "a good, intense run." Suffice it to say, Stabler and his team will have to be at the top of their game in order to deal with whatever Wheatley has planned. Hopefully, he'll actually be able to reach the heights he needs to in order to survive.