The Law & Order: Organized Crime Season 2 Episode 3 Twist Fans Can't Stop Talking About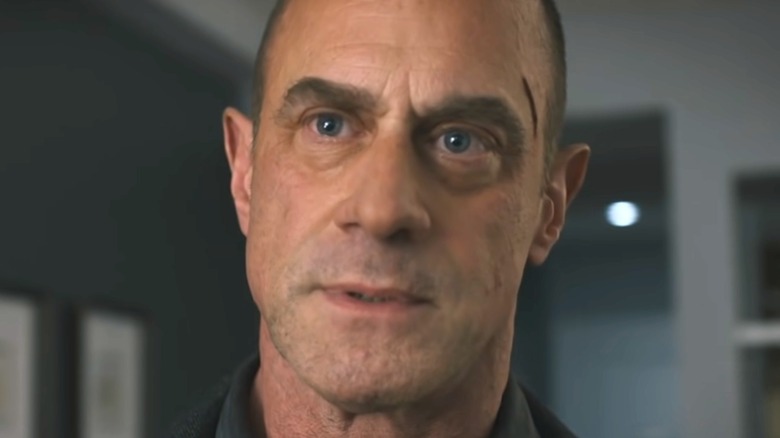 NBC
"Law & Order: Organized Crime" Season 2 has just featured one bombshell reveal after another. The series has found Elliot Stabler (Christopher Meloni) working undercover with an Albanian gang, and to say he has had to get his hands very dirty would be an understatement. Indeed, the character has done everything from destroying crime scenes to letting poor bagel shop owners get killed and doing drugs. Beyond that, Stabler has also been caught up in some serious emotional turmoil, with his wife dead and his relationship with his former partner at SVU in a bad state.
For context: Stabler apparently wrote Olivia Benson (Mariska Hargitay) a truly hurtful letter during the years they were apart. Last season, Stabler gave Benson that letter, the contents of which we were not entirely sure of except that they were clearly very hurtful. However, during the "Law & Order: Organized Crime" episode that aired on September 30, we not only found out the letter's contents but also who was really behind the words that made poor Liv so sad.
In Season 2, Episode 3 of "Law & Order: Organized Crime," Stabler shows up at Benson's front door (not the smartest move to make while undercover, but we'll let it slide). He is clearly high after getting dosed by the Albanians, but while Liv wants to call it in, Stabler just wants to talk about his feelings. Apparently, he has a confession to make.
Stabler's late wife wrote The Letter
The "Law & Order: Organized Crime" episode sees Stabler reveal that he was not the mind behind the letter last season, but that it was actually his late wife Kathy who dictated it. Liv quotes the letter from memory, and Stabler explains which parts came from Kathy and which came from him. The part that said, "What we were to each other was never real, and that we got in the way of each other being who and where we needed to be," was, for example, allegedly dictated by Kathy. However, Stabler also reveals that he himself wrote, "In a parallel universe, it will always be you and I."
"I wrote that," Stabler says. "I slipped it in there before sealing the envelope."
All in all, it's a reveal that had "Law & Order" fans positively screaming at their screens. "I kinda liked kathy but girl! Wyd," wrote one fan on Twitter, "she wrote the letter yet was in the hospital acting like Olivia was long lost friend just wild." Another fan exclaimed, "Yo! Kathy Stabler was hating hard body when she wrote all them lies in that letter!," while @Ihatebeinghere_ said the revelation left them "mentally BLOCKED."
With Kathy dead and, therefore, unable to refute Stabler's claims, it is worth wondering: Did the "Organized Crime" writers just throw a poor dead wife under the bus, or is this in line with what we've seen Kathy do before? Either way, one fan on Twitter tweeted that they wish Kathy could come back from the dead just so "Olivia can have words with her."