The Famous Succession Scene That Was Completely Improvised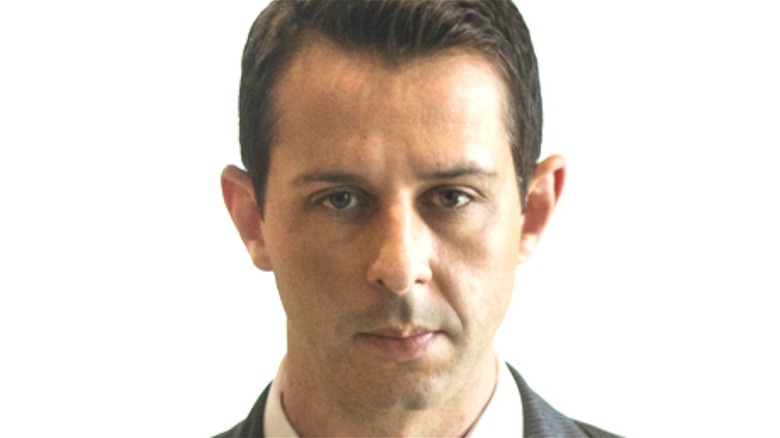 Craig Blankenhorn/HBO
Now airing its third season, the HBO series "Succession" is a bleak and cutting dramedy that interrogates how family bonds can collide with wealth and power. "Succession" stars Brian Cox as Logan Roy, the billionaire founder and CEO of media empire Waystar Royco. Now eighty years old, Logan has four adult children: Kendall (Jeremy Strong), Roman (Kieran Culkin), Siobhan or "Shiv" (Sarah Snook), and eldest child Connor (Alan Ruck). When the still sharp, manipulative Logan has a stroke at the end of the first episode of Season 1, the Roys begin an increasingly personal feud over who will take control of Waystar once the patriarch dies (though the clueless Connor has little interest in the family business). 
"Succession" has received critical acclaim and mainstream success, even winning the 2020 Emmy Awards for Outstanding Drama Series and Outstanding Lead Actor for Jeremy Strong's performance as Kendall Roy. This is in part thanks to the show's tight writing, with family members throwing out truly horrifying (but hilarious) insults at each other at breakneck speed. But not all of the show's best moments were originally in the script. In fact, one of the show's most iconic scenes was made up on the spot by the actor.
Kendall's bathroom breakdown was improvised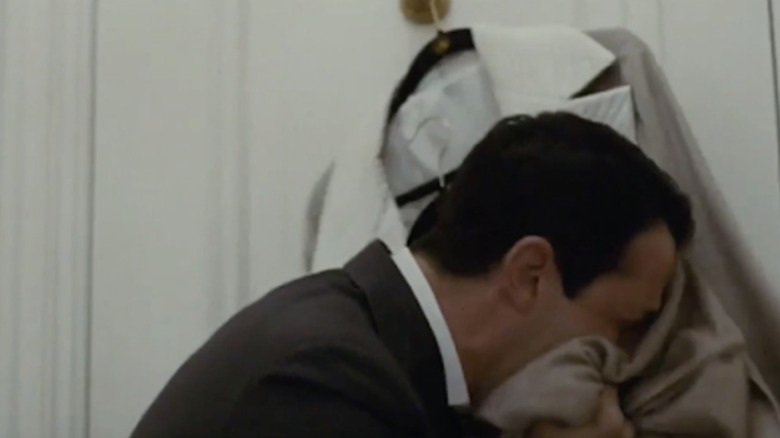 HBO
Though most of the hyper-fast dialogue on "Succession" is written precisely in the scripts, the actors are often allowed to improvise and try lines or actions they think would fit their characters. Actor Nicholas Braun, who plays Cousin Greg, told Variety that "We basically improv in probably every scene to some capacity."
This loose direction was implemented right from the pilot episode, "Celebration." First, director and producer Adam McKay had the cast improv their lines during the dinner table scene. The second major improvisation involved Kendall having a meltdown in Logan's bathroom after he's passed over as the next CEO. According to McKay, who'd worked with the performer before on "The Big Short," he told Jeremy Strong he only had one take and to just go for it (via The Hollywood Reporter). As the popularity of the resulting GIF of Kendall screaming into a coat shows, the scene worked beautifully. 
Strong himself credited McKay for getting him to that point as an actor (Deadline). McKay told a director's roundtable that "I always throw improv in there to make sure that there's some collisions and accidents" on the set. Ultimately what makes "Succession" so popular is exactly this alchemy of unpredictable moments and structured drama.
Season 3 of "Succession" is currently streaming on HBO Max.