Why The New Hanna Season 3 Trailer Has Fans So Hyped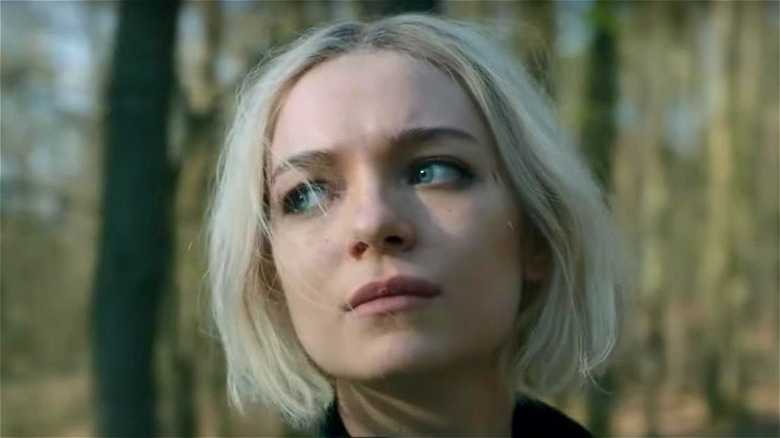 Amazon Studios
Amazon's thriller series "Hanna" is coming to a close after three seasons, but the teenage assassin (played by Esme Creed-Miles) has one heck of a fight on her hands before she gets out of the CIA's clutches. "Hanna" Season 1 debuted on Amazon Prime Video in 2019 and it reveals that Hanna was created as part of a shady CIA program called Ultrax — which sounds nefarious enough as it is. The project's goal is to create supersoldiers that the CIA can use in its operations around the world. Thankfully, Erik Heller (Joel Kinnaman) saves Hanna from the project as a baby when he falls in love with her mother, Johanna Petrescu (Joanna Kulig).
If this all sounds a little familiar, it's because "Hanna" the series is adapted from the 2011 film of the same name, directed by Joe Wright. He's best known for helming period projects including "Pride & Prejudice" and "Atonement," but the 2011 thriller proved he can handle action just as well as emotional drama — at least, according to critics like Nicole Ackman of In Their Own League. On top of critically-acclaimed direction, the film stars Film Twitter darling Saoirse Ronan as the titular assassin alongside Oscar-winner Cate Blanchett and Eric Bana. It even features an incredible soundtrack by The Chemical Brothers.
The Amazon series, however, spends a lot more time exploring the story, and also looks deeper into what makes all the characters tick. But the dramatic new trailer teases what's ahead for Hanna in the third and final season.
Hanna wants to burn Ultrax to the ground
The action-packed trailer for "Hanna" Season 3 sees the assassin go up against a deadly new enemy in Gordon Evans (Ray Liotta). He's a hardened military man who is taking aim at a number of young targets who are all "politically motivated and socially conscious" as Mireille Enos' Marissa Wiegler puts it. The kill list is seemingly part of Ultrax's plan to keep the balance of power tipped in its favor — but Hanna is determined to burn it all to the ground.
The fast-paced action only gets more brutal as Hanna and her allies are chased by Ultrax forces, while Evans screams that he made a mistake in letting her live 20 years ago. It'll be interesting to see how the story plays out, but fans are clearly hoping Hanna gets the happy ending that she's been chasing for so long.
Down in the comments for the trailer on YouTube, user Jay Uk described their specific excitement for this potential "Hanna" Season 3 showdown: "HYPE!! hope there's actual fights this season! I also need Hanna vs Sandy and jules." User Jd899 is impressed with the "intrigue and action" portrayed in the trailer, while Joseph Timothy seems to feel bittersweet about "Hanna" coming to a relatively quick close. "I'm looking forward for this," they commented, adding, "I just wish it was more than just 6 episodes long. It's more like a half season."
"Hanna" Season 3 starts streaming on November 24, 2021.