The Chicago Med Season 7 Moment Fans Have Been Waiting For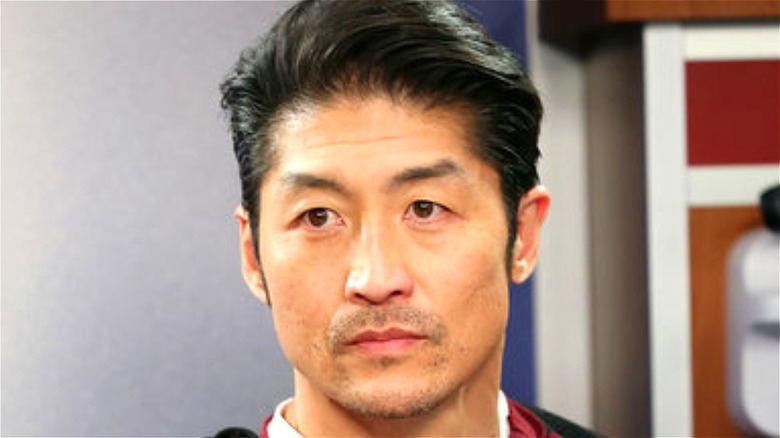 George Burns Jr/NBC
During the Season 6 finale of "Chicago Med,"  Dr. Ethan Choi (Brian Tee) was shot in the chest after one of Dr. Dean Archer's (Steven Weber) patients returned to the hospital with a loaded gun. After he'd passed out in the ER, Archer had removed the patient's appendix without his expressed permission, and the delusional man believed that Archer had mutilated him while he was unconscious. Choi ended up taking a bullet for Archer, someone he'd previously had multiple personal conflicts with.
Fans became gravely concerned that the character wouldn't survive his wounds. When they were later informed during the Season 7 premiere that he had lived through his surgery but was going to another hospital to recover from his physical trauma, some even became worried that he wouldn't ever return to "Chicago Med." In fact, after Brian Tee joined the cast of the Amazon Prime series, "Expats," which also stars Nicole Kidman (via Deadline), some fans speculated that they wouldn't see Dr. Ethan Choi again until Season 8 at the earliest.
But devotees of the show received a long-awaited treat during "Chicago Med" Season 7, Episode 7, titled "A Square Peg in a Round Hole." Choi finally returned in the episode, and while he's not fully back to work yet, he's definitely starting to get into fighting shape again.
Fans can expect to see even more of Dr. Ethan Choi
In "A Square Peg in a Round Hole," Brian Tee's Dr. Ethan Choi returns to Gaffney Chicago Medical Center to inform Chief of Services Sharon Goodwin (S. Epatha Merkerson) that he's ready to resume his work as Chief of Emergency Medicine. His colleagues cluster around him to offer their support, with Dr. Daniel Charles (Oliver Platt) telling him that "us gunshot survivors have to stick together" (Charles was shot in the abdomen during the "Chicago Med" Season 2 finale), and Dr. Crockett Marcel (Dominic Rains) joking that "whenever [he] finds the time" the "next round's on [Choi]." Goodwin, meanwhile, informs Choi that he will need to undergo evaluation before returning to his former duties. Archer, notably, offers to help him "get back his sea legs."
According to a TVLine interview with "Chicago Med" showrunner Diane Frolov, this isn't the only time that fans will get to see Choi in Season 7. "We have a couple of episodes devoted to his physical recovery, and then we'll pursue the emotional and mental recovery," Frolov told the outlet. 
Building off Frolov's comments, it's worth noting that Tee's Choi still has quite a lot of emotional turmoil he needs to confront. After all, in addition to dealing with any lingering trauma connected to his shooting, Choi has to work his way through some unaddressed romantic troubles — namely, the fact that his girlfriend, ER nurse April Sexton (Yaya DaCosta), left town at the beginning of "Chicago Med" Season 7.