Tom Holland's Latest Spider-Man: No Way Home Remarks Are Extremely Revealing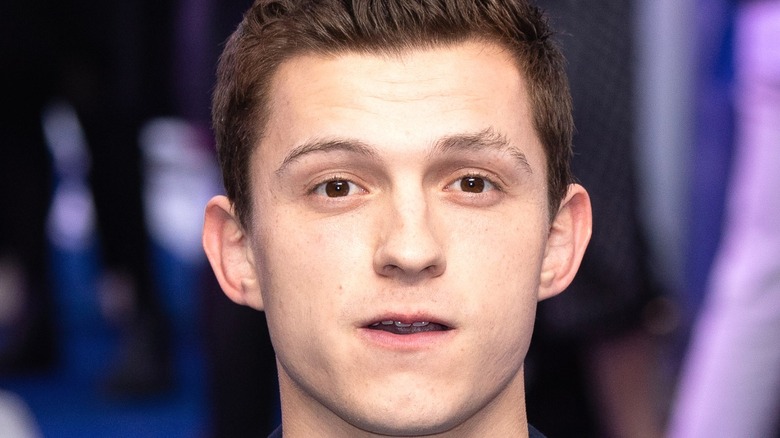 Jeff Spicer/Getty
Let's face it: Most Marvel fans are waiting to see Tobey Maguire and Andrew Garfield suit up as their respective versions of Spider-Man for "Spider-Man: No Way Home," which arrives in theaters on December 17. Although Marvel Studios and Sony are keeping their cards close to their chest about this aspect of the threequel, numerous leaks have suggested that these previous Spider-Men are a big part of the film. In fact, the most recent leaks caused uproar online as they're potentially huge spoilers.
Tom Holland's third solo outing will see the teenage web-slinger seek out Doctor Strange (Benedict Cumberbatch) for help after Mysterio (Jake Gyllenhaal) revealed his true identity to the world at the end of "Spider-Man: Far From Home." But, when the Sorcerer Supreme's spell to rectify the situation goes wrong, the duo accidentally opens up the multiverse, causing a number of villains to cross over into the corner of the Marvel Cinematic Universe occupied by Holland's Peter Parker.
The dramatic first trailer for "No Way Home" revealed the return of Alfred Molina's Doc Ock, as well as teasing Willem Dafoe's Green Goblin. Other actors from previous "Spider-Man" movies are also expected to return, including Jamie Foxx's Electro, Thomas Haden Church's Sandman, and Rhys Ifans' Lizard. Holland recently spoke about the upcoming "Spider-Man" feature, and his remarks are extremely revealing.
Tom Holland says 'those guys' have a ownership over Spider-Man, but who are 'those guys'?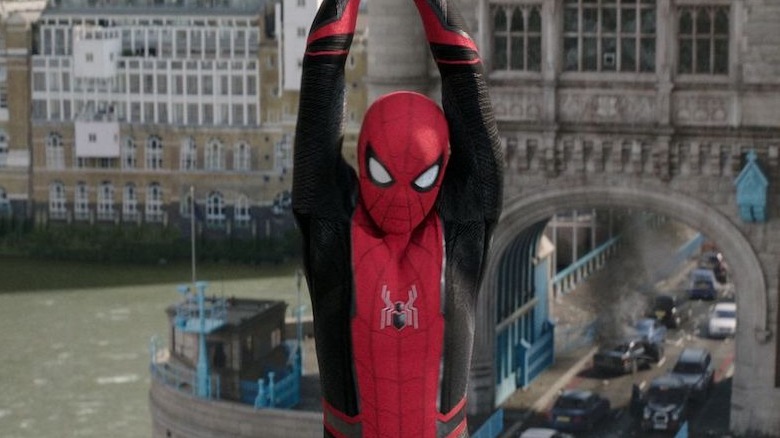 Marvel Studios/Sony Pictures
Fans already know that Tom Holland is renowned for spoiling parts of Marvel movies in interviews. And so, it seems he was cautious when speaking to Total Film in a recent interview — or so he thought. The star was asked about whether he needed to prove himself to some of the other huge actors in the film, and he replied, "Everyone puts their trousers on in the same way in the morning." Well, he's not wrong.
From here, Holland appeared to slip up in the wording of his answer. He continued, explaining to Total Film, "It was interesting having those guys come in because they have a certain ownership over Spider-Man in their way, and..." He then paused, obviously aware of all the fan speculation about "Spider-Man" franchise alums Tobey Maguire and Andrew Garfield that could result from his comments. He clarified, "I'm talking about Alfred [Molina] and Jamie [Foxx] and those guys." Sure, Tom.
He then stressed that his franchise predecessors aren't returning, saying, "People don't believe me when I say that [Maguire and Garfield] are not coming back. But people are going to have to believe me at some point." However, he's excited for audiences to see the villains return: "It means a lot to me. The first time you see Doc and the rest of the characters that come back, it's so exciting – and it's such a huge moment in cinematic history."
At one point, Holland even says, "It's three generations coming together," while apparently speaking about the "No Way Home" villains, but it sure sounds like he may be talking about some other characters, too.