The Two CBS Dramas With More Episodes Than NCIS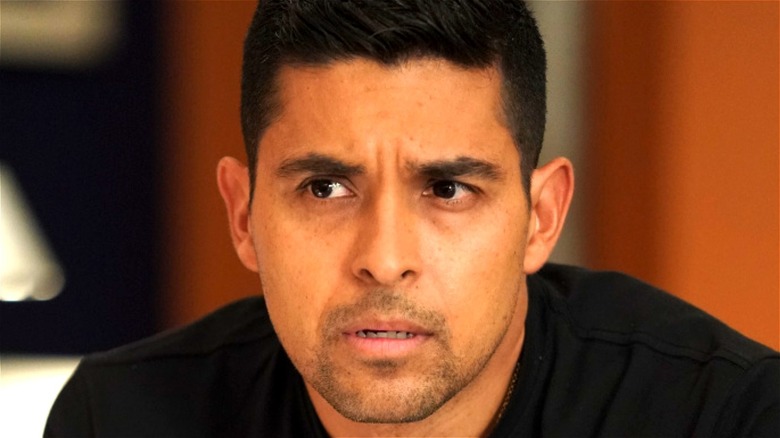 Sonja Flemming/CBS
"NCIS" is one of the longest-running TV series of all time. It has run for 420 episodes and counting, premiering in 2003 and currently in its 19th season. The crime procedural follows the crew of the Naval Crime Investigative Services, who solve crimes that involve military service people. For its first 18 seasons, it starred Mark Harmon as Leroy Jethro Gibbs, but Harmon left during the current season, which leaves the future of the show a little bit in doubt.
"NCIS" is the seventh-longest-running TV series of all time, the fifth-longest-running drama, and the fifth-longest-running active show, behind "The Simpsons," "Law & Order: Special Victims Unit," "Law & Order" (which hasn't started airing again, but will soon), and "Family Guy."
It's also the third-longest-running CBS show. Two dramas that aired a long time ago on the Eye Network have more episodes than "NCIS," and "NCIS" is honestly unlikely to catch up to either of them. Here's what they are.
Gunsmoke ran for 635 episodes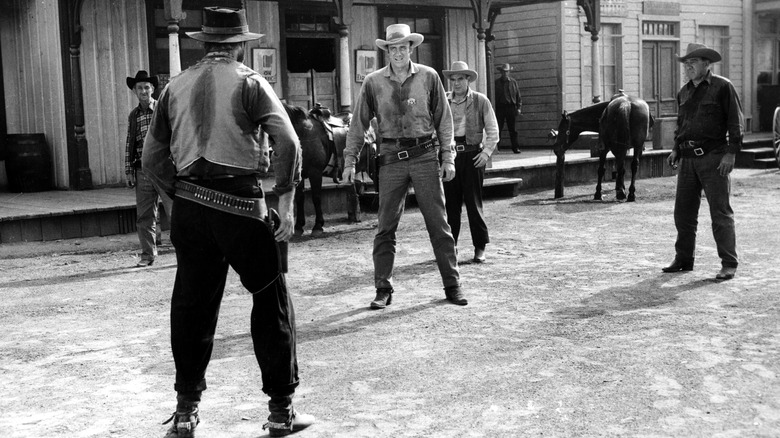 Michael Ochs Archives/Getty Images
The Western drama "Gunsmoke" aired an extraordinary 635 episodes over the course of 20 seasons. That's an episode count that's unlikely to be bested by any other drama, except maybe "SVU." "SVU" just aired its 500th episode, which means it would have to run for six more seasons of 24 episodes per season to catch up. "SVU" may or may not have that much gas left in the tank, but we'll see. "NCIS" definitely won't catch up, as it's still more than 200 episodes behind.
"Gunsmoke" aired from 1955 to 1975. Back in the early days of "Gunsmoke," seasons were 39 episodes long, an unimaginable number in modern times, where even 24-episode seasons are a relic of an earlier era of broadcast TV.
The series was about life in Dodge City, Kansas, in the Old West era. The main character was Marshal Matt Dillon, played by James Arness. It both reinforced and experimented with the rules of the Western genre and the American mythos of the Old West.
Lassie ran for 591 episodes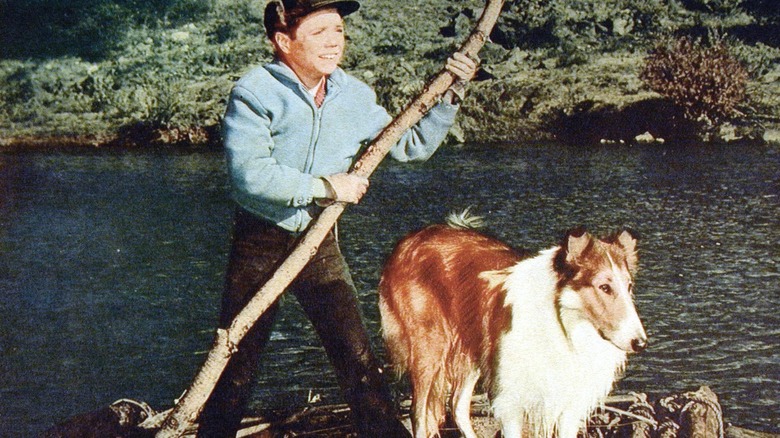 United Archives/Getty Images
The other CBS show with more episodes than "NCIS" is "Lassie." The wholesome family drama ran for 19 seasons and 591 episodes between 1954 and 1973, 17 seasons on CBS and two in syndication. Like "Gunsmoke," "Lassie" had long seasons compared to modern shows, with the 1957-58 season hitting 40 episodes.
"Lassie" followed the adventures of the titular long-haired collie and her human and animal companions. The episodes typically followed a structure where Lassie's boys, Jeff (Tommy Rettig) or Timmy (Jon Provost), got himself into trouble, and Lassie either went and got help for him or saved him herself.
"Lassie" began as a series of feature films that came out between 1943 and 1951, then was adapted into a series in 1954. The original Lassie, a male collie named Pal, played the role in the pilot, but over the course of the show, five of Pal's descendants played Lassie. The show transitioned from black-and-white to color in 1965.