Is Dwayne Johnson Teasing A Big WWE Comeback?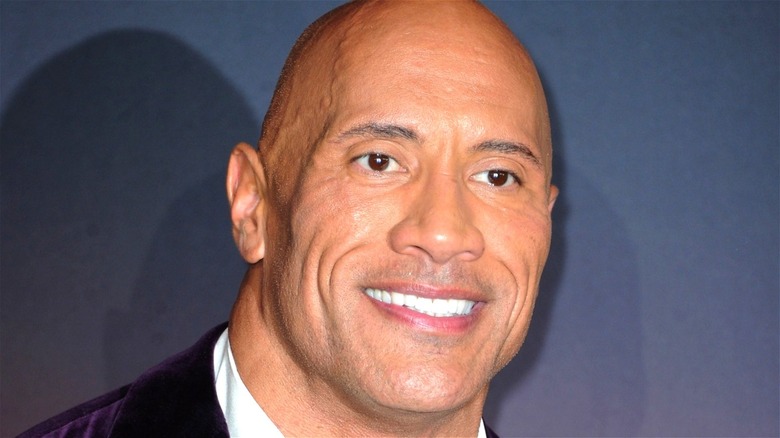 Albert L. Ortega/Getty Images
It's been half a decade since Dwayne "The Rock" Johnson stepped inside the squared circle for a wrestling match, but that could all change come next year. It has long been rumored that the former WWE champion will take on current Universal titleholder and real-life cousin Roman Reigns at the company's iconic WrestleMania event, and we may finally have a clue as to whether that might actually happen.
Johnson has been shooting down dirt sheet reports of his return for most of 2021, with some suggesting that he'd possibly be coming back for SummerSlam or the upcoming Survivor Series PPV on November 21. "I can tell you that there is no truth to that right now," Johnson recently told Dish Nation's Andrew Freund. 
Most fans agree that it would take a lot to bring Johnson back for one final match, judging from his previous comments and all the success he's had in Hollywood. However, a new interview that was making the rounds online Monday, November 8, now has many speculating of a complete and total swerve from the Brahma Bull. Recent comments that he made to ComicBook.com suggest that he could be coming back after all — and for a title run, no less. 
Johnson leaves door open for possible WWE title run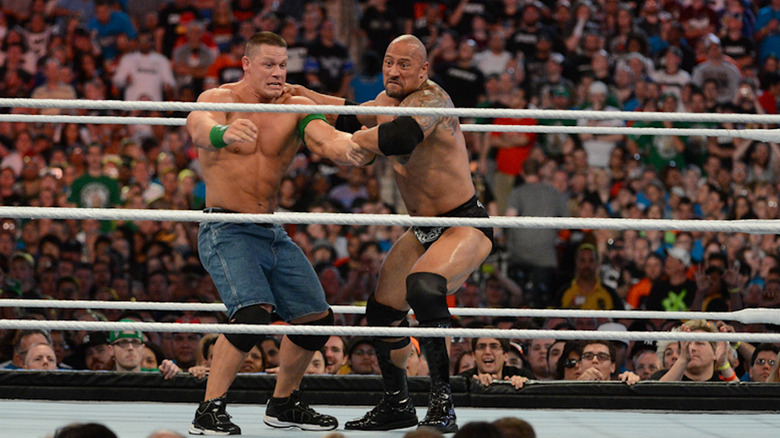 Ron Elkman/sports Imagery/Getty Images
Dwayne Johnson's last full-length WWE program came in 2013 against John Cena, with his seemingly final match going down three years later at WrestleMania 32 against Erick Rowan. When asked if he would defend the Universal Championship title "if he were able to take it from his cousin Roman," per Comicbook.com, Johnson responded, "I think possibly, you know, there might be another match down the road. It would have to make sense."
Johnson has been a major mentor to Reigns, his second cousin, throughout his tenure at WWE. So it would make sense for the duo to face off for his final match. "I continue to encourage him to keep doing your thing, keep sharpening those skills," Johnson explained. "I think he's doing a great job with his promo, his execution, his in-ring work. It all continues to improve and grow. 
The "Red Notice" star continued, "And that's always the best part, I think, about that world of professional wrestling is that when someone gets anointed and given the ball to run, they either score a touchdown with it or they don't. But then some, not only score a touchdown with it, but then they begin to change the way the game is played. And in Roman's case, he's slowly doing that." 
Whether Johnson will actually return to face Reigns in the ring, we'll just have to wait to find out.