John Cena Has Some Genuinely Heartwarming Remarks About Dwayne Johnson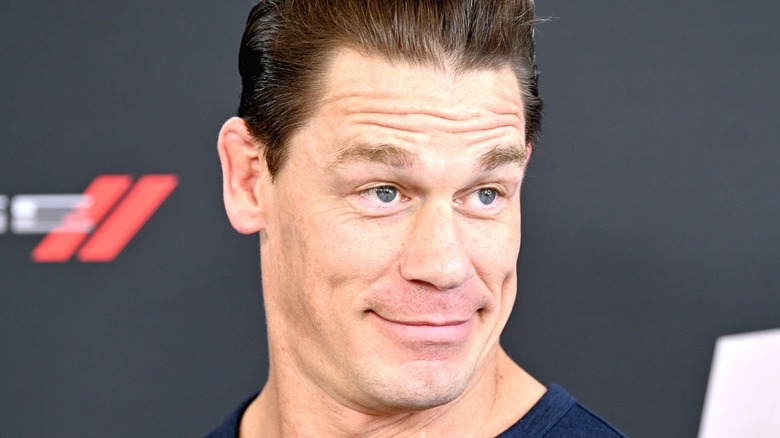 Dia Dipasupil/Getty Images
There's no getting around the fact that John Cena and The Rock are competitors. They're both former professional wrestlers who pivoted to acting. They're both versatile, able to headline both action movies and comedies. They're even rivals within the DC Comics Extended Universe — Cena will be playing the antihero Peacemaker in the upcoming "The Suicide Squad" as well as on a dedicated HBO Max series set for early 2022. The Rock, meanwhile, is starring as the antihero Black Adam in a movie set to debut the same year as Cena's "Peacemaker" series.
But even though they might often be competing for the same roles, that doesn't mean they're enemies — at least not publicly. Recently, while promoting the premiere of "The Suicide Squad" in character as Peacemaker, John Cena was asked about The Rock's possible upcoming return to the ring, and whether he has any plans to do the same. Here's what Cena had to say.
John Cena continues to love what The Rock is cooking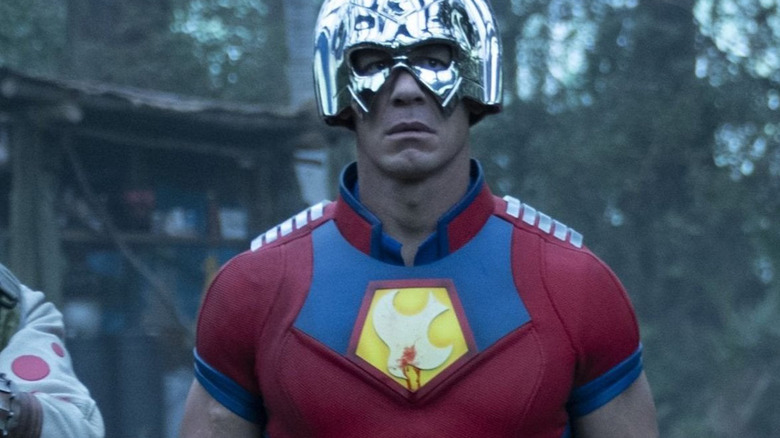 Warner Bros./DC Entertainment
Rumors about The Rock's return to WWE aren't exactly new, but they've been swirling around the internet lately. In case you're not up on your pro wrestling scuttlebutt, there's been speculation that The Rock will be appearing in the WWE's Survivor Series this November (via ComicBook.com). The Rock himself hasn't confirmed or denied these rumors (also via ComicBook.com), but just the idea of the Rock in the ring is enough to get folks excited. You can count John Cena among them. 
When Extra asked Cena for his thoughts on the rumors, the retired wrestler responded, "I'd love it. First and foremost, I'm a WWE performer, but I'm also, at heart, a fan. I love The Rock, I love The Rock, and so do millions and millions of people. I think he would warm so many hearts if he came back."
Cena was also impressed that The Rock still makes time for the WWE, considering his schedule. "I'm one thirty-sixth as busy as [The Rock] is. For him to still be thinking about that, I think that is really special and really cool. I know he knows the effect his return would have and I think that's also really special."
Above all, Cena thanked The Rock for making his own career possible. "I think you have to pay homage to those who paved the way," he said. "And without Dwayne 'The Rock' Johnson, I wouldn't be here in this goofy costume, so thanks."