Mayor Of Kingstown: Check Out The New Trailer For Yellowstone Creator Taylor Sheridan's Latest Series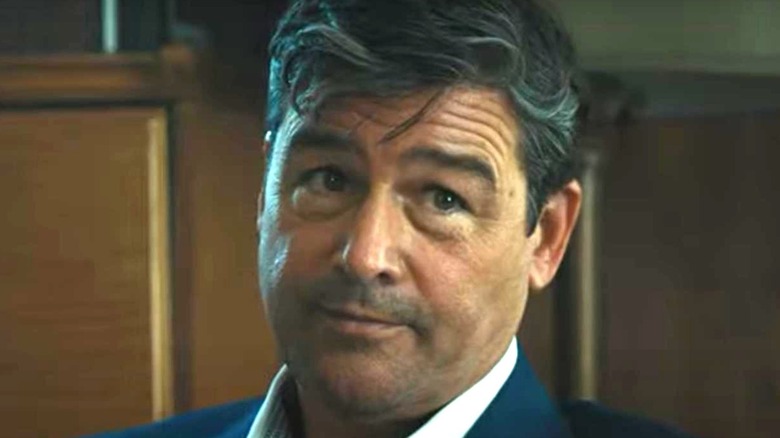 Paramount+
If you're someone who enjoys TV dramas that feature morally complex characters and honest critiques about the problems in society, "Mayor of Kingstown" should definitely be on your watch list — and it might even be the reason you sign up for a Paramount+ subscription.
The intriguing new drama is one of the most anticipated offerings from the relatively new streaming service. It's assembled an impressive cast and crew, who should be familiar if you like these kinds of shows. From creators Taylor Sheridan ("Yellowstone," "Sicario") and Hugh Dillon and executive producer Antoine Fuqua ("Training Day"), "Mayor of Kingstown" stars Jeremy Renner ("The Hurt Locker," "The Avengers") as Mike McLusky, the heir to an influential Michigan family that owns the local prison. 
According to the Paramount Network, the McLuskys are the "power brokers between the police, criminals, inmates, prison guards and politicians." Along with Renner, the cast includes Kyle Chandler ("Bloodlines," "Friday Night Lights") as Mike's conflicted brother Mitch, Aidan Gillen ("The Wire," "Game of Thrones") as the Russian mob boss Milo Sunter, Taylor Handley ("Vegas," "Animal Kingdom") as the youngest McLusky brother Kyle, and Dianne Wiest ("Hannah and Her Sisters," "Bullets Over Broadway") as family matriarch Miriam (via Yahoo! News).
Excitement for "Mayor of Kingstown" has been building since Paramount+ greenlit the show in January 2020. Now, with the show's premiere just over a month away, th streamer has dropped the second new trailer (here's the first trailer), and it gives us an even closer look at the show.
Mayor of Kingstown tackles big themes like racism, inequality, and justice
The trailer features different members of the McLusky family speaking dialogue from the series that gives an idea of the conflicts that the show will explore. First up is Mike, who says, "Every member of my family fights this fight." That might sound inspiring on another show, but here it's more of a threat. We know this, because Mike goes on to actually threaten someone — a dancer played by Emma Laird (via Deadline). She's from out of town, and Mike bluntly tells her that Kingstown doesn't welcome outsiders.
Up next is Kyle, who complains about the "burdens" the family deals with. "We help these parasites," referring to the prisoners in their facility. "You hold it together for everyone else."
But Miriam has a different take: "You're couriers. Fix-it men. Part-time gangsters," she says, over a clip of Mike beating someone up.
Then there are several shots that show Mike spiraling out of control. We see Mike working both sides of the law, dealing with gangsters and inserting himself into law enforcement operations. "Every once in a while it's nice to remind them: They're the prisoners, not us," he says. 
Then it shifts over to show the point of view of one of the people affected by the corrupt McLusky family, an ex-con played by Tobi Bamtefa. "Once you've been in the jaws of the beast, some day you're gonna finish his meal."
The trailer concludes with another scene between Mike and Iris. She's worried that her life is ruined. But Mike has some bad news: "It's not torn to pieces. Not even close. It's coming."
The 10-episode first season of "Mayor of Kingstown" premieres November 14, 2021.