Guardians Of The Galaxy Vol. 3 Has Finally Begun Production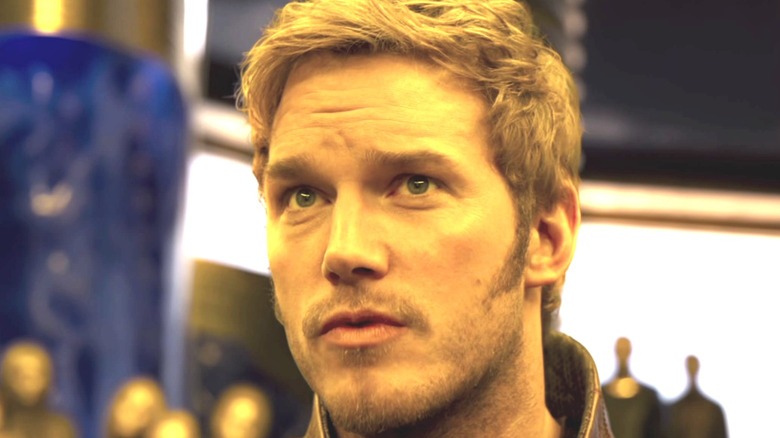 Marvel Studios/Disney
While comic book movie fans all over the internet are getting excited over the release of the first official poster for next month's "Spider-Man: No Way Home," there is an entire team at Marvel Studios dutifully working on the next steps in the critically acclaimed universe of films. After the December release of "Spider-Man: No Way Home," Marvel fans will have to brace themselves for the longest period without a Marvel film since the two years between "Spider-Man: Far From Home" in July of 2019 and "Black Widow" in July of 2021. Though the break between the release of the third Marvel/Sony collaboration and the May 2022 release of "Doctor Strange in the Multiverse of Madness" won't be near that long, fans of the Marvel Cinematic Universe are sure to be keeping an eye out for any possible news of upcoming releases. 
"Guardians of the Galaxy Vol. 3" is one of the most hotly anticipated films on Marvel's schedule and is definitely one that fans will be eager to learn more about at every possible point. After being fired from the project in 2018 and subsequently rehired less than a year later, "Guardians of the Galaxy" director James Gunn is sounding off on Twitter about how excited he is to get back to work with the "Guardians" crew.
James Gunn shared this photo from the first day of shooting
Following news from Chris Pratt only a few weeks ago that production on the long-awaited third entry in the "Guardians of the Galaxy" series has officially commenced, director James Gunn confirmed that filming has started on the team's next adventure. In a tweet shared on Monday, Gunn posted a photo of himself and the rest of the cast of "Guardians of the Galaxy Vol 3." The newest photo includes the first look at Will Poulter alongside fellow cast members Chris Pratt, Zoe Saldana, Karen Gillan, Dave Bautista, Pom Klementieff, Sean Gunn, and Chukwudi Iwuji. Poulter was recently announced to be playing Adam Warlock in the upcoming Marvel film, while Iwuji's casting is news to the world (via Deadline). Elsewhere, Iwuji is also set to appear in Gunn's upcoming HBO Max series "Peacemaker" alongside star John Cena. 
In his tweet, Gunn shared the following message: "It's been a strange & long & at times challenging journey to get here, but the obstacles along the way have only made this moment more blissful. Back on set with my Guardians family for the first day of shooting." Gunn also added a #gotgvol3 hashtag to the end of his tweet. Though it doesn't look like we should expect to see any costume reveals anytime soon (the film isn't scheduled for release until May 2023, after all), fans everywhere will certainly be excited to know that the cameras have finally started rolling!