Why Cassandra Peterson Claims Sabrina The Teenage Witch Is A Ripoff - Exclusive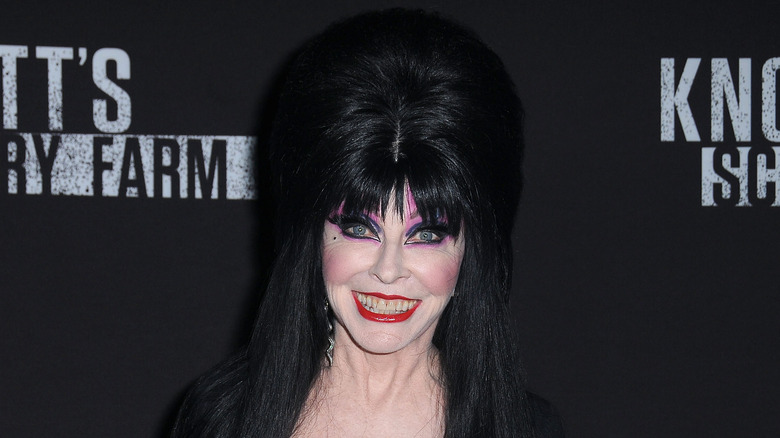 Barry King/Getty Images
If you're a fan of legendary horror hostess Elvira and her career-igniting "Movie Macabre," you're likely aware of her 1988 cult classic, "Elvira: Mistress of the Dark," but did you know she almost had her own sitcom in the early 1990s? It was simply titled "The Elvira Show" and it was written by Elvira's real-life alter ego Cassandra Peterson along with her "Mistress of the Dark" writing partner John Paragon. Elvira, a fortune teller, lives with her kooky Aunt Minerva (played by "Who's The Boss?" star Katherine Helmond) in Manhattan, Kansas. Unbeknownst to the local townsfolk, they are both secretly witches and even have a talking black cat named Reinfeld. After a surprise visit from their long-lost niece Paige (Phoebe Augustine), also a fledgling sorceress, they take her in and magical hijinks ensue.
While the CBS-produced pilot may have tickled the funny bones of its test audience, one network executive had a problem with something that was only accentuated by Elvira's low-cut attire. According to Peterson's new autobiography, "Yours Cruelly, Elvira," the sitcom was guaranteed to be a part of CBS's fall 1993 lineup, but on the day things were to be finalized, some corporate killjoy  ruined the party and the show never aired.
"Everybody was sure it was going to be a giant hit. And then on the day it came out, the head of the network was not there, who was a big champion of it. He was out sick," Peterson told Looper during an exclusive interview. "In comes this guy, Howard Stringer from the sports division, his boss, and says, 'We're not going to have those kind of boobs on CBS.' And that was that. Just like that! Boom, over. Yeah. So that was a bummer, because I thought that show could have been a huge success. Well, look at 'Sabrina,' it worked out pretty well for them."
"Sabrina" is "The Elvira Show" skewed to a younger audience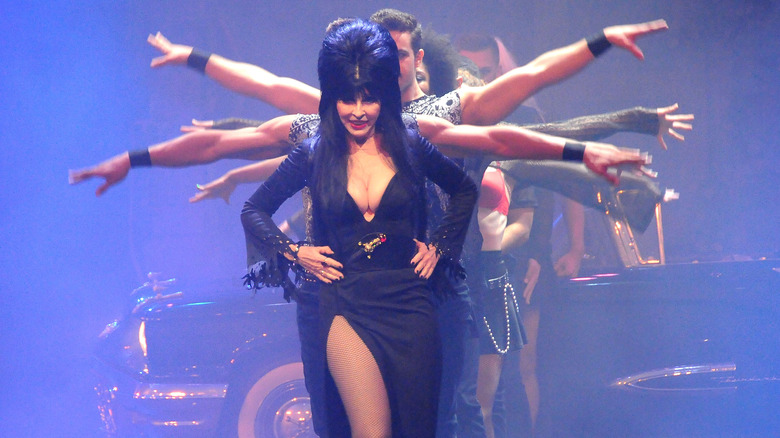 Barry King/Getty Images
In her book, Peterson goes on to mention that "Sabrina the Teenage Witch" emerged a few years after her show was scrapped, and its glaring similarities made the whole CBS ordeal sting a hell of a lot more. While "Sabrina the Teenage Witch" may have been based on the 1962 Archie Comics of the same name, there's an undeniably strong resemblance to the "Elvira Show" formula and contemporary setting. Does Peterson believe that someone attached to the 1996 iteration of "Sabrina" ultimately took her idea and ran with it? She seems downright convinced.
"Not only do I just believe it, I've talked to executives from that network who've said, 'They just started thinking you were too old to really be the center. And if they skewed it younger, they would get a lot more audience,'" she told Looper. "So I've been told that. I didn't just make it up. I know that's true. So that's a super big drag, because I freaking loved doing that show. And Katherine Helmond. I loved working with her. She was so freaking great. She was just awesome."
For years, diehard fans had to track down bootleg VHS copies of "The Elvira Show" on eBay and Elvira herself would sometimes show the unaired pilot as pre-show entertainment during her stage show at Knott's Scary Farm. Now, the episode can be found on YouTube. Do you think "Sabrina the Teenage Witch" ripped off "The Elvira Show?" Judge for yourself.
Cassandra Peterson's "Yours Cruelly, Elvira" is now available from Hachette Books.