Why An Elvira: Mistress Of The Dark Sequel Never Happened - Exclusive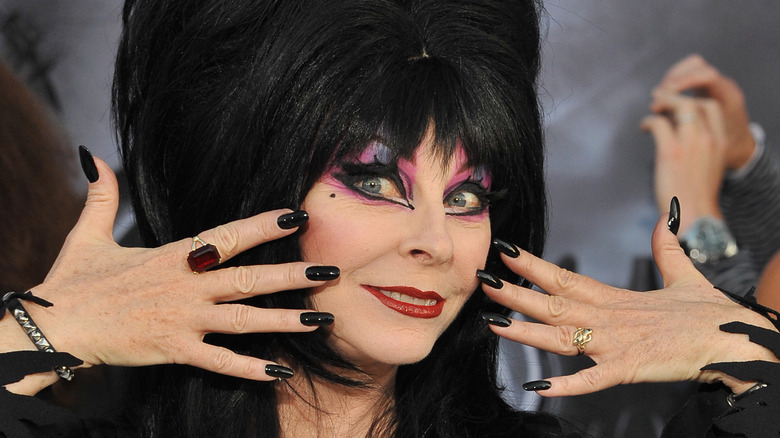 Featureflash Photo Agency/Shutterstock
Halloween season might be over, but that isn't going to keep Cassandra Peterson from being busy. In case you're scratching your head and wondering who Peterson is, it's highly likely you've at least seen her witchy alter ego pop up on television every October for the past 40 years. That other persona would be Elvira, Mistress of the Dark — the scantily clad horror hostess who most recently teamed up with Netflix for their spooky month-long promotion, Netflix & Chills. She also hosted her very own marathon event titled "Elvira's 40th Anniversary, Very Scary, Very Special Special" on Shudder, and appeared in the recent annual Halloween episode of The Goldbergs.
In addition to her numerous projects, she also celebrated her 70th birthday, followed by the long-awaited release of her memoir, titled "Yours Cruelly, Elvira." Without a doubt, the 2021 Halloween season has been one of the most buzzworthy segments of Peterson's monumental career. 
In the midst her promotional book tour, Looper scored an exclusive interview with the iconic "gal who put the 'boob' back into the boob tube," and asked her about what was next on her to-do list. But first, we couldn't resist asking her if there was ever going to be a sequel to her 1988 cult classic, "Elvira: Mistress of the Dark."
"Let me tell you, I have a treatment. I have a very, very fleshed out treatment I've written that I would freaking love to do," Peterson told Looper. "I just can't seem to get somebody to put up the money to do it. And it's so weird. That's been the story of my life. I think if I was a guy, I probably would've gotten the money. And I hate to say that, but I think it's 100% true."
Why an Elvira: Mistress of the Dark sequel never happened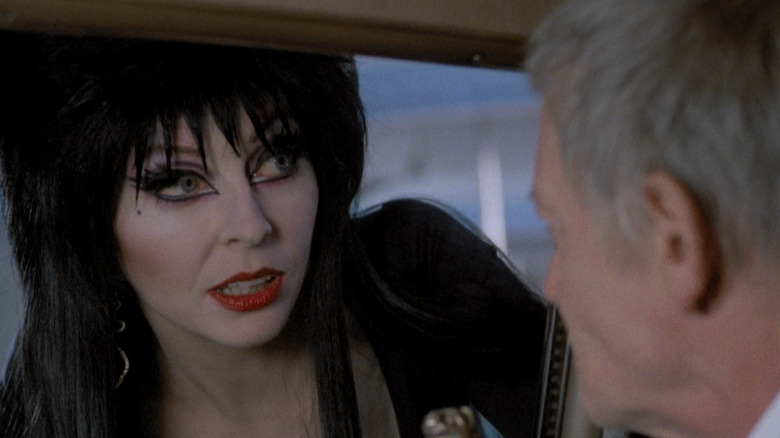 If you read "Yours Cruelly, Elvira," you'd totally understand why Peterson feels that way. After all, her book goes into detail about her numerous hurdles and eye-opening experiences with ageism and sexism in Hollywood. In the book's prologue alone, she details a dream-shattering moment where an agent once told her that her career was over all because she was about to turn 30. So can you blame her? As for the "Mistress of the Dark" sequel, Peterson feels there was simply no demand for a female comedian-led franchise at the time.
"There's so many movies out there. Just like the 'Ernest' movies, which were great. I love them," she explained. "And I thought Elvira could do a series of movies, but she's a woman. So I don't know. I didn't get the traction that maybe a guy would've. I don't mean to sound like sour grapes, but it's really hard to sell a movie. And I think it's extra hard to sell it if you're female, I really do. And I think if you talk to a lot of other women, they would agree."
However, it does sound like Peterson has dreamed up a concept for continuing the "Mistress of the Dark" legacy, albeit in an unexpected way.
Elvira: Mistress of the Dark... the Broadway musical?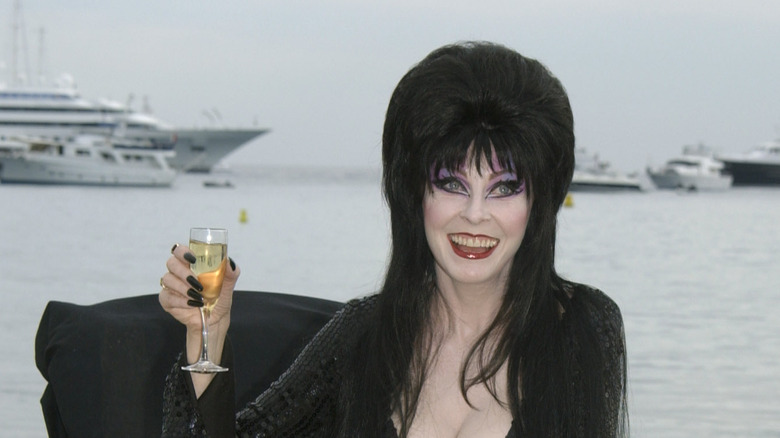 Featureflash Photo Agency/Shutterstock
While fans may never get the true sequel they desire, there's still some fun to be had with the Elvira character. Perhaps a documentary about Peterson's rise to stardom? What about a Broadway-style musical of "Mistress of the Dark?" Or maybe an Elvira biopic? How about all three?
"I have plans to do a bunch of different projects, but I'm already beginning work on a documentary," said Peterson. "It's in the preliminary stages. I have so much footage of me, as a child, as a teenager, on old eight-millimeter film. And I have millions of photos. It was really hard picking out the photos for the book, because I have like 90 billion photos."
She added, "So my first thing would be to do a documentary. And I love documentaries, so I can't wait to get into that. But my second thing is to do a biopic. And everybody's, 'Well, who's going to play you?' and I said, 'Oh, Dolly Parton.' [laughs] And then the third thing I really, really would love to do is a Broadway play of 'Elvira: Mistress of the Dark,' a musical like 'Rocky Horror' meets 'Hairspray.' So those are all projects that I'm beginning to work on now."
Cassandra Peterson's "Yours Cruelly, Elvira" is now available from Hachette Books.