Every Harry Potter Universal Ride Ranked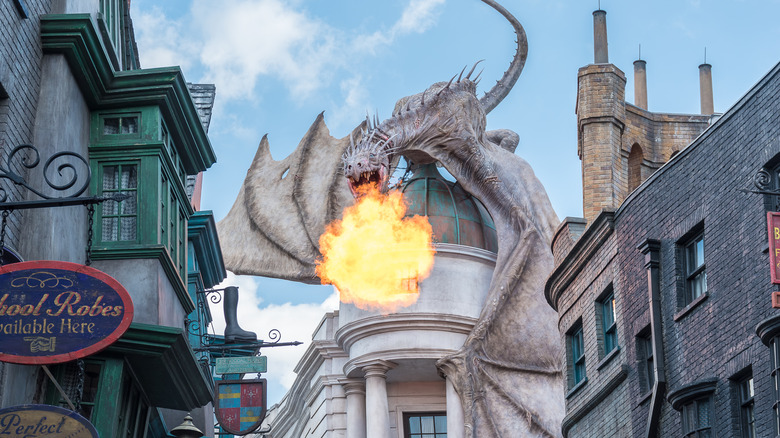 Craig Russell/Shutterstock
Universal well and truly snapped with the Wizarding World of Harry Potter. The intellectual property has lands in Universal Studios Hollywood, Universal Studios Orlando, and Universal Islands of Adventure in America. Internationally, there are Wizarding Worlds in Universal Studios Japan and the newly opened Universal Studios Beijing. The Wizarding World ties in closely to the Warner Bros. movies — heavily using the actors and relying on the films' production designer and art director, Stuart Craig and Alan Gilmore. "It was almost like another movie," Gilmore told Architectural Digest. "We had no preconceived notions of what a theme park should be, so we approached it as taking the film sets and making them real. We wanted to create a story and a logic for everything."
Of the many Universal resorts with a Wizarding World, Orlando's is the most elaborate. They have a Hogsmeade land — complete with Hogwarts — at Islands of Adventure, as well as a recreation of Diagon Alley at Universal Studios. If guests have tickets to both theme parks, they can travel between them on a Hogwarts Express train/simulator ride. There are five Harry Potter rides between these two parks — along with musical performances, an Ollivander's Wand Shop magic show, several shops and restaurants, and a nighttime projection mapping light show. We've ranked all five rides, from worst to best, to help out all the muggles planning their next vacation.
5. Hogwarts Express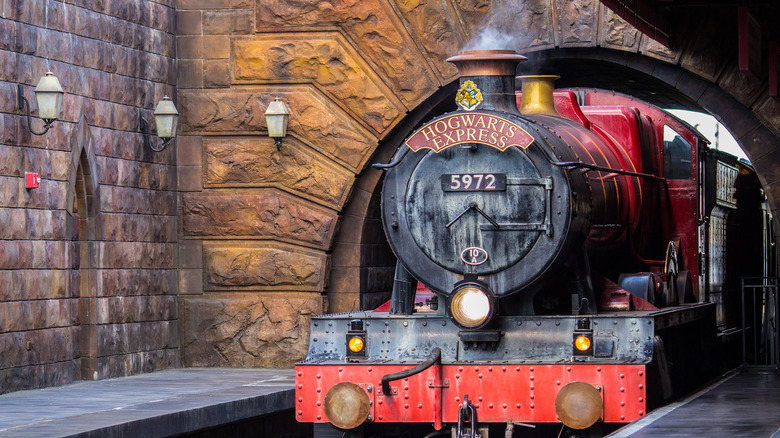 Mia2you/Shutterstock
First thing's first: there are no bad rides on this list. If the Wizarding World of Harry Potter were an album, it would be all bangers and no skips. That being said, the Hogwarts Express is essentially a short film that transports you between two theme parks. 
Guests can take the Hogwarts Express from either Hogsmeade in Islands of Adventure or Kings Cross in Universal Studios. Entering from Kings Cross allows you to see a hologram of tourists passing through the wall at Platform 9 3/4. From there, you are seated in a private car on the train. The windows of the train are screens, as is the door to the hallway. 
Depending on which way you're going, you'll see one of two movies. Going from London to Hogsmeade, you'll experience a Dementor attack and hear Harry use the Expelliarmus charm to protect your car. You'll also pass Malfoy Manor, Hagrid on his flying motorbike, and the Weasley's flying Ford Anglia making its way through the Forbidden Forest. From Hogsmeade to London, you'll see centaurs, Fred and George Weasley peddling their wheezes (available in Diagon Alley), and the Knight Bus. On both trips, you'll pass Malfoy Manor and get creeped out.
The films are impressive, and it is fun to travel between parks on a real train, but the Hogwarts Express provides the least thrills of any ride on this list. It can also take a very long time to board the train, and your time in the parks may be better spent simply walking from Point A to Point B.
4. Flight of the Hippogriff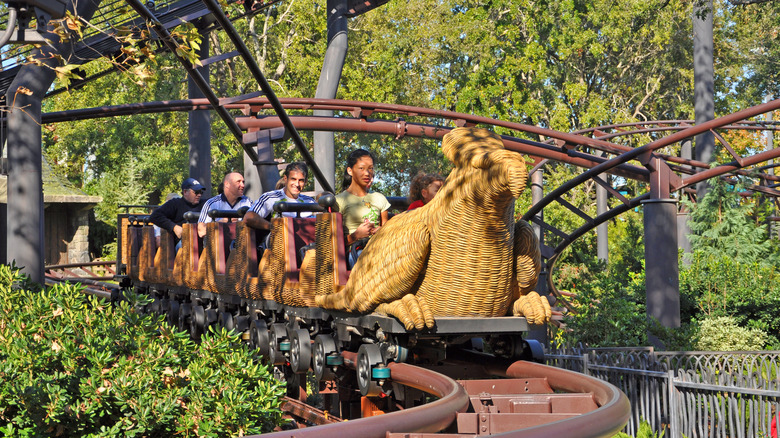 Wangkun Jia/Shutterstock
This coaster exists in the Hogsmeades of Hollywood, Orlando, Japan, and Beijing. The first Hippogriff coaster in Orlando was actually a reskin of the old Flying Unicorn coaster at Islands of Adventure's Merlinwood section, which was torn down to build Hogsmeade. It is a kiddie coaster, only lasting for around 45 seconds. And yet those 45 seconds are a blast! Because it zips along and has a gorgeous animatronic, it just scooches past Hogwarts Express on our list.
The queue for Flight of the Hippogriff winds around Hagrid's cottage on the grounds of Hogwarts. Hogwarts Castle looms over the coaster, which provides lovely views while whipping around the coaster. Pro tip: do this coaster at night and you may get to ride it during the light show projected on the castle. As you approach the loading area, Hagrid (voiced by Robbie Coltrane) instructs you on how to treat the Hippogriff with respect, much as he tried to tell Malfoy in "Harry Potter and the Prisoner of Azkaban."
Once you are seated in the ride, you pass a life-size Hippogriff animatronic on the lift hill. Hagrid tells you to bow your head. The Hippogriff bows back, which means you can ride it. From there, you zoom around a very twisty little junior coaster. It is a great first coaster for children.
3. Harry Potter and the Escape from Gringotts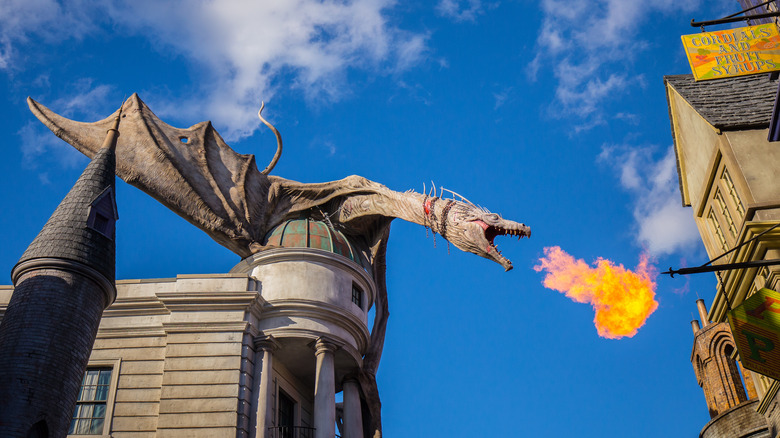 Mia2you/Shutterstock
The most impressive thing about Escape from Gringotts is its exterior, which touts a 60 ft Ukrainian Ironbelly dragon that spouts flame at regular intervals. The inside queue is also impressive, with a recreation of Gringotts Bank complete with animatronic goblin bankers.
Harry Potter and the Escape from Gringotts is a "virtual reality rollercoaster," as explained by Entertainment Weekly. The ride is set during "Harry Potter and the Deathly Hallows — Part 2," and sees riders exploring Gringotts on the day the trio broke in to steal one of Voldermort's horcruxes. Like the golden trio, the riders have to confront Bellatrix Lestrange, and even Voldemort himself.
Fans enjoyed Escape from Gringotts, but some found it too same-y the other main "Harry Potter" attraction. Like so many Universal rides, it suffers from too many screens, which will never replace good old-fashioned sets. A reddit poll found that Harry Potter and the Forbidden Journey was much better. "Too many screens in Gringotts for my taste. It can't decide whether it wants to be The Mummy/Forbidden Journey/Transformers. It's like a crappy mix of all three," wrote user _johnald_. "If I have to wait longer than 45 minutes, I'm always disappointed."
Adding to the disappointment, while most of the original actors returned to shoot their parts — including Rupert Grint, Helena Bonham Carter, Ralph Fiennes, and Domhnall Gleeson — Emma Watson and Daniel Radcliffe did not, and likenesses were used instead. Still, it's a pretty thrilling ride and a gorgeous addition to the park.
2. Harry Potter and the Forbidden Journey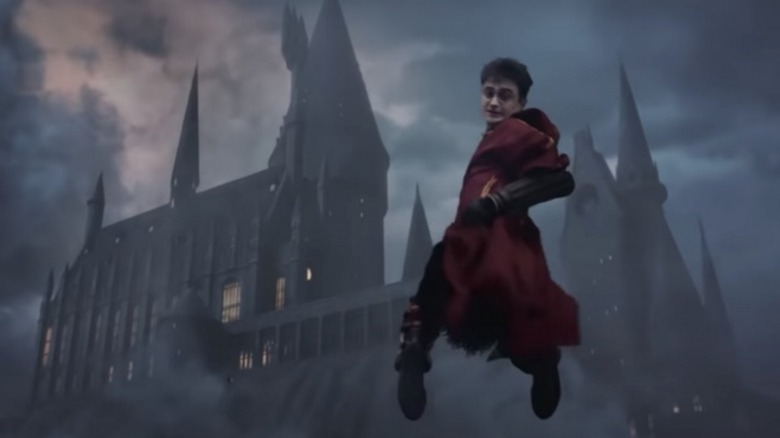 Universal Studios/YouTube
Harry Potter and the Forbidden Journey takes riders on a floating tour through Hogwarts. As it was originally the flagship ride of the Wizarding World, it pulls out all the stops. You see a dragon destroy the observatory, get whomped by the Whomping Willow, escape dementors, and interrupt a quidditch match. The ride uses a fascinating and unique system, as explained by the YouTube channel Amusement Labs. Riders sit on enchanted benches, which are actually attached to KUKA arms — robots that are more usually employed building cars. A KUKA arm can move in any direction, which gives Forbidden Journey a range of movement unseen in previous dark rides. The ride uses sets and screens, with mini IMAX domes surrounding the rider while the vehicle transitions from set to set.
Fans love Forbidden Journey. "The queue is much more immersive, I love to listen to the portraits," wrote reddit user tealcandtrip. The queue takes you through many parts of Hogwarts Castle: the conservatory, Gryffindor common room, moving portrait gallery, Defense Against the Dark Arts classroom, and Dumbledore's office. Holograms of Daniel Radcliffe, Emma Watson, Rupert Grint, and Michael Gambon all welcome you to the castle. Unlike Gringotts, this ride was able to snag Watson and Radcliffe to reprise their roles, giving the ride a definite edge.
1. Hagrid's Magical Creatures Motorbike Adventure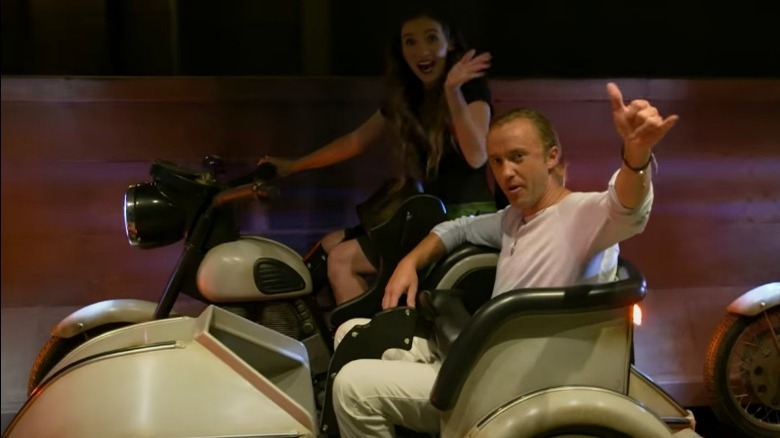 Universal Studios/YouTube
The best Harry Potter ride at Universal is also its newest, having replaced the original Dueling Dragons ride whose coasters had reached the end of their lifespan (they were reskinned of an old Universal ride). Hagrid's Magical Creature Motorbike Adventure debuted in 2019 and is a hybrid coaster/dark ride, with animatronics aplenty and even a drop a la Disney's Twilight Zone Tower of Terror. The ride sees you travel with Hagrid through the Forbidden Forest as he instructs you on magical zoology. Theme park podcasters Podcast: the Ride called it one of the best rides at Islands of Adventure.
Guests board facsimiles of Hagrid's motorbike, choosing either the bike or the sidecar. The coaster launches you several times, giving you a chance to stop and marvel at the animatronics. You see Fluffy the three-headed dog, Cornish pixies, a centaur, and a unicorn. What's more, this ride has the first official depiction of often mentioned (but never shown on screen) blast-ended skrewts.
This is the best Harry Potter ride because it has everything: speed, majestic beasts, in-jokes for superfans, and full participation of Robbie Coltrane. It's a can't miss attraction.