What's The Next Ride Opening At Universal Orlando Resort?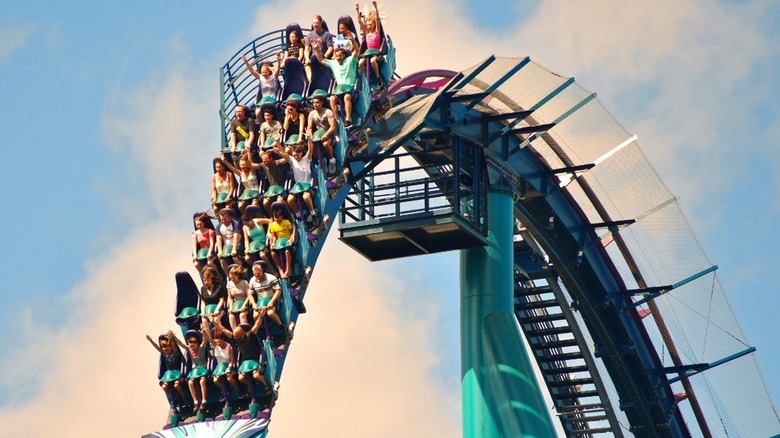 Viaval Tours/Shutterstock
Universal Orlando Resort is in a state of flux. Attractions that once anchored the park are disappearing rapidly. In February, Universal Studios shuttered "A Day in the Park with Barney," according to Attractions Magazine. Then, the park closed its "Fear Factor" show on November 1, per Fox 13 News. Next, Shrek 4D is set to close in January 2022 (via Thrillist). To replace these old attractions, new rides keep getting added. A notable example is the Jurassic World Velocicoaster, which opened in June (via YouTube).
Meanwhile, an entirely new theme park was announced before the pandemic, but construction slowed during the COVID-19 shutdown. The awkwardly named Universal's Epic Universe is set to contain worlds the pull from big-name properties like Super Nintendo, Illumination, and DreamWorks (per Fox 35 Orlando on YouTube). Also rumored to be part of the park are lands dedicated to Universal Monsters and Harry Potter (via Orlando ParkStop). It's unclear how long it will take for Universal to get a new park off the ground. Inside the Magic estimates that it's still several years away from being complete. So it's anybody's guess what will actually open next at Universal Orlando Resort.
Is Orlando getting its own DreamWorks Theater?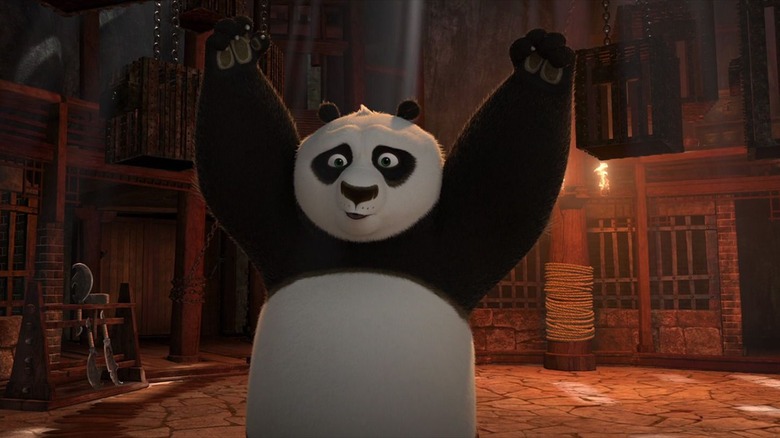 DreamWorks Animation
At the moment, we don't know what will replace the Barney and Fear Factor shows, nor how their giant amphitheaters will be changed to reflect COVID-era concerns of safety. We also don't know what will take the place of Shrek 4D, but there's at least precedent there. Universal Studios Hollywood ditched its Shrek 4D attraction in August 2017, per Inside Universal, and, less than a year later, the DreamWorks Theatre had taken its place (via YouTube).
The DreamWorks Theatre was designed with the intention of rotating various DreamWorks properties through its hallowed walls. "[T]his newly designed venue will play host to a variety of action-packed DreamWorks Animation themed attractions," an NBCUniversal press (via TV Over Mind) released at that time reads, "beginning with the multi-sensory adventure inspired by the global blockbuster franchise 'Kung Fu Panda.'"
The "Kung Fu Panda" movie has been playing in the theatre since it opened in 2018, complete with 4-D rumbling chairs, water effects, and projection mapping on all four walls of the venue. It's likely Universal will slot this already successful ride into the old Shrek 4-D theater before Universal's Epic Universe even has one ride completed.