The Retired Universal Studios Attractions That Fans Miss The Most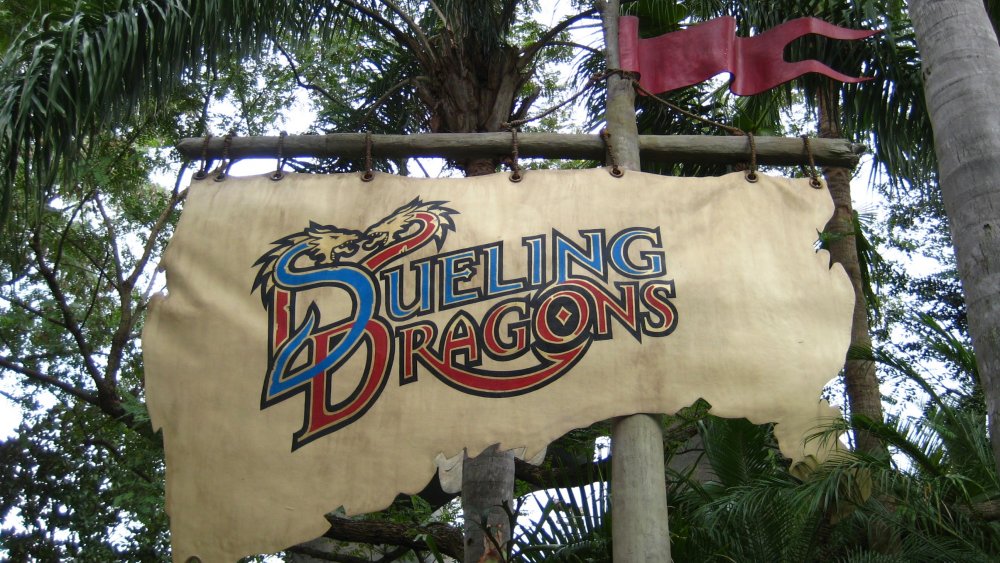 Reddit/u/quitepossiblylying
Universal Studios Orlando has been a premier destination for families all over the world since its inception in 1990. While Disneyland aims to immerse you in its world, making you really think you've been transported to another world, Universal Studios takes a different approach. The theme park puts you behind the scenes of your favorite properties from Jurassic Park to Harry Potter, with shows and attractions that show you the magic behind moviemaking. 
Still, all theme parks need to change with the times. Some attractions run their course, and are replaced with whatever the biggest, most popular thing in the zeitgeist is at the moment. A generic rollercoaster gets swapped out with something like Harry Potter, and the former gets relegated to memories. But that doesn't mean we've forgotten about these rides of yesteryear. 
A recent Reddit thread started by u/quitepossiblylying caught our attention about all of the great theme park rides that no longer exist at Univeral Studios Orlando. Complete with pictures, this guide is your trip down memory lane to re-experience all of the great attractions that were taken down for one reason or another. 

Twister ... Ride It Out saw you chasing tornadoes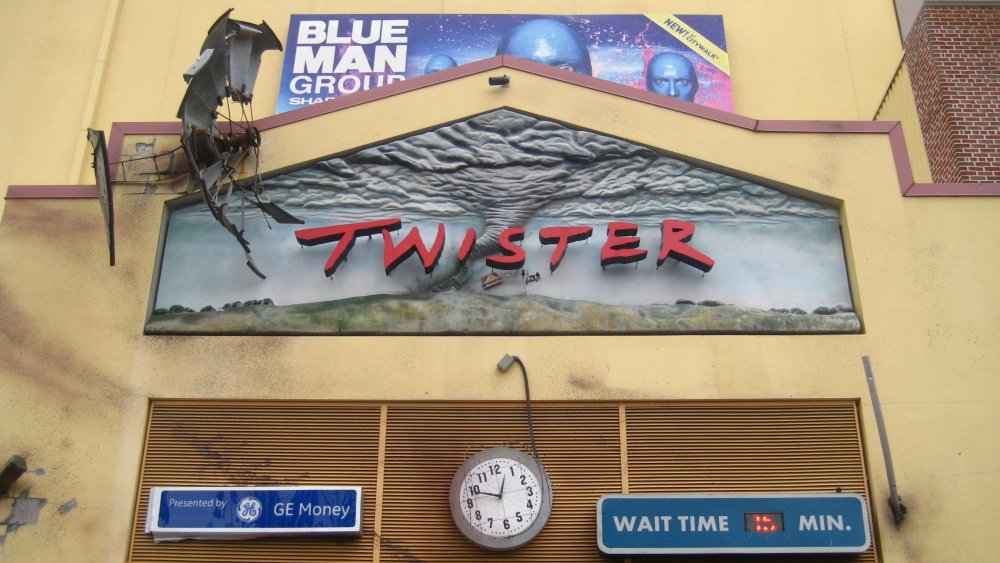 Reddit/u/quitepossiblylying
The disaster film Twister was a big deal when it was released in 1996. Starring Bill Paxton and Helen Hunt, the movie followed a group of storm chasers as they pursued a cluster of deadly tornadoes breaking out across Oklahoma. The film was so popular, it spawned its very own theme park ride at Universal Studios Orlando. 
Twister ... Ride It Out opened in 1998. It was hosted by both Paxton and Hunt who guided you through the twisty adventure. As you walked through the queue, you moved past an array of props, including a water tower, windmill, and several vehicles. But if props weren't to your liking, you could turn your attention to various video screens depicting real-life tornadoes as well as various facts about twisters. 
The main attraction recreated what it was like really seeing a tornado rip up everything in its path. With real fire and water getting involved, you really felt like you were in the thick of it. It only lasted for about three minutes, but every second was more intense than the last. 
Eventually, the Twister ride couldn't keep up with changing tastes. It closed in 2015, and it was replaced with Race Through New York Starring Jimmy Fallon in 2017. 
Jimmy Neutron's Nicktoon Blast gave you a brain blast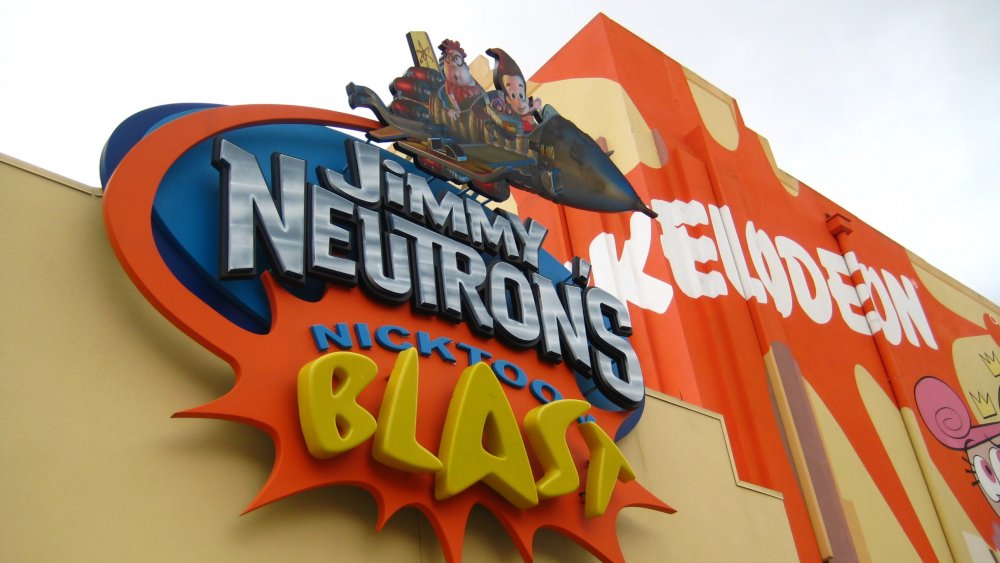 Reddit/u/quitepossiblylying
Jimmy Neutron's Nicktoon Blast was a popular simulator ride that took you through the various sound stages of all your favorite Nickelodeon shows. It began operation in 2003, and starting in 2011, it switched to a seasonal schedule. That's usually the death knell that a ride is about to be put to pasture, and sure enough, the ride ended completely in August of 2011. It was replaced a year later with Despicable Me Minion Mayhem. 
The ride itself involved Ooblar from the villainous Yolkian planet. He'd stolen one of Jimmy's rocket, and the titular genius, alongside Goddard and Carl, needed to give chase. Ooblar ended up taking Jimmy through various Nickelodeon shows, where patrons would get to see Angelica, Tommy, and the rest of the Rugrats, as well as Spongebob Squarepants down in Bikini Bottom. 
With Nickelodeon Studios closing at Universal Studios Orlando, it was only a matter of time until Nickelodeon attractions were phased out. Still, Jimmy Neutron's Nicktoon Blast was a quintessential '90s kid ride that's bound to hold a lot of memories for anyone fortunate enough to have had the chance to follow along with Jimmy and friends. 
The Eighth Voyage of Sindbad had sword fights and so much more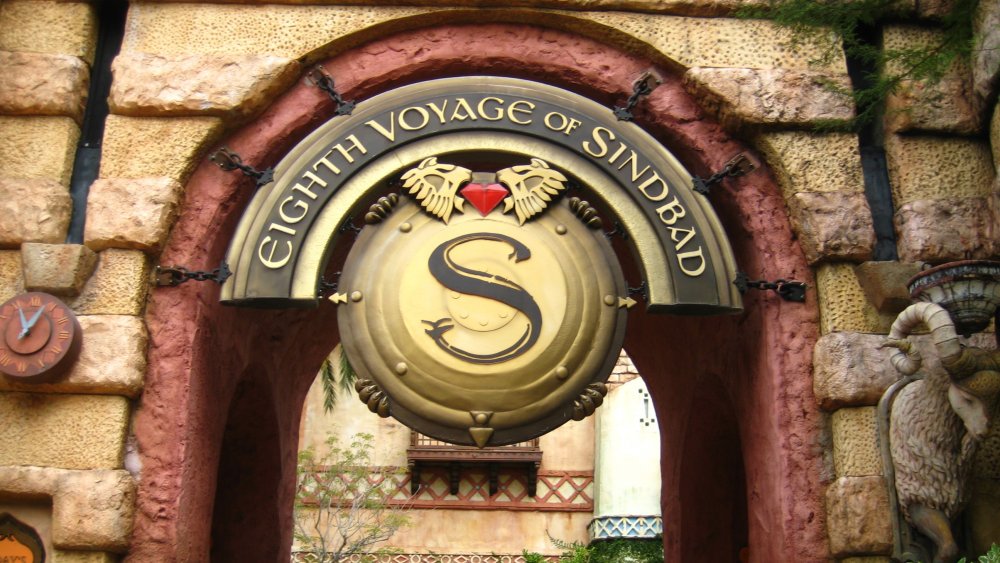 Reddit/u/quitepossiblylying
Universal Studios has a ton of great rides, but the theme park is also known for its incredible live-action performances. One of the most iconic attractions at Universal Studios Orlando for years wasn't based on a movie at all. The Eighth Voyage of Sindbad was a spectacular stunt show that opened in 1999, and remained a fixture of the park for 18 years, complete with sword fights and pyrotechnics. Unfortunately, it just wasn't meant to last. 
According to Orlando Weekly, the show earned poor reviews. It also failed to draw in significant enough crowds to warrant its existence. But the real final blow seemed to be when the park slowly incorporated Harry Potter attractions into its roster. These filled that magical, fantasy niche, and over time, it was clear the stunt show wasn't long for this world. 
Despite being one of the longest-running shows in theme park history, The Eighth Voyage of Sindbad took its final bow in 2018. As of this writing, nothing has replaced the attraction, but something is bound to take its spot in the near future. 
Lucy: A Tribute highlighted one of the best sitcom actors ever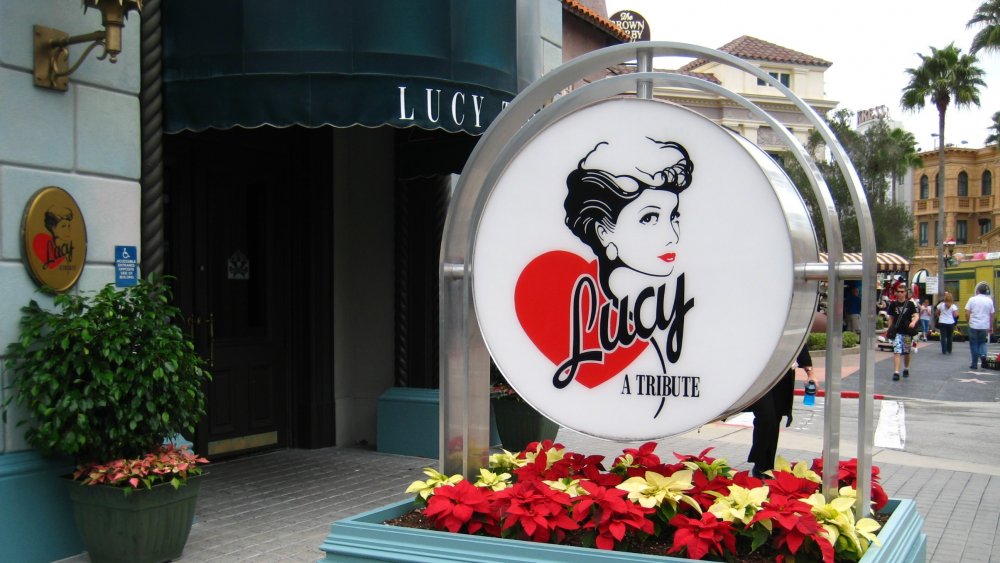 Reddit/u/quitepossiblylying
Back in the day, you didn't need superheroes or laser sword fights to captivate an audience — you just needed one very funny woman in a variety of hilarious situations. For years, Universal Studios Orlando paid tribute to one of the most important sitcom figures in history: Lucille Ball. 
No, it wasn't a rollercoaster ride, although that would've been pretty interesting to see. The attraction consisted of a walkthrough museum containing numerous wardrobe pieces and props Ball wore on the show. The main set piece was a huge television screen that would play various clips from I Love Lucy. Numerous smaller screens that highlighted Ball's legacy were set up around the museum. 
TV nerds would especially love the three-dimensional small-scale model that recreated the primary set for the show. You could really see how I Love Lucy brought about the three-camera format that's still utilized in television programs to this day. Sadly, however, all good things must come to an end, and the museum eventually closed in 2015, to be replaced with an interactive store centered around Hello Kitty. 
Disater! put you in the midst of an earthquake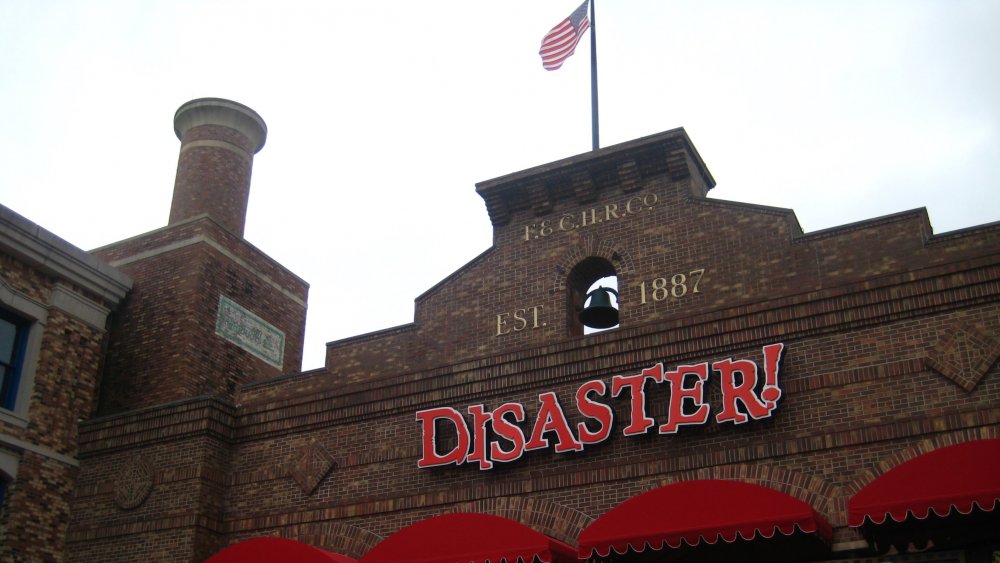 Reddit/u/quitepossiblylying
Disaster!: A Major Motion Picture Ride ... Starring You! was one of the first attractions to open alongside Universal Studios Orlando back in 1990. The ride showed how special effects were used in big-budget movies, with you and your fellow riders "cast" as movie extras. You got to be involved in a fictitious film's finale involving an earthquake set in a subway station. Not only did you get to be really whipped around in the ride, but you also got to see yourself in the finished product. Using high-speed editing, you would be inserted into a "movie trailer" cut together via sequences during the pre-show and in the main ride itself. 
One of the most interesting bits of trivia about this ride is that it starred an uncredited young actor by the name of Dwayne "The Rock" Johnson. Before he was the biggest movie star in the world, he played a park ranger as the star of the film of which you were a part. Interestingly enough, Disaster! was eventually taken out in 2015 to make way for another vehicle involving The Rock: Fast & Furious: Supercharged. 
Beetlejuice's Graveyard Revue was the perfect Halloween activity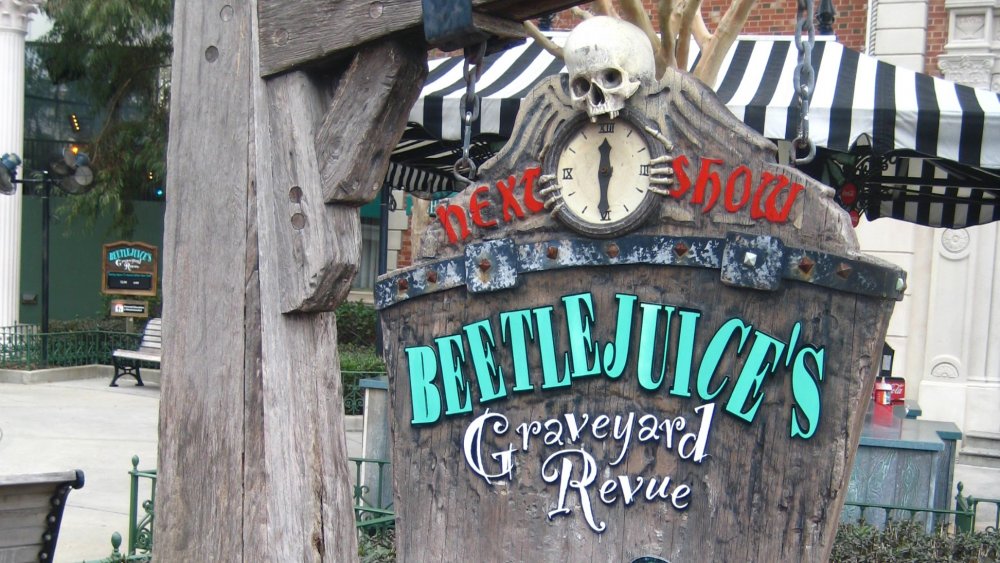 Reddit/u/quitepossiblylying
There was a time when the best way to ring in Halloween in Orlando was to check out Beetlejuice and his pals at Universal Studios. The musical show featured everyone's favorite poltergeist and his crew of Universal monsters, who would lead the audience in a rousing mash-up of various pop and rock songs. 
The show went through various iterations over the years, but the basic format was about the same: It would open with Beetlejuice coming out of a coffin dressed like a mummy. He'd mingle with the guests for a little bit until the rest of the monsters would show up. Of course, with Beetlejuice present, you could be certain he'd ham up the show and put the focus squarely on himself most of the time. 
The show closed for good in 2016 to make room for Fast & Furious: Supercharged, which opened in 2018. 
Dueling Dragons was one of the coolest coasters the park had
For years, the most intense rollercoaster present at Universal Studios Orlando was Dueling Dragons, which opened on the theme park's Islands of Adventure in 1999. The basic premise of the ride was that there were two dragons chasing one another. The ride lasted for nearly two-and-a-half minutes, with a total of five inversions and three points at which the coasters got insanely close to one another. 
Dueling Dragons frequently ranked among the best steel rollercoasters in the country. To keep it going, the attraction received an overhaul in 2010 to be Harry Potter-themed. It was renamed Dragon Challenge with the idea that the two rollercoasters would now represent a Hungarian Horntail and Chinese Fireball, two popular types of dragons from the series. 
The coaster reached the end of its service life in 2017. It was taken down and replaced with Hagrid's Magical Creatures Motorbike Adventure, which opened in 2019.