Why Chicago Fire Fans Are Fuming Over Wendy's Return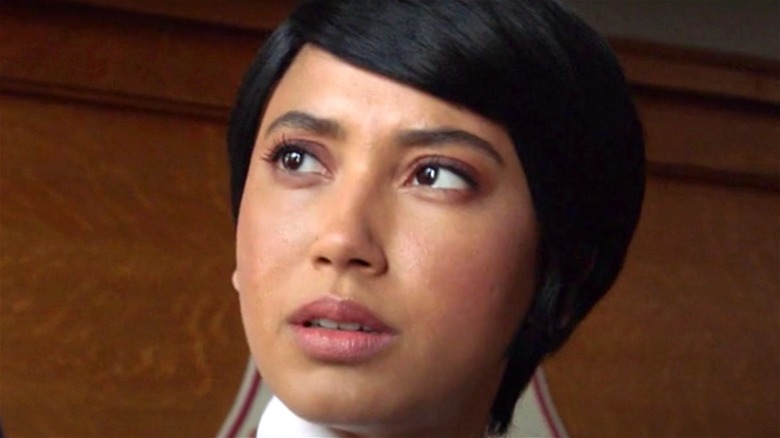 NBC/Hulu
The 10th season of "Chicago Fire," the venerable flagship series of legendary producer Dick Wolf's sprawling "One Chicago" mega-verse, is still unfolding, despite the surprising exit of original cast member Jesse Spencer. While the immediate aftermath of Spencer's departure involved picking up the pieces from that plot development, the show has also gotten back to business by filling the void the only way it knows how: dramatically. 
This includes the return of a character last seen in Season 8, Wendy Seager, a lieutenant who works in the Office of Fire Investigation, played by actress-musician Andy Allo. As an actress, Allo is most recognizable from her lead role on Amazon Prime's "Upload," as well as a recurring part on "The Game" and a small role in "Pitch Perfect 3" (via IMDb). 
Now that she's back on "Chicago Fire," Allo's Wendy is sparking serious fan conversation. Surprisingly, some viewers are mad at Wendy over her flirtation with Severide (Taylor Kinney). Perhaps "Fire" fans are extra-protective of the relationship between Severide and Kidd (Miranda Rae Mayo), who are now engaged after an ill-fated break-up that, happily for the fandom, did not last. 
Recently, those fans have been making their feelings known on social media. "I'm gonna need Wendy to stop flirting with Severide AND do something about that sad wig," tweeted @NecieBillings, adding, "OK, I know she sang with Prince and everything, but still."
Chicago Fire fans are noticing the heat generated between Wendy and Severide
More "Chicago Fire" fans were quick to express their concerns about Wendy's behavior around Severide. On Twitter, @GailKimGroupie wrote, "Kidd betta get back and keep an eye on Severide." Meanwhile, @kimmiek2006 asked, "Wait, did Kelly Severide just put his hand on Wendy Seaver's [sic] back??" and posted a GIF under their comment for emphasis.
"Not Wendy asking Severide out now that Stella isn't around," tweeted @chiggybangbangg, adding, "Girl, I hope you can fight." @NatalieFlorenc1 chimed in with, "And Wendy Seager! I see you! She's definitely trouble and wants Severide." One fan, @jen_nene88, directed her post straight to the powers that be, warning, "@NBCChicagoFire, keep Wendy away from Severide."
But not everyone is explicitly against the pairing. "Wendy stays shooting her shot with Severide... but can we blame her?" asked @MMoves26, adding, "Do you boo! They both make a great team!!!! Hope she will be sticking around." Even Hello Magazine correspondent @bexlewis361 tweeted, "If Wendy Seagar [sic] could keep her hands off Severide, I'd watch an entire spinoff of the two solving arson investigations."
Clearly, there's chemistry between these two characters, and fans are taking notice. Now, viewers will have to continue watching Season 10 to find out if "Chicago Fire" sets fire to Severide's relationship with Kidd or if it's Wendy whose flirtatious flame is extinguished