Upload: A Behind-The-Scenes Look At The Latest Comedy From The Office's Greg Daniels - Exclusive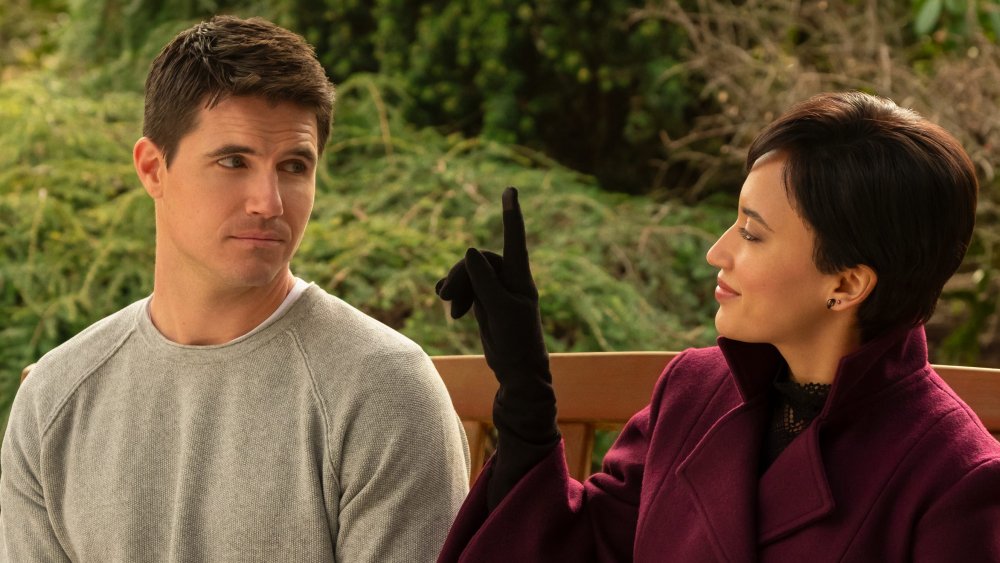 Katie Yu/Amazon Studios
Greg Daniels is the man who turned the British sitcom The Office into a game-changing American television series. The Emmy-winning writer, producer, and director has a long list of influential shows under his belt — he co-created Parks and Recreation, King of the Hill, and the upcoming Netflix comedy Space Force; was a writer on The Simpsons and Saturday Night Live; and has credits on People of Earth, A.U.S.A., and The Mindy Project. And he isn't stopping now.
Daniels' latest project is the sci-fi satire Upload, which premieres on Amazon Prime Video on May 1. The 10-episode series envisions a not-so-distant future in which people can pay to upload themselves into their ideal afterlife. It follows Nathan (played by Code 8 and The Flash actor Robbie Amell), a young man who meets an untimely death, as he navigates through a high-end afterworld on his still-living girlfriend's dime. His virtual heaven is called Lakeview, where you can digitally control the weather from the comfort of your luxury hotel room overlooking a sparkling lake and rolling hills. There, he falls for his customer service rep, Nora (Pitch Perfect 3's Andy Allo), otherwise known as a guardian angel.
In a recent roundtable interview, Looper talked to Daniels, Amell, and Allo about filming Upload, taking a behind–the-scenes look at the new Amazon show.
Upload is a different direction for Greg Daniels
Amazon Studios
Upload started out as short story, with Daniels initially pitching it as a book back in 2008. Calling it his "passion project," he says films like Her, Eternal Sunshine of the Spotless Mind, and Truly, Madly, Deeply inspired the series.
"I definitely wanted to try something different," Daniels shares. "I wanted to be a little bit more creative, stretch myself, and try something that had more of a cinematic feel to it, a bigger scope. It became a project that I would work on when I wanted to feel like more of a traditional prose writer. But I am who I am. So there's going to be some DNA that's the same [as The Office and Parks and Recreation]. The people are still real and their concerns are hopefully relatable."
Daniels sees Upload as falling somewhere between utopia and dystopia, basing Lakeview on his own personal ideal afterlife. "I like that kind of environment — lakes and mountains," he says, adding that "unintended consequences" of technology is a running theme throughout the crisp, colorful series that features homicidal self-driving cars, glitch-filled artificial intelligence, and unsatisfying 3D-printed breakfast buffets. "New technology is always introduced as being this wonderful thing that's going to transform your life in positive ways, and then later you realize there are some pretty unpleasant side effects," Daniels notes.
To get a feel for the Upload afterlife, Daniels and the actors tried state-of-the-art virtual reality headsets similar to the one Nora wears on the show to move between the real world and the afterworld.
"Amazon set up a VR hang for us where we got to experience different games and environments," Allo says. "I played Beat Saber, and I got so competitive. I felt like I was playing it for a long time, but it had only been like five minutes. When I took the headset off, I was out of breath and drenched with sweat. It was so intense. It's just so real."
When it came time to actually film, Amell and Allo agree that working with Daniels was a natural fit. "The most challenging part was the mental hurdle of working for 'Greg Daniels,' and the idea of doing a comedy with him and knowing that it needs to be funny," Amell says. "But once you actually get to know him and work for him, that disappears right away because it's so collaborative. His writing is so natural, even though it's science fiction, which is incredibly hard to do. And the people that he put together — including Andy, who's just so innately sweet and charming — were so great that it never felt like work."
Upload is set to premiere on Amazon Prime Video on May 1.