Every Time Sam In Cobra Kai Should've Been Arrested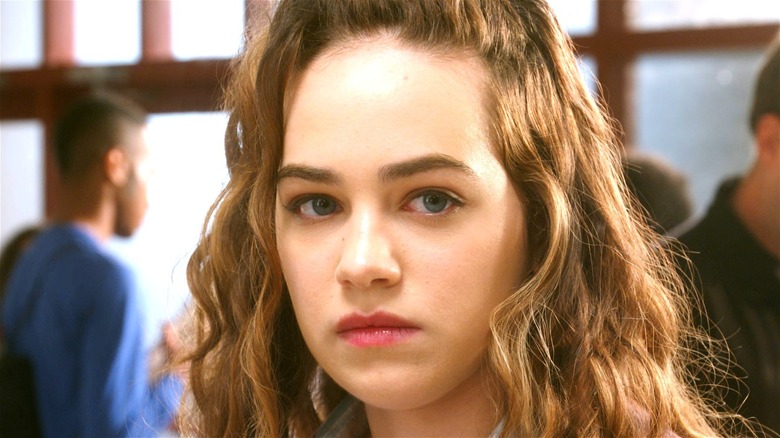 Netflix
While "Cobra Kai" is technically a sequel to the original four "Karate Kid" films, its story is focused just as much on a new generation of high schoolers in the present day as it is on original "Karate Kid" characters Daniel LaRusso (Ralph Macchio) and Johnny Lawrence (William Zabka). Some of the young cast of "Cobra Kai" is entirely new to the "Karate Kid" universe, like the mohawked Hawk (Jacob Bertrand) or mean girl Tory (Peyton List). Equally important are two of the kids of the central franchise regulars, Robby Keene (Tanner Buchanan) — son of Johnny — and Samantha LaRusso (Mary Mouser).
At the core of "Cobra Kai" is an ongoing feud between the revitalized Cobra Kai karate school, founded by Johnny, and Daniel's Miyagi-do school. Though this rivalry began during Daniel and Johnny's high school years, it spills over into the high school experiences of Hawk, Tory, Robby, Sam, and virtually the entire rest of the series' young cast decades later. In effect, this means that in the version of LA's San Fernando Valley in which "Cobra Kai" takes place, teenagers are regularly deploying martial arts techniques against one another both during and outside of school hours.
On a certain level, then, viewers must suspend their disbelief that, not only do these high schoolers find karate cool, but that their frequent fights continue consequence-free. Sam LaRusso alone takes a number of actions throughout "Cobra Kai" that, under more realistic circumstances, could have easily landed her in legal trouble.
Sam is part of a hit-and-run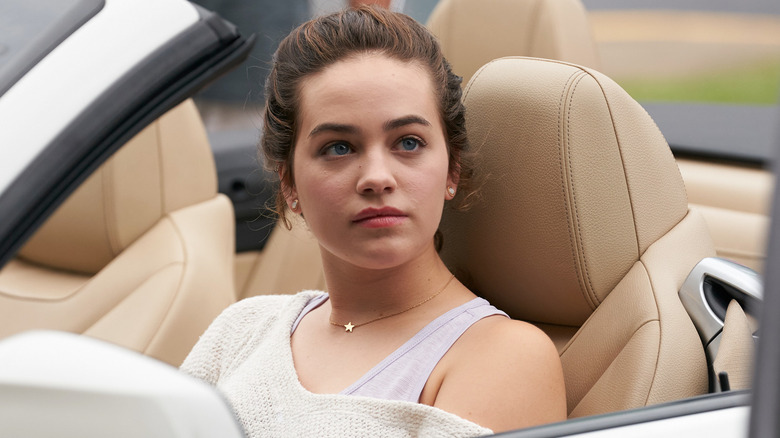 Netflix
"Cobra Kai" Season 1, Episode 1 is focused almost entirely on Johnny Lawrence — particularly, the circumstances of his life that inspire him to restart the Cobra Kai karate dojo. Among the various incidents that push him into attempting to better himself via karate instruction is a group of teens crashing into his treasured sports car and driving away from the scene of the crime.
Among the teens responsible for wrecking Johnny's car is Samantha LaRusso. While the driver at the time of the incident is Sam's then-friend Yasmine (Annalisa Cochrane), that doesn't mean Sam would be considered entirely innocent of the crime in a court of law. According to the law blog Nolo, any passenger responsible for the decision to drive away from a hit-and-run can be held legally liable. Technically, then, the list of Sam's actions that could have theoretically landed her in jail begins prior even to her membership in the revitalized Miyagi-do karate school. In actuality, Sam is grounded as a result of this incident, and Daniel gifts Johnny a replacement vehicle.
Sam beats up a group of kids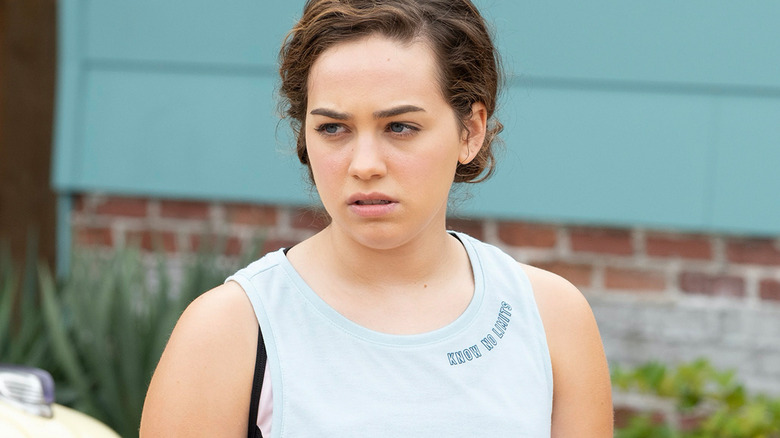 Netflix
Given that "Cobra Kai," by its very nature, features frequent, violent fights between its principal characters, practically any member of the series' main cast could be held responsible for battery, which California Penal Code Section 242 defines as "any willful and unlawful use of force or violence upon the person of another."
Perhaps the most notable instance in which Sam willfully uses force upon not one but multiple other persons occurs in Season 2 Episode 5, titled "All In." Initially, Sam and Robby attempt to better get to know Miyagi-do student Demetri (Gianni Decenzo) over lunch at a mall food court. However, a group of Cobra Kai students led by Hawk shows up to antagonize Demetri for leaving a negative Yelp review for the Cobra Kai school based on his short time as a student there. This balloons into a brawl between Sam and Robby on one side and a group of five Cobra Kai kids on the other. Sam and Robby come out victorious in their defense of their untrained comrade. Nevertheless, given the comparative severity of the injuries sustained by her Cobra Kai opponents, any one of them might have technical legal grounds on which to pursue battery charges against Sam.
Sam gets drunk and runs from the cops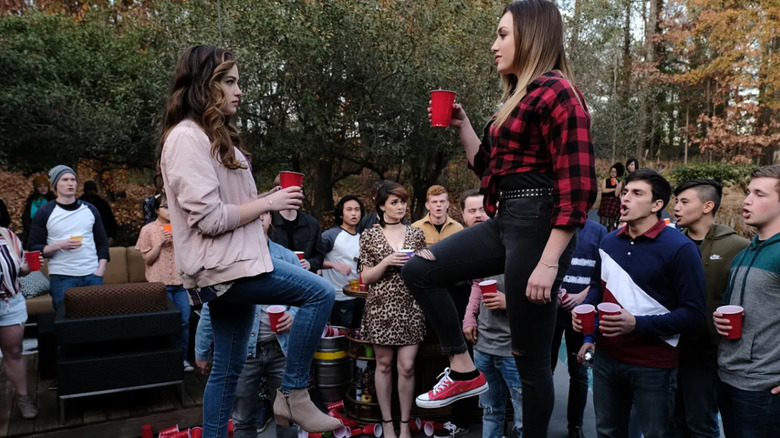 Netflix
In "Cobra Kai" Season 2 Episode 9, Sam attends a party hosted by Moon (Hannah Kepple), a neutral party, secretly intended to forge friendships between the members of the warning Cobra Kai and Miyago-do karate schools. Moon's plan, however, doesn't go over so smoothly once both groups realize what's going on, and the respective members of each dojo begin clashing with one another.
Amidst the ensuing chaos, Sam competes in a drinking contest against Tory, in which both girls must attempt to maintain balance with one leg on a stool as they become drunker. Sam wins, but soon after, cops arrive and break up the party. While underage drinking is hardly unusual behavior, this is perhaps the most prominent moment from throughout "Cobra Kai" in which Sam evades arrest, given that not only is underage drinking against the law, but after breaking said law, Sam narrowly avoids a direct encounter with the cops.
Sam helps incite a riot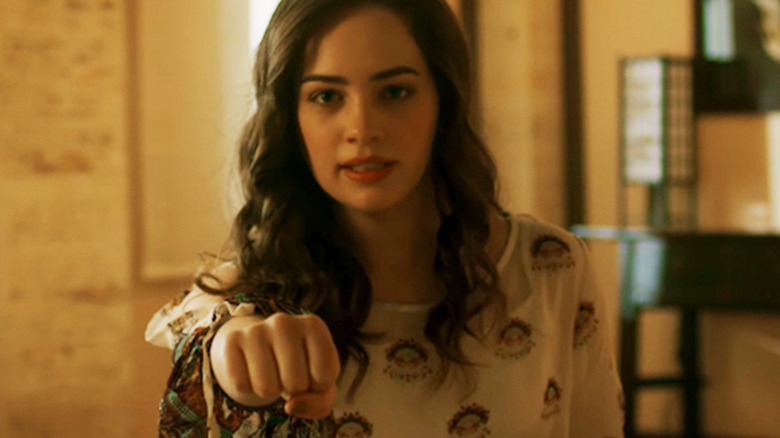 Netflix
One of the biggest set pieces thus far in "Cobra Kai" occurs at the end of the series' second season, when members of Cobra Kai and Miyagi-do engage in an all-out brawl in the halls of West Valley High School. Technically, Sam's rival Tory instigates the fight — in response to Sam drunkenly kissing her former and Tory's then-boyfriend Miguel (Xolo Maridueña) after the party in Episode 9 — by announcing that she's coming for Sam over the school's intercom system.
Sam immediately rises to the occasion, meeting Tory in the halls after class. Their one-on-one fight soon erupts into a school-spanning melee, at the conclusion of which Miguel ends up with a fractured spine. Tory also violently injures Sam, leading to her expulsion from West Valley High, a severer sentence compared to Sam's two week suspension. Nevertheless, were cops to have become involved, Sam very well could have been held guilty for her involvement in initiating the school-wide melee. Fortunately, Sam's indiscretions remain out of the hands of the law and confined entirely to the San Fernando Valley's ongoing karate soap opera drama that drives "Cobra Kai," and should continue to do so moving into its fourth season.