The Unusual Connection O'Shea Jackson Jr. Had With Kevin Durant Before Starring In Swagger - Exclusive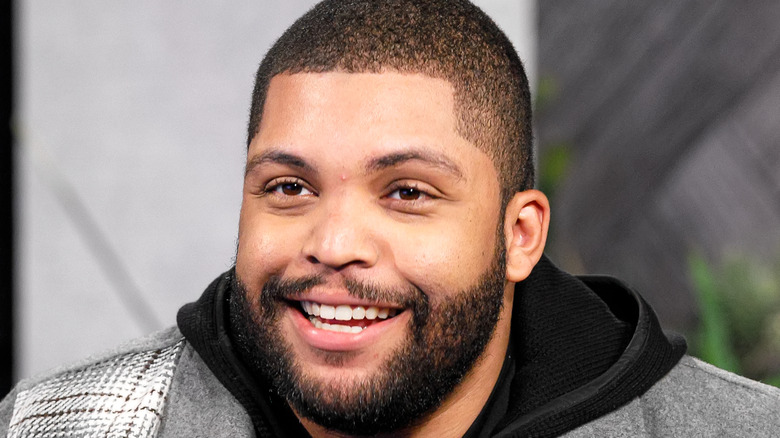 Rich Polk/Getty Images
If you follow O'Shea Jackson Jr., you know how much he loves basketball — especially his hometown team of the Los Angeles Lakers. That's exactly why his new series "Swagger" is such a perfect fit for the actor, who is the son of rapper Ice Cube.
Loosely based on Kevin Durant's life before the NBA, "Swagger," which is available now on Apple TV+, follows 14-year-old rising star Jace (Isaiah Hill) as he navigates adolescence and the competitive world of youth basketball. As Jace's coach Ike, Jackson serves as a mentor who once had dreams of going pro but now helps others try to reach for the stars.
It's a role that Jackson was seemingly born to play, but probably not one he saw coming the first time he met Durant several years before landing the gig. In an exclusive interview with Looper, Jackson shared the awkward way the two first met.
O'Shea Jackson Jr. heckled Kevin Durant during a game
Apple TV+
When asked how he first met Durant, Jackson isn't shy about their history.
"I actually met Kevin courtside, heckling him at a Lakers game," says Jackson with a laugh. "It was Kobe's last season [with the Lakers], and I was giving Kevin and Russell Westbrook the business [when they were with the Oklahoma City Thunder]. I was letting him have it ... I was in his ear like, 'Kevin, don't even guard him. Kevin, just back up. It's okay, Kobe. Don't do this to him.'"
And just how did Durant handle the situation? "He came up to me at halftime, because he was guarding Kobe for the first half, and was like, 'You know, you can't do that all night.' And I said, 'Listen, I just want you to be a Laker, Kevin Durant. That's all I want. I love you. I just want you to be a Laker.' So he's known from the jump how I get down."
The two eventually smoothed things over, and Jackson says Durant has been very "accessible" when it comes to the making of "Swagger." But he also admits that geniality came at a price.
"Kevin and [his manager] Rich Kleiman gave me their numbers," he says. "Open to talk, open to have conversation. And they hooked your boy up with some shoes and some cool headphones because Kevin knows that's all it takes to shut me up!"
"Swagger" is currently available on Apple TV+, with one new episode premiering every Friday.