Swagger Star O'Shea Jackson Jr. On His Love Of Basketball And Heckling Kevin Durant - Exclusive Interview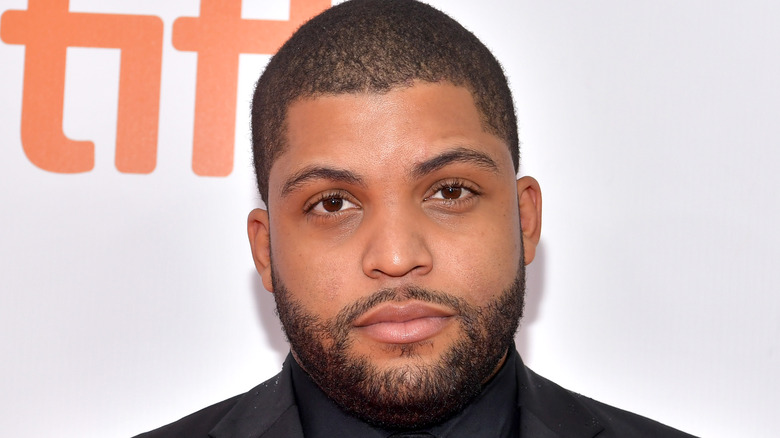 Emma Mcintyre/Getty Images
As the son of rapper Ice Cube, O'Shea Jackson Jr. has some big shoes to fill. But ever since bursting onto the acting scene by portraying his father in the 2015 N.W.A biopic "Straight Outta Compton," Jackson has proven that he can hold his own.
Indeed, in just a few short years, Jackson has starred in such high-profile films as "Den of Thieves" and "Godzilla: King of the Monsters," and will appear in the 2022 Disney series focused on Obi-Wan Kenobi.
Jackson's current project, "Swagger" — which premieres October 29 on Apple TV+ — is loosely based on Kevin Durant's life before the NBA, following a 14-year-old rising star named Jace (Isaiah Hill) as he navigates adolescence and the competitive world of youth basketball. As Jace's coach Ike, Jackson serves as a mentor who once had dreams of becoming a professional ballplayer but is now helping others try to achieve their goals.
In an exclusive interview with Looper, Jackson opened up about his personal love of basketball, how he once heckled Durant, and what his dad really thinks about his acting career.
Kevin Durant once confronted O'Shea Jackson Jr. during an NBA basketball game
Apple TV+
Let's start off simple. What's your personal relationship with basketball? I know you're a huge Lakers fan, but what does basketball mean to you?
Basketball, it's got so many layers to it. Of course, first and foremost, it's fun. But second, it teaches you at a young age what it's like to have people who aren't family, or you might not even know them for long, but for 48 minutes, you are depending on these people. You are depending on these guys to lift you up when you fall, and you're supposed to be there for them as well. And it builds the team dynamic, and how beautiful that is and what a lesson that is — to feel okay to ask for help, to feel okay with needing somebody else and realizing that a collective with the same common goal can be something very powerful.
I know your dad owns a basketball league [BIG3]. Was he excited for you to land this role, and did he give you any tips or advice going into it?
Man, him and my mom are excited for any role I do. They are just like ... It's always good news. They're extremely happy for me. They know that this was the first time since "Straight Outta Compton" that we were number one on the call sheets. And, yeah, they know that my career has always been taking nice steps in the right direction and they recognize the type of leap this is, to have this opportunity. Not only with Kevin Durant behind it, but also Apple, CBS ... there are some big names. I'm not on YouTube or nothing. We're really out here now. They recognize that any task that I present myself, that I usually get it done and they're excited to see it.
Now, have you met Kevin before? And if not, did you get to meet him for the series and pick his brain at all?
Yeah, I met Kevin. Actually, I was courtside, heckling him at a Lakers game. [Laughs] It was Kobe's last season, and I was giving him and Russell Westbrook the business. I was letting him have it and he came up to me at halftime because he was guarding Kobe for the first half, and I was in his ear like, "Kevin, don't even guard him. Kevin, just back up. It's okay, Kobe. Don't do this to him." And he came up to me at half time and was like, "You know, you can't do that all night." And I said, "Listen, I just want you to be a Laker, Kevin Durant. That's all I want. I love you. I just want you to be a Laker." So he's known from the jump how I get down and yeah, he's been accessible. Him and [manager] Rich Kleiman gave me their numbers, open to talk, open to have conversation. And hooked your boy up with some shoes and some cool headphones because he knows that's all it takes to shut me up!
O'Shea Jackson Jr. was in awe of 50 Cent on the set of Den of Thieves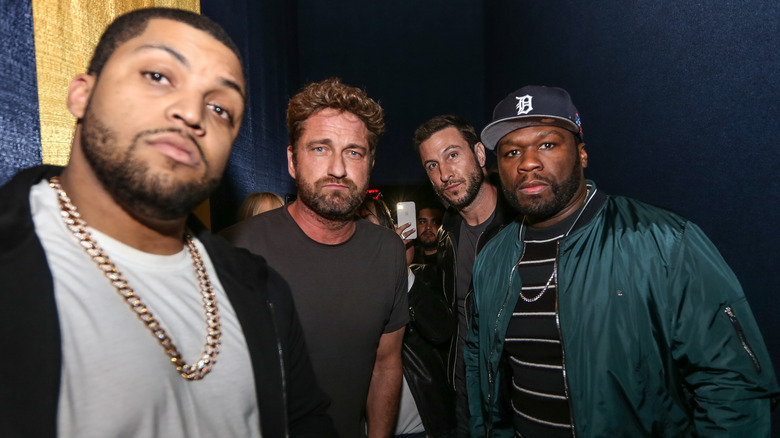 Thaddaeus Mcadams/Getty Images
In terms of Ike, do you see yourself in him? Did you ever have dreams of being a sports star? Do you mentor kids? What's your connection to this character?
I absolutely see a lot of myself in Ike. I used to coach my little brother, so I know what it feels like to pass confidence on to kids and to see them triumph. It's a beautiful feeling. And I think that's important. I'm always thinking about ... if you can make a kid's day, if you can be a spark of inspiration for a young person, you have no idea what that can do to them. You have no idea what type of fire that could build under a young person. Even in my everyday life, if a kid wants to talk to you, if a kid wants to take a picture. It's a terrible feeling to not only build up that courage as a kid to ask for a photo, but to be rejected. It must scar that kid for life. First of all, he hates you, and you don't know what type of mental effect that'll have on such a young developing mind. And so it's always best to uplift and encourage. And I think that Ike does a great job of that. And love is a two-way street. You have to earn their trust for them to even let you get that close to them on that type of level.
Any funny or memorable moments on the set that really stand out to you?
Man, we really love the games. The game scenes, because it really does feel like we're playing in the playoffs or something. If you've got a castmate who's bricking just every shot, they're not falling, the eruption that we would give them when that shot finally fell. You would have thought we won the championship. And I miss that so much. I miss my knuckleheads, man. I miss my little juvenile delinquents, man. I love those kids so much, and I miss them. They're really good kids.
And it sucks because you know every project has to end eventually, but this one stung, because I really had a connection with all my guys. I still got their numbers. The group chat is still open, but it's just not the same when you've seen somebody for damn near a year every day and you got to say goodbye. I hope they're all right. I check their social medias, like some weird parent. And yeah, those are my dudes, man. I love those kids to death.
One last question I'd like to ask you that's unrelated to "Swagger," going back to your role in "Den of Thieves." What was it like working with Gerard Butler and Curtis Jackson on that?
Yeah. I remember how crazy 50 Cent is. How much of a lunatic he is. [Laughs] No. I've been a 50 fan forever, so to be able to work with Curtis was really cool. When you see people that you watch religiously, like their music videos, and then you get to talk smack with them every now and then, it's a very good feeling that I hope everybody eventually has with at least one person that they admire. The best thing about 50 is that he's always coming up with ideas on how to get bigger, go harder, and that's the type of energy you want, especially as a creator. And Gerard, he knows. He knows we're about to go at it for "Den of Thieves 2." That's my guy. According to him, I'm number 301. So that's me right there. But Gerry's a good dude, professional and at the same time, somebody who you could hear stories from forever. I can't wait to see him again. But 50 died in the first one, so...
"Swagger" premieres globally on Apple TV+ Friday, October 29, 2021 with the first three episodes, followed by one new episode weekly every Friday thereafter.