Why Jeff From Home Sweet Home Alone Looks So Familiar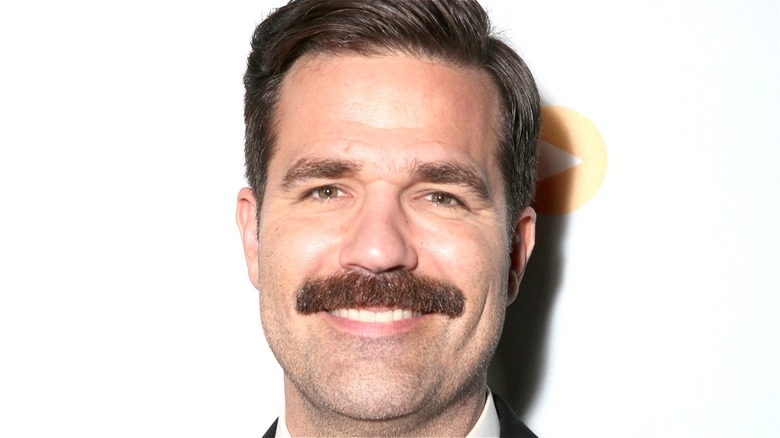 Todd Williamson/Getty Images
If you'd told moviegoers even a year ago that a new "Home Alone" movie was on the horizon, they'd likely have said you were crazy. And yet here we are, with Disney + prepping to unleash "Home Sweet Home Alone" on the holiday-loving masses. The film will be the sixth in the "Home Alone" franchise, and if we're being completely honest, it looks to be a lot of fun.
That being said, "Home Sweet Home Alone" also looks like yet another shameless rehash of the beloved 1990 original. That's just fine, as "Jojo Rabbit" breakout star Archie Yates is bringing some serious energy to proceedings as Max, the precocious pre-teen tasked with defending his home from dastardly burglars this time around. And if you have given the "Home Sweet Home Alone" trailer a look, you no doubt saw quite a few familiar faces filling out the film's cast, including that of Ellie Kemper, Chris Parnell, Aisling Bea, Kenan Thompson, Ally Maki, Pete Davidson, and, of course, O.G. "Home Alone" supporting player Devin Ratray. 
Though you might be struggling to place it, odds are you also recognized the face of Jeff (one of the film's new home invaders) as well. It belongs to funnyman Rob Delaney. Here's why Jeff from "Home Sweet Home Alone" looks so familiar.
Catastrophe became an early calling card for Rob Delaney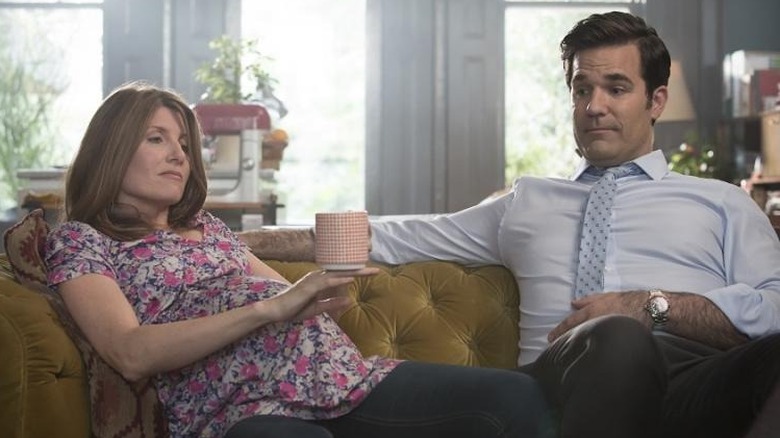 Amazon Studios
Though Rob Delaney has been around since the advent of the 2000s, his early career was largely spent scoring roles on the fringes of Hollywood, and making people laugh out loud on social media (per Paste). Circa 2015, Delaney's career got a major boost when he landed the lead in the relationship sitcom "Catastrophe." Delaney didn't technically "land" the lead in the series, though, as he actually he co-created and co-wrote "Catastrophe" alongside fellow star Sharon Hogan, with the duo eventually earning an Emmy nomination for their work.
If you missed out on "Catastrophe" during its run on the UK's Channel 4 or on Amazon Prime Video (where it's still streaming), the series found Delaney portraying Rob, an American business man who has a torrid, days-long romantic encounter with an Irish school teacher named Sharon (Hogan) on a work trip to London. Once he's back Stateside, the pair unexpectedly find themselves with a baby on the way, which prompts Rob to move to England to become a father and a husband. 
That mostly happens in the first few episodes of "Catastrophe." And over its 24-episode run, "Catastrophe" became a heartfelt, often side-splitting relationship comedy as dryly witty as it is keenly insightful.    
Rob Delaney joined the X-Force in Deadpool 2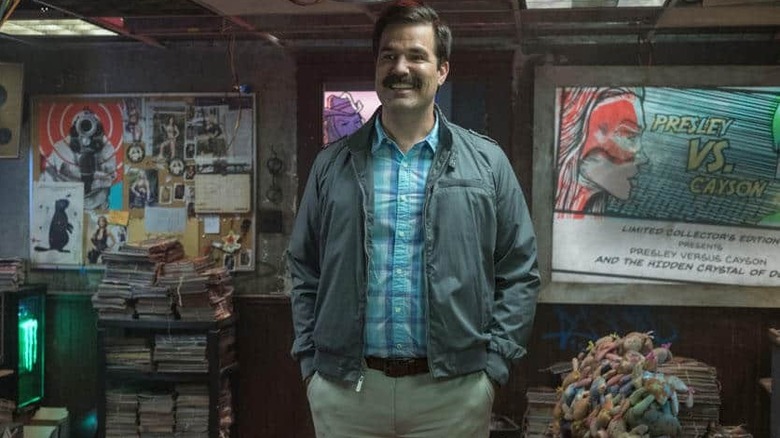 20th Century Studios/Marvel
Delaney's four-season run on "Catastrophe" essentially put him on the Hollywood map as both an actor and creator to watch, but it's safe to say he got his biggest boost to date in 2018 when he set out to become a superhero (well, sort of) in one of that year's biggest blockbusters.
Said blockbuster was none other than Ryan Reynolds' cracked, hyper-violent farce "Deadpool 2." If you're wondering about the "sort of" superhero status of Delaney's character, it's because his mild-mannered everyman, Peter, doesn't have any superpowers to speak of. However, that doesn't stop Peter from boldly answering Wade Wilson's superhero ad, or becoming a valued member of the fledgling X-Force super team. 
And let's face it, Peter more than proved himself worthy of his spot on that team, if only because he managed to do the one thing most of his X-Force pals couldn't — survive the team's infamously gruesome airdrop. He almost even saved the life of one of his powered cohorts before, ya know, all that happened. 
Hobbs and Shaw saw Delaney playing a quippy CIA agent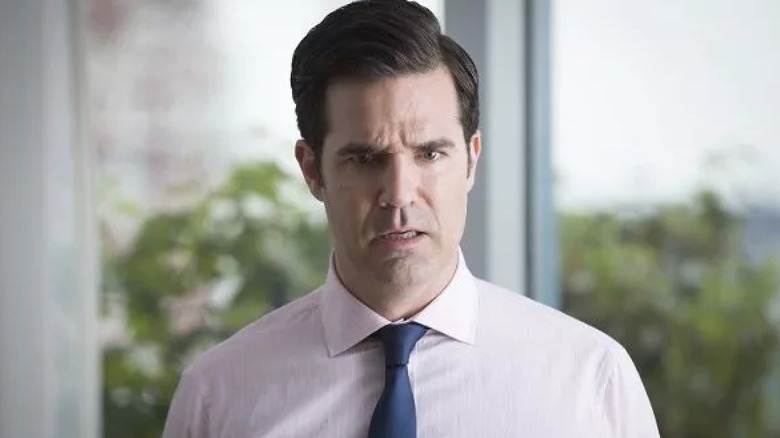 Universal Pictures
A year after stealing scenes — and the collective hearts of viewers — in "Deadpool 2," Rob Delaney appeared in another big time blockbuster, once again sharing the screen with Ryan Reynolds. This time, thugh, they were both portraying mere mortals, and making a hilarious cameo in the "Fast & Furious" franchise spin-off "Hobbs & Shaw."
That film found Dwayne Johnson's Luke Hobbs and Jason Statham's Deckard Shaw out to stop a cyber-genetically enhanced baddie (Idris Elba) from unleashing a deadly virus on the world. And if you've seen "Hobbs & Shaw," you know the titular tough guys were recruited for their mission by a pair of quippy CIA Agents, and that said agents were portrayed by none other than Ryan Reynolds and Rob Delaney. Though the duo's screen time was indeed limited to cameo territory, the crackling chemistry the pair displayed in their brief "Deadpool 2" scenes clearly carried over — so much so, in fact, that one has to hope Agents Locke and Loeb turn up again in the "Fast & Furious" realm somewhere down the road. 
Delaney played a hotel manager with animal control issues in Tom & Jerry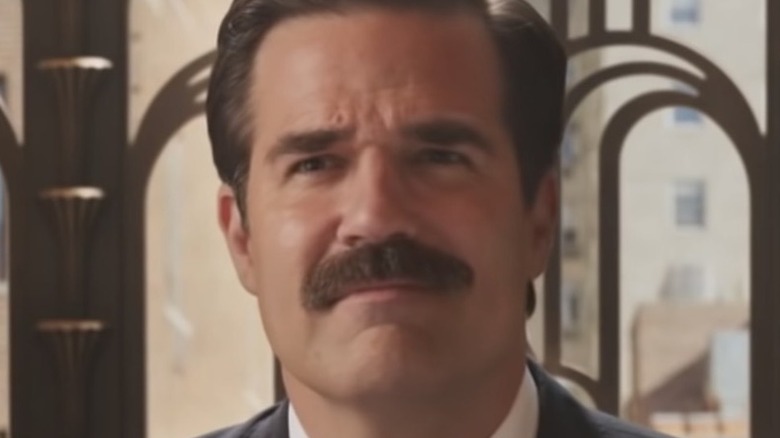 Warner Bros. Pictures
While Rob Delaney is about to be center-stage for much of the "Home Sweet Home Alone" narrative, one look at his screen credits will confirm he's had a knack for taking small roles and making waves. That remained true with the 2021's animated and live-action mashup "Tom & Jerry." The film was adapted from the iconic Hannah-Barbera animated series that has existed in some form since the 1940s, and follows the titular cat and mouse as they fight and fumble through all manner of kooky misadventures. 
The new film found Tom and Jerry traipsing through the streets of Manhattan, and eventually taking up residence in the posh Royal Gate Hotel just days ahead of a celebrity wedding event. The pair quickly draw the ire of the hotel's general manager Mr. Henry Dubros, who tasks his new hire Kayla (Chloe Grace Moretz) with ridding the property of the nuisance lest she be removed from her own position. 
Yes, that was indeed a mustachioed Rob Delany portraying the smarmy Mr. Dubros in "Tom & Jerry," and if we say so ourselves, he was at his cartoonish best in the film.