The Iconic Home Alone Character You Missed In The Home Sweet Home Alone Trailer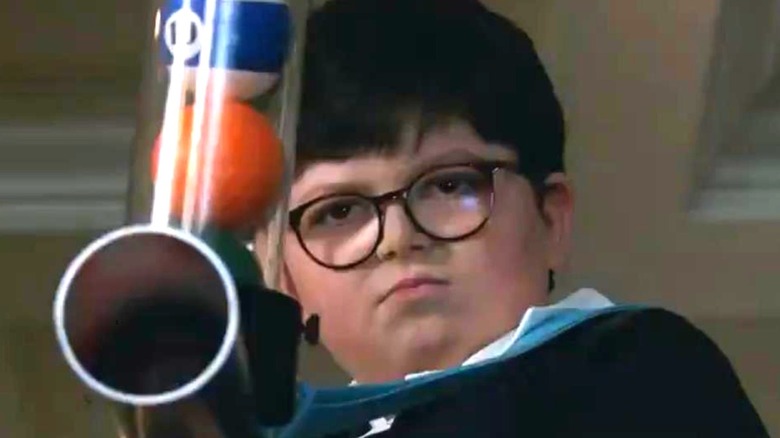 Disney+ is about to give viewers an early present with a return to the classic "kid left home alone" themes of the equally classic Holiday movie "Home Alone." The newest movie in the franchise is called "Home Sweet Home Alone," and it brings you plenty of new faces. This time, the kid is called Max Mercer (Archie Yates of "Jojo Rabbit" fame), and the burglars who unwisely attempt to rob his home are played by Ellie Kemper ("Unbreakable Kimmy Schmidt," "The Office") and Rob Delaney ("Hobbs & Shaw," "Deadpool 2"). 
The new trailer for "Home Sweet Home Alone" just dropped on the official Disney+ Twitter account, giving you a first look at the movie, and confirming that it'll premiere just in time for the Holiday season on November 12. It also reveals that the new movie very much continues the themes of the original "Home Alone," to the point that it even features one of that movie's characters. Here's the iconic "Home Alone" character you missed in the "Home Sweet Home Alone" trailer.
Buzz McAllister returns as a police officer
If there's any question of "Home Sweet Home Alone" being a part of the "Home Alone" universe, you may want to pay closer attention to the determined-looking police officer in the trailer. The trailer is happy to give you a close look at his name, which is none other than McAllister. 
Yes, this officer of the law is none other than Buzz McAllister (Devin Ratray), the bullish older brother of original "Home Alone" kid Kevin McAllister (Macaulay Culkin). Taking this character from the classic movies and upgrading him to a law enforcement role that may or may not be helpful to the new kid on the block is a cool nod to the original movie. What's more, the presence of Buzz might even mean that his perennially left behind younger brother could turn up for a quick cameo. 
You can see for yourself what Buzz has been up to — and whether Kevin McAllister himself will show up – when "Home Sweet Home Alone" premieres on Disney+ on November 12.