The Untold Truth Of Bong Joon Ho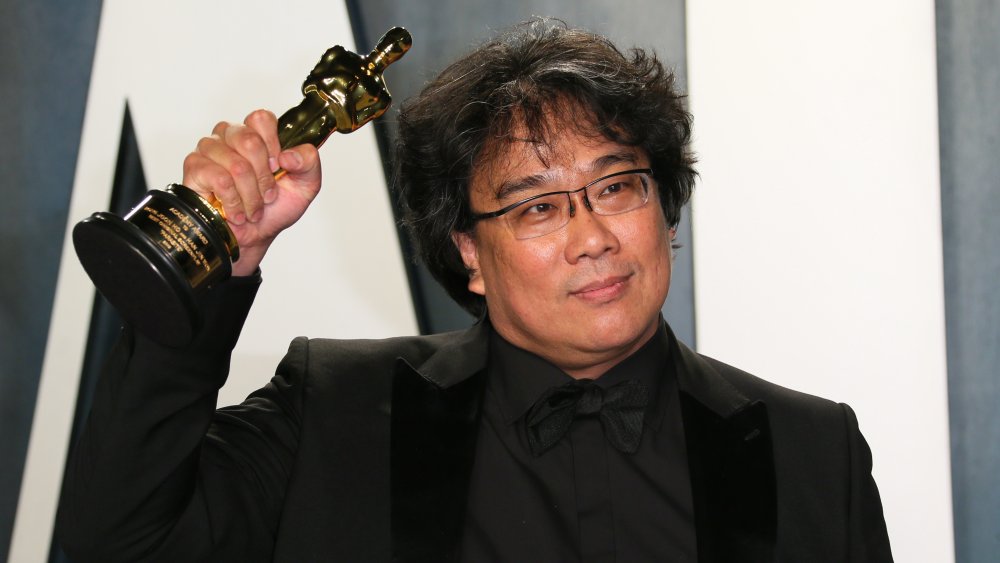 Jean-baptiste Lacroix/Getty Images
When South Korean director Bong Joon Ho's Parasite launched into the 2019/2020 award season, it started things off with a unanimous Palme d'Or selection at the prestigious Cannes Film Festival, then finished with four Academy Awards including Best Original Screenplay, Best Foreign Language Film, Best Director, and the much-coveted Best Picture. As the first foreign language film to ever win the top Oscar, Parasite has earned a historic level of recognition. Consequently, Bong Joon Ho has become not only one of the most talked-about names in Hollywood, but the entire world.
But although Joon Ho's name is on the tip of everyone's tongue now, just a few years ago no one really knew who he was. In fact, unless you were already an aficionado of one or several of his six films leading up to Parasite, it's unlikely that you'd heard of him at all until recently. While many of his previous films garnered high levels of success, none of them were exactly mainstream smashes, especially not by the standards now set by Parasite.
Here's the untold truth of Bong Joon Ho.
Bong Joon Ho's first film bombed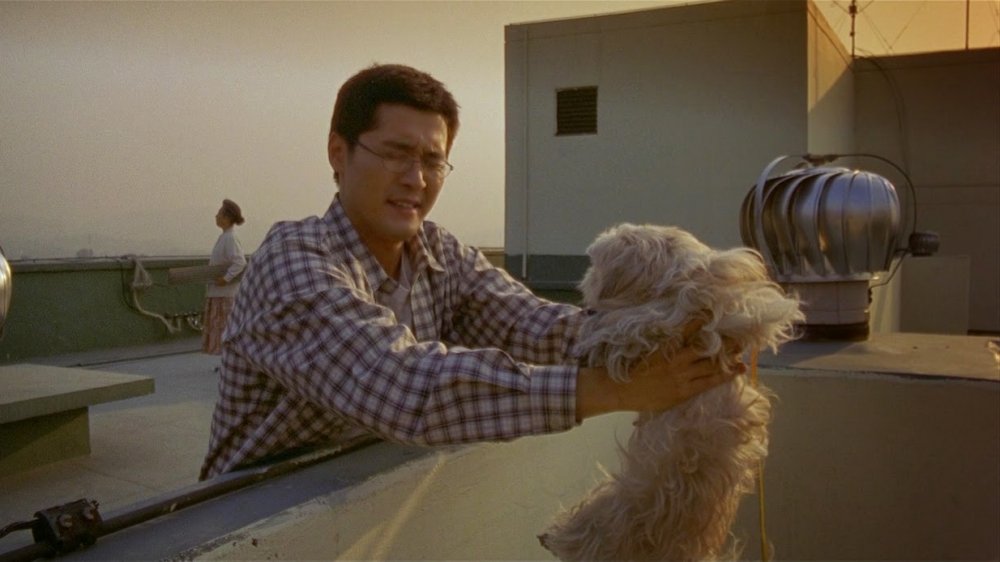 So far, Bong Joon Ho has written and directed seven movies. In reverse order these are Parasite, Okja, Snowpiercer, Mother, the Host, Memories of Murder, and Barking Dogs Never Bite. While the first six listed received almost universal acclaim, Barking Dogs Never Bite was nothing short of a flop.
A dark comedy about a university professor who begins killing the dogs in his apartment building as their barking drives him increasingly mad, the movie grossed less than $44,000 worldwide. Which isn't that surprising, considering how most audiences feel about their pets. Who wants to imagine their pooch getting thrown off a rooftop, let alone see it on the screen?
With Barking Dogs Never Bite soundly rejected at the box office, it's somewhat impressive that Bong Joon Ho went on to make more movies, let alone what would eventually be the history-making Parasite.
The Host was Bong Joon Ho's big breakout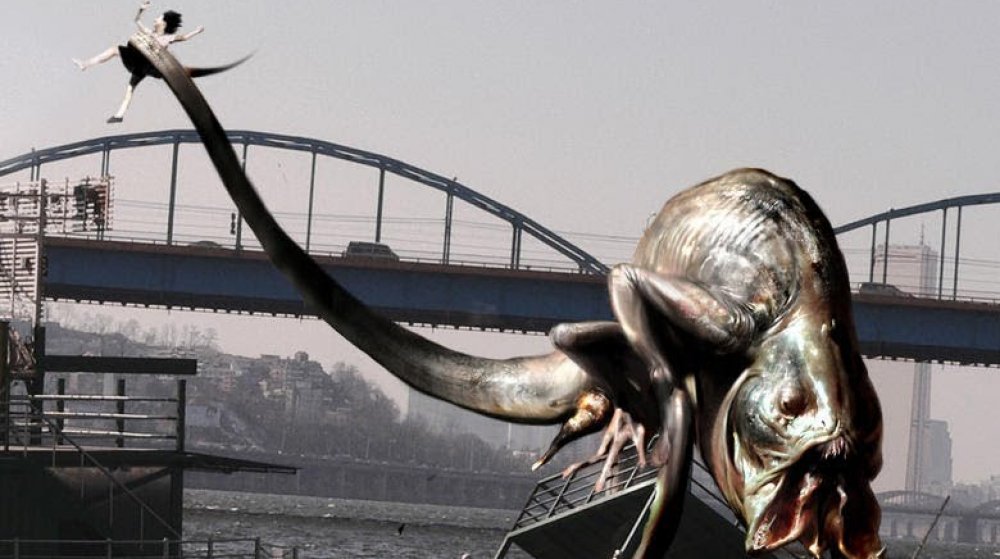 While Bong Joon Ho received critical success and industry praise for his work on Memories of Murder, it was his monster flick The Host that would place him in the international spotlight.
Set in Seoul, The Host tells the story of a man (played by Song Kang-ho) who must rise to the occasion when his daughter is abducted by a mutated river monster carrying a deadly virus. Joon Ho famously made the film under an extremely limited budget, and the end result impressed audiences and critics everywhere, especially considering the fact that he showed a large creature for long periods of time in broad daylight. The fact that he pulled off his ambitious special effects under restricted means translated into big attention from major studios.
Bong Joon Ho recycles actors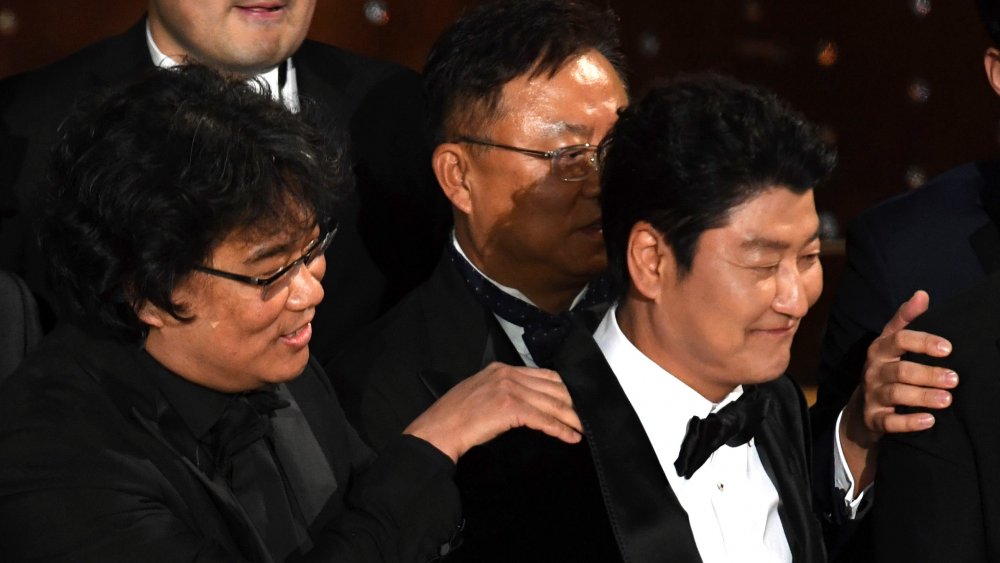 Kevin Winter/Getty Images
If you've taken the time to peruse all of Bong Joon Ho's work, you might have seen some familiar faces — and heard some familiar voices. That's because the director tends to work with the same handful of actors again and again. In fact, the majority of Joon Ho's leads have appeared in at least two of his films.
Most notable is actor Song Kang-ho, who has played lead roles is Memories of Murder, the Host, Snowpiercer, and Parasite. Famed English actress Tilda Swinton appeared in both Snowpiercer and Okja (playing strikingly similar roles in both films). But harder to notice would be Lee Jung-eun, who played the housekeeper in Parasite. She also appeared in Joon Ho's lesser-known 2009 outing Mother and his more widely seen 2017 film Okja, but you can be forgiven for not spotting her in that one, as she didn't appear physically but rather voiced the titular "super pig."
In addition to these three, several other actors can be seen popping up in Joon Ho's movies again and again.
Bong Joon Ho pays homage to his heroes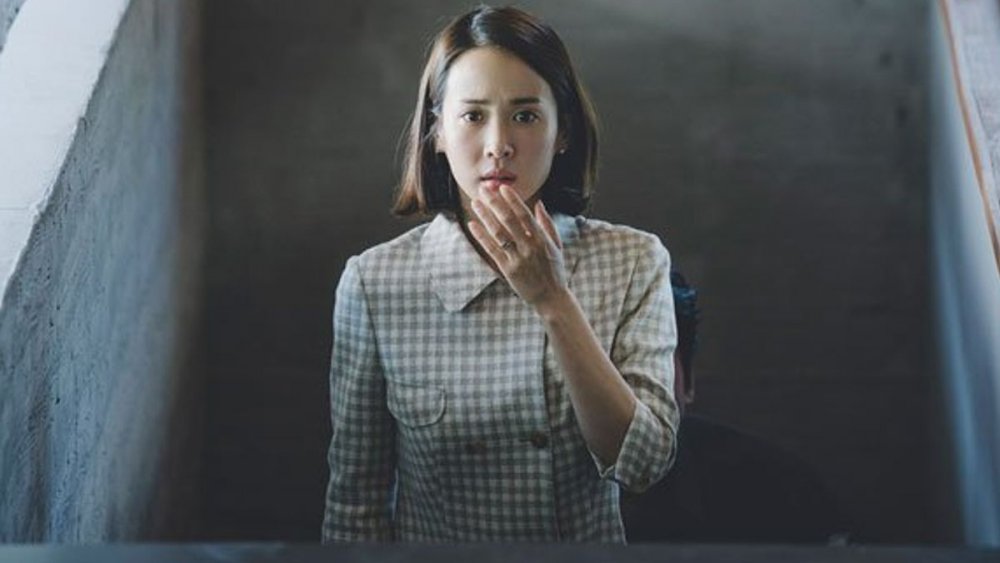 Bong Joon Ho's work has been strongly influenced by a number of history's most acclaimed directors, and the eagle-eyed viewer can spot homages to these greats scattered throughout his movies.
For example, John Hurt's Snowpiercer character, Gilliam, was named after Terry Gilliam, who directed such renowned dark science fiction films as Brazil, Twelve Monkeys, and The Zero Theorem, all of which share themes with Joon Ho's movie. In the same film, Jamie Bell's character, Edgar, was named after director Edgar Wright, who made apocalyptic movies like The World's End and Shaun of the Dead.
More recently, Parasite featured a slew of allusions to director Alfred Hitchcock, such as the use of stairs as a motif, its more than a dozen instances of voyeurism, and, most on the nose, a copy of the Alfred Hitchcock collection lying out in plain view in the wealthy family's home.
It's also worth mentioning here that John Hurt played Winston Smith in the film adaptation of 1984, which also dealt with a Snowpiercer-like dystopian scenario. It just goes to show how carefully Bong Joon Ho considers every aspect of his work.
Bong Joon Ho's son is an aspiring filmmaker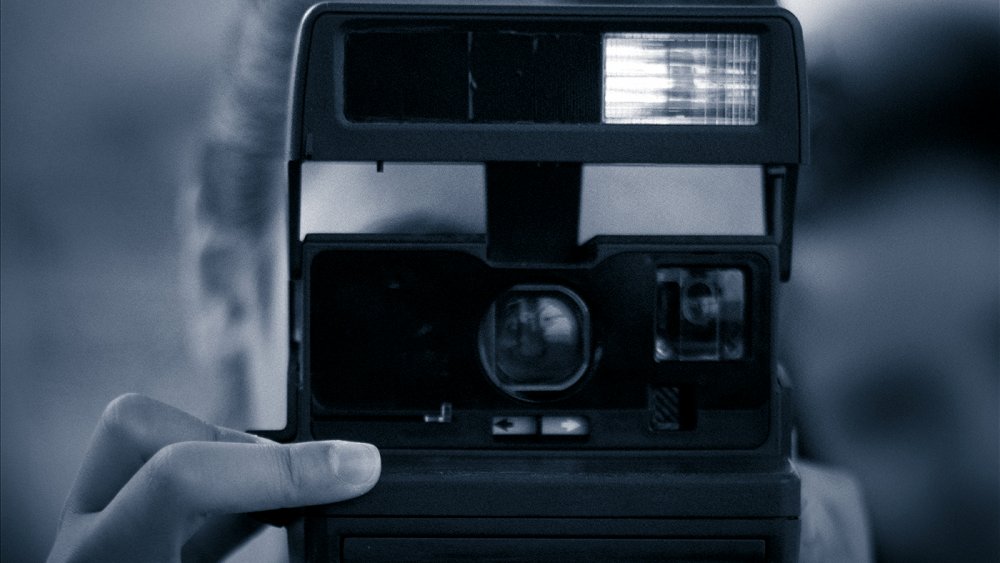 It should come as no surprise that talent — or at least aspiration — runs in Bong Joon Ho's family.
His son, Hyomin Bong, has spent the past several years working in assistant roles on a number of sets, including as a digital assistant for Black Panther and as a set designer assistant for his father's movie Okja. He also directed a student film, which, if the apple doesn't fall far from the tree, might be worth taking a look at. And you may be able to judge for yourself before long: titled Aperture, the movie was the beneficiary of a crowdsourcing campaign that, while it fell short of its goal, still ultimately led to the project's completion. Judging by the film's IMDb page, it looks like the story — which centers around a struggling family that finds a Polaroid camera whose pictures reveal future events — is right in line with Bong Joon Ho's artistic sensibilities.
Bong Joon Ho's movie Okja was booed at Cannes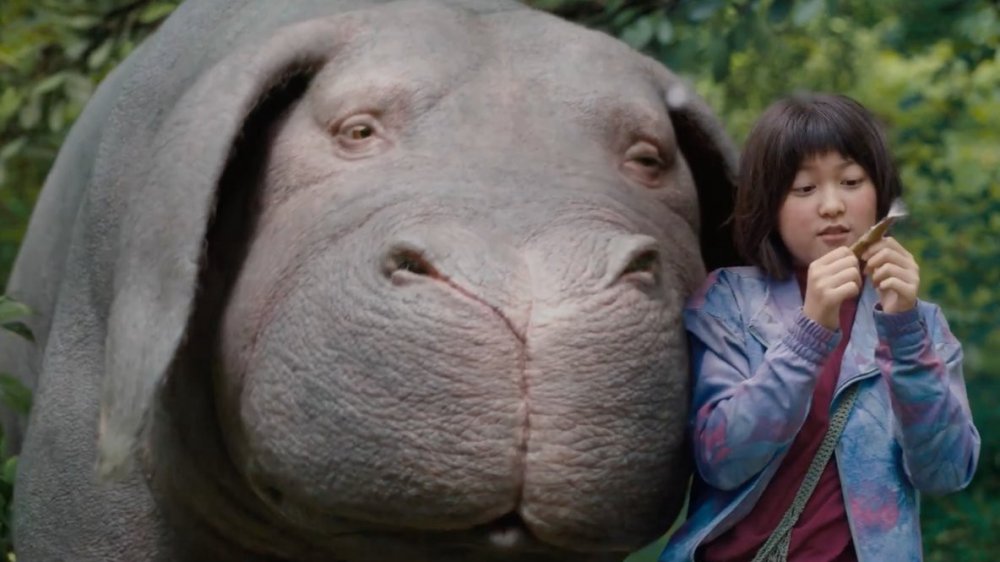 By the time his film Okja came out in in 2017, Bong Joon Ho had already made a name for himself within the industry as a talented filmmaker. That didn't mean insiders were happy to see him working with Netflix when the company began producing its own movies, of which Okja was one of the first major releases.
When the movie premiered at the Cannes Film Festival it was met with boos the moment the Netflix title card hit the screen. Then the first ten minutes of the movie were projected in the wrong aspect ratio, which elicited further catcalls from the already angry audience. Finally the movie was restarted in the correct format, and the boos swelled even louder at the second appearance of the Netflix title card.
In the end, however, Okja was accepted, earning high scores from both critics and the audience on Rotten Tomatoes.
Bong Joon Ho got the Tarantino nod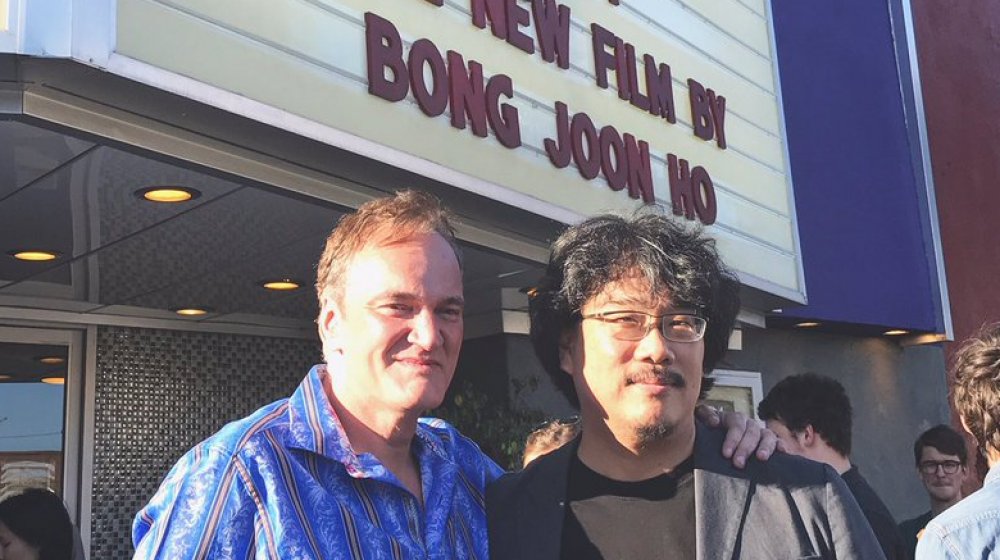 Twitter
Renowned director Quentin Tarantino is certainly a big Bong Joon Ho supporter. In 2009, when Tarantino released his list of the 20 best movies since 1992, Bong Joon Ho was the only director to appear twice, earning spots on the countdown with both Memories of Murder and the Host. When he had his big Oscar night in 2020, Bong repaid Tarantino's kindness by name-checking his fellow director from the podium, telling the audience, "When people in the U.S. were not familiar with my films, Quentin always put my films on his list. He's here, thank you so much."
The Host was also included in 1001 Movies You Must See Before You Die, which was edited by producer Steven Scheider, famed for his work on genre titles like Paranormal Activity, Insidious, Split, and Glass. Clearly, long before the mainstream audience knew his name, Bong Joon Ho managed to impress a number of major film fans on either side of the camera. Now that he has the world's attention, who knows what he'll manage to do?
Bong Joon Ho only has two English films (really one and a half)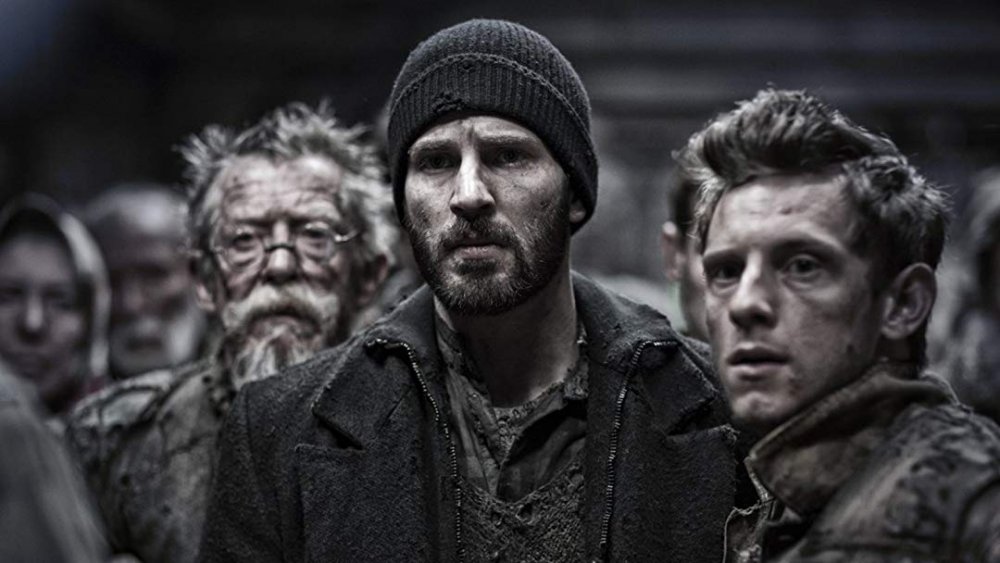 For all the international acclaim Bong Joon Ho has achieved, it rather astounding that he's released only two films in English — or really one and a half, to be more precise.
2013's Snowpiercer was his first venture into English, though it did feature two Korean characters who could only be understood via a translating device. They were played by Joon Ho regulars Song Kang-ho and Ko Asung, who portrayed a father/daughter duo in Snowpiercer as well as The Host.
Bong Joon Ho's follow-up Okja was delivered in a combination of Korean and English. The movie's central characters were all Koreans speaking in their native tongue, while English was spoken by supporting characters played by Tilda Swinton, Paul Dano, and others. His success in spite of all this underscores something he told the press in the weeks leading up to the 2020 Oscars: "Once you overcome the 1-inch-tall barrier of subtitles, you will be introduced to so many more amazing films."
Chris Evans asked to be in Snowpiercer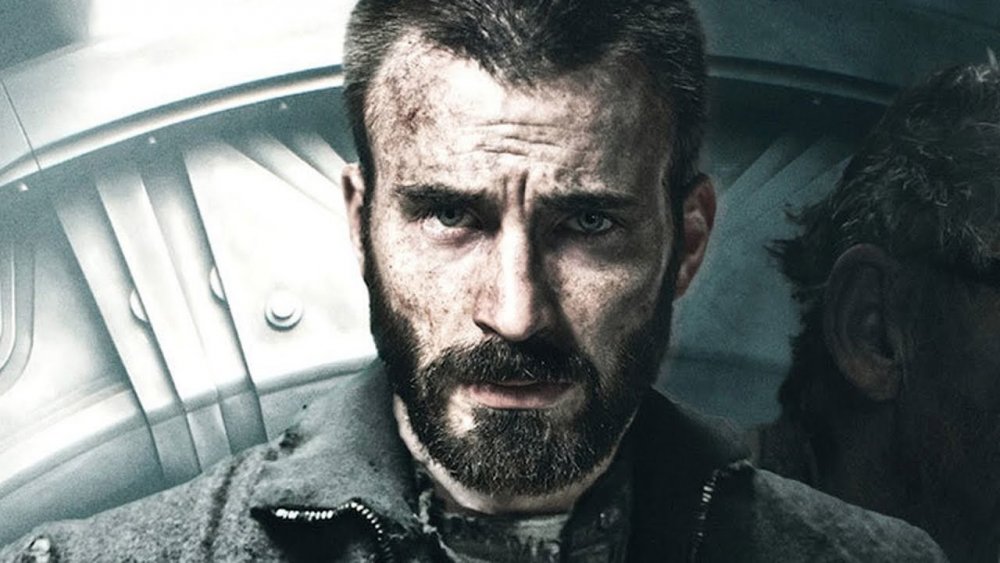 By the time filming for Snowpiercer began in 2012, actor Chris Evans had been skyrocketed to superstardom by his performances as Captain America in the MCU, but all that fame didn't send Bong Joon Ho looking for Evans. Instead, Evans came to Joon Ho.
Evans, interested in taking on non-MCU parts in the midst of his ascent to Captain America-induced superstardom, was attracted to the project — and he was also recommended to Bong Joon Ho. As the director saw things, however, there was one problem: the lead role involved portraying a man who had spent the entirety of his life on the verge of starvation, and Evans had become crazily bulked up to star as Marvel's muscled super-soldier. In the end, however, Evans got the part, and the problem of his muscular physique was solved through careful costume choices and camera angling.
Bong Joon Ho lied to Harvey Weinstein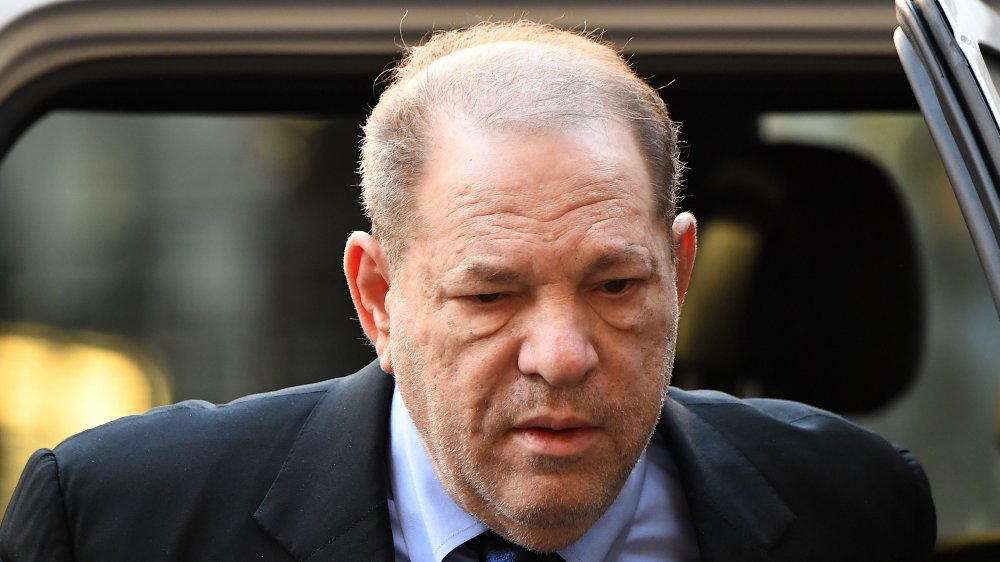 Johannes Eisele/Getty Images
Disgraced movie producer Harvey Weinstein has long held an infamous reputation for his... let's call it "questionable" behavior. For our purposes here, we're focusing on his habit of hacking up a director's work in the editing room, which accounted for perhaps the least of his awful actions.
Bong Joon Ho's work became the target of the producer's inclination to over-edit when the Weinstein Company bought distribution rights to Snowpiercer in 2012. Weinstein wanted to cut 25 minutes from Bong's version, including one of the director's favorite scenes, in which a masked train guard guts a fish with an axe in an attempt to intimidate Chris Evans' character and the rebels that followed him.
Later describing the situation, Bong Joon Ho recalled, "Harvey hated it. Why fish? We need action! I had a headache in that moment: What do I do? So suddenly, I said, 'Harvey, this shot means something to me. It's something personal. My father was a fisherman. I'm dedicating this shot to my father.'"
Weinstein agreed that family is the most important thing and allowed him to keep the scene.
"It was a f***ing lie," Joon Ho admitted. "My father was not a fisherman."
Bong Joon Ho intended for Parasite to be a stage play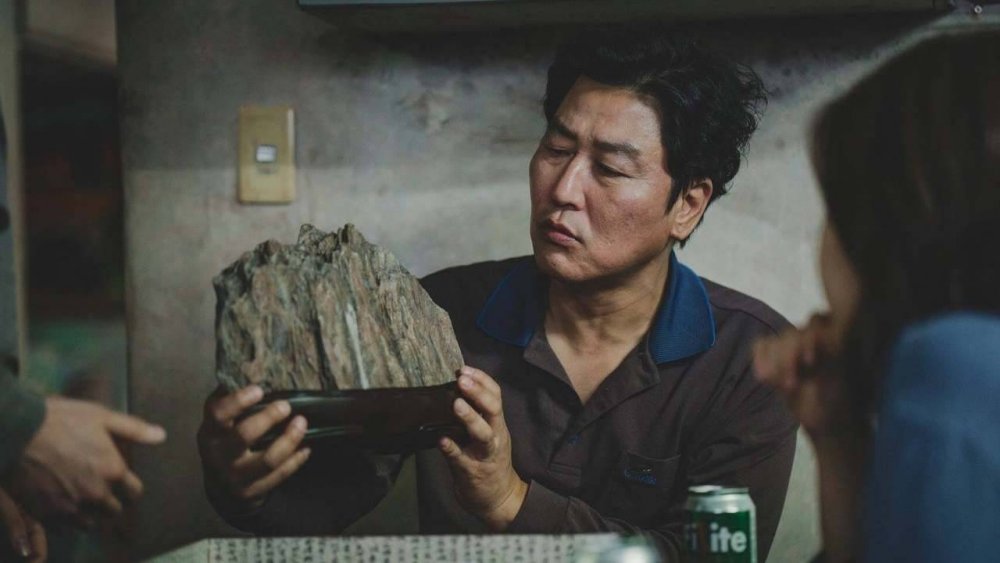 After the success of Snowpiercer and Okja, Bong Joon Ho was interested in trying something new. When a friend suggested that he move from the screen to the stage, Joon Ho began toying with a stripped-down story structure that would rely on two simple locations rather than the complex settings he'd used previously. Two houses — one rich and one poor — made sense in terms of staging.
As the scope of the story expanded so did the setting, and pretty soon it was clear that the work in progress had grown beyond what the stage could hold. Key scenes like the plunge into the basement and the poor family's trek from the wealthy neighborhood to their own impoverished one would have been lost.
In the end, we're all lucky that Joon Ho decided to put it on film. With four Oscars on his mantle, it seems safe to assume that he agrees.
Bong Joon Ho wrote Parasite in four lonely months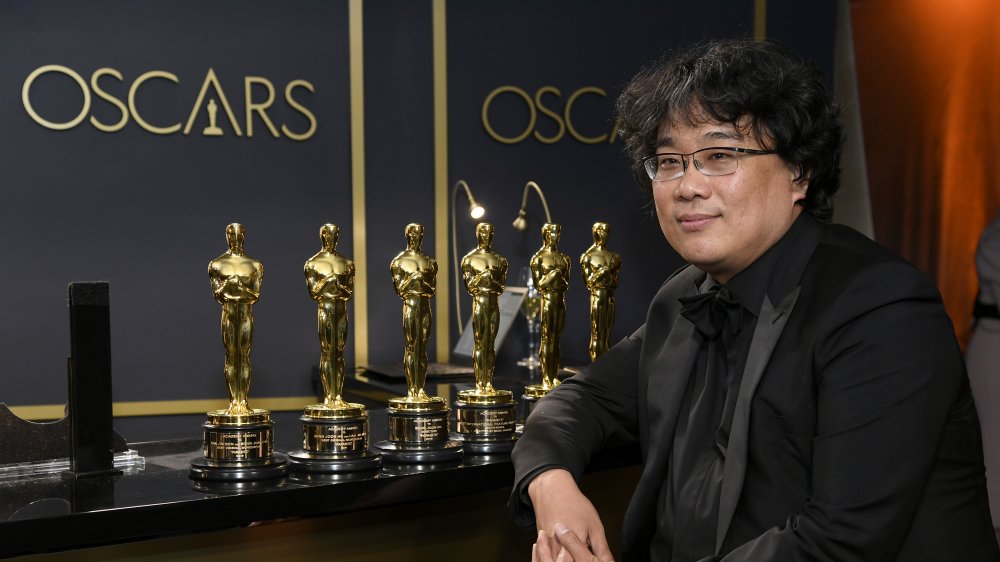 Kevork Djansezian/Getty Images
The initial ideas for Parasite began percolating in 2013, but it wasn't until after he finished Okja in 2017 that Bong Joon Ho finally sat down to write the script in earnest. Early drafts were started by his production assistant Han Jin-won, who later received a co-writing credit, but the bulk of the final script was produced by the director himself.
In interviews, Bong Joon Ho has reported that it took him four months to complete the script, and has called writing screenplays a "very lonely" process. Writing is a famously solitary endeavor, forcing the wordsmith to stay secluded for want of focus. Perhaps that loneliness contributed to the dark and strained tone of the final screenplay — but either way, audiences were all the richer for Bong Joon Ho's creative travails.
Bong Joon Ho based Parasite off his own experiences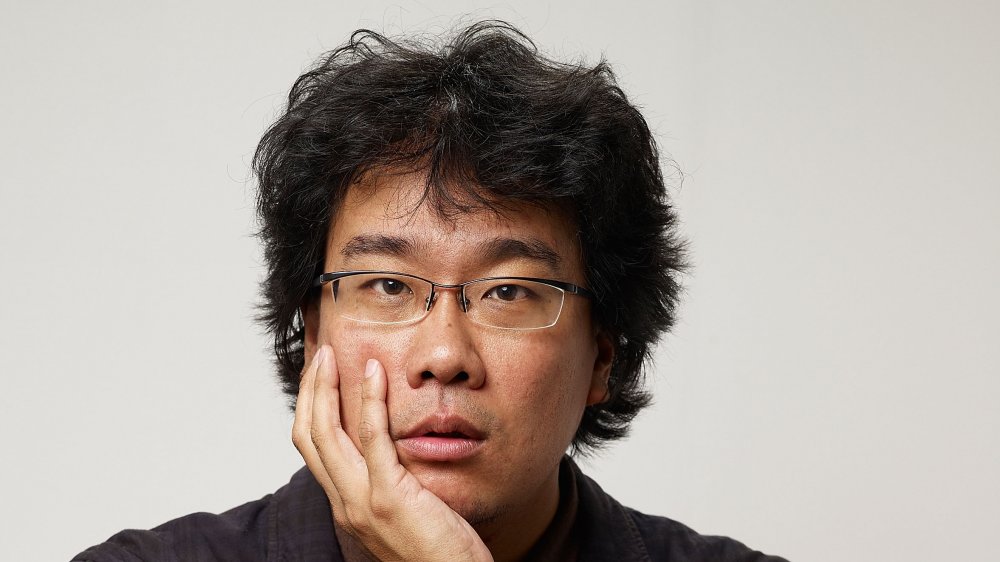 Getty Images/Getty Images
The plot of Parasite begins when the son from a poor family is hired to work as a tutor for the daughter of a rich family. From there he uses his position to weave the rest of his family into the rich one's service.
This wasn't a simply imaginative plot device. When Bong Joon Ho was in college he worked as a tutor for a rich family, and he later reported that it made him feel like he was infiltrating the lives of complete strangers. In interviews he's explained that when working as a tutor he would dream about how fun it would be if he could get all of his friends to infiltrate into the family by assuming similar roles. Of course, for the infiltrating family in his movie the whole scenario turned out to be decidedly short on fun.
Joon Ho also has explained how the experience made him realize that the only way two families from such disparate ends of the class spectrum would ever cross paths convincingly is if the poor were working for the rich. These thoughts came to him while working on Snowpiercer, which also deals heavily with themes relating to class structures.
Bong Joon Ho is producing a TV version of Snowpiercer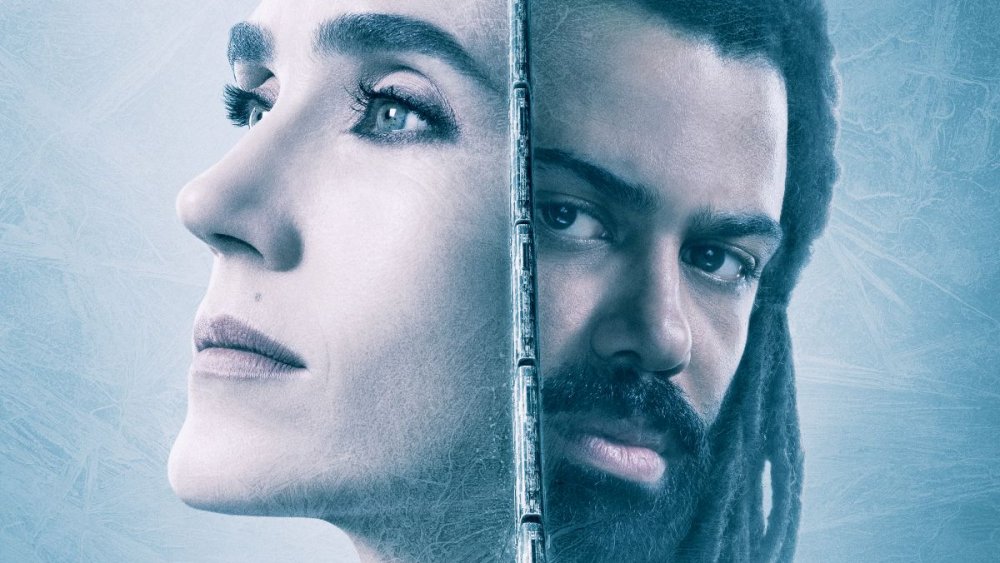 In early 2018 it was announced that a TV version of Snowpiercer was in production, and that Bong Joon Ho would serve as an executive producer.
The show ended up locked in development limbo for years as creative differences flared between the producers and the network — it even moved from TNT to TBS and then back again. There was extensive debate through rewrites and reshoots over whether the show would be a sequel to the movie or an expanded retelling of the original story, and in the end it seems that the latter approach won out.
Set seven years after a climate disaster left the world frozen, the story revolves around a train full of survivors who circle the Earth endlessly while locked in a struggle for simple human dignity. It features renowned film star Jennifer Connelly and Daveed Diggs from the stage play Hamilton, and will air on TNT starting in May of 2020.
A Parasite TV show is in the works
Emma Mcintyre/Getty Images
Also coming to the small screen is a limited-run adaptation of Parasite. The project is in the early stages of development by HBO and little is known at this point, although Bong Joon Ho is attached as a producer alongside Adam McKay, whose production and/or direction credits include the HBO series Succession along with movies like Anchorman, Vice, Booksmart, and Hustlers. Joon Ho has also said he's eying the Hulk himself, Mark Ruffalo, for the lead role — a possibility Ruffalo has said would be "amazing" if it came to pass.
Little is known about the plot, other than what Joon Ho has revealed. "So I had all these key ideas accumulated from when I started writing the script," he told Collider. "I just couldn't include all those ideas in the two-hour running time of the film, so they're all stored in my iPad and my goal with this limited series is to create a six-hour-long film."
In other words, if Parasite left you wanting more, you're in luck. Bong Joon Ho shall deliver.